RHOBH's Kyle Richards Defends Herself After Cropping Out Karen Huger In Group Photo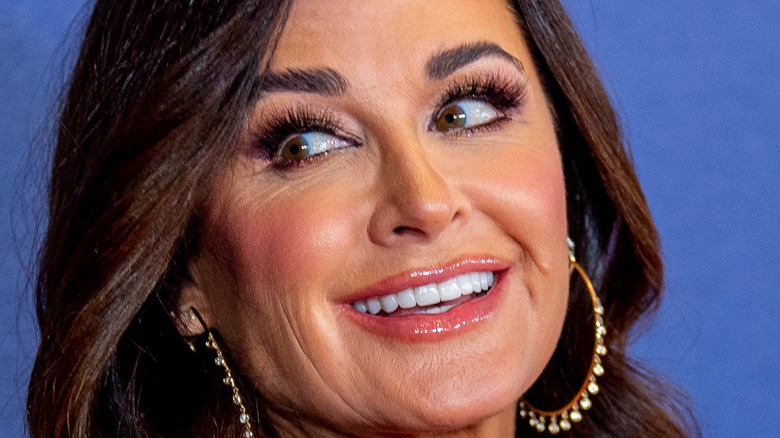 Roy Rochlin/Getty Images
The revolving door of women coming in and out of "The Real Housewives" franchise can often seem overwhelming, and if you aren't a die-hard fan, it may be hard to beat anyone at a round of "Housewives" trivia. Regardless of the numerous franchises and countless one-season wonders, though, the OG queens still reign supreme. Each series has its own OG iconic housewife or housewives who have been there from the very beginning, seen it all, paid their dues, and paved the way for others. 
Heavy is the head that wears the crown and it often has a way of fueling some not-so-healthy competition. Clashes of the OGs are what the true fans live for. There's something so enthralling about a battle of the egos. Who could forget the great "The Real Housewives of Beverly Hills" fallout of Kyle Richards and Lisa Vanderpump circa #PuppyGate, per People. The only thing more entertaining is when the feuds jump off the screen and the OGs cross states to get into it with the OGs of series other than their own. 
Those feuds usually go down on social media. Just recently, Erika Jayne and Bethenny Frankel got into it yet again via a "Watch What Happens Live" interview and a Twitter clapback, per Page Six. It looks like Richards may have gotten bored of her own show feuds and decided to cross over to the East Coast to target another housewife, or was it all just an honest mistake? 
The scene of the crime
"The Real Housewives of Potomac" is where all the shade resides, and it wouldn't be as juicy as it is without the self-proclaimed "Grande Dame" herself, Karen Huger. Coming for Huger is never a good idea. You do not want to shift that wig — not even slightly. So, when Kyle Richards tried it, Huger immediately called her out.
On May 16, Bravo TV fans everywhere rejoiced at a little BravoCon teaser as they got to watch all of their favorite Bravo stars gathered together in New York City for the NBCUniversal Upfront presentation, per Bravo TV. The event resulted in crossover selfies and duos we never knew we needed. An especially exciting moment for "Real Housewives" fans was when several housewives from different franchises gathered together. 
The moment was snapped in a sweet photo of Garcelle Beauvais, Teresa Giudice, Alexia Echevarria, Gizelle Bryant, Kenya Moore, Kyle Richards, and Karen Huger, per The Daily Mail. However, when it came time for Richards to share the sweet snap to her Instagram, she conveniently cropped out none other than the Grande Dame. 
Kyle Richards claims she adores Karen Huger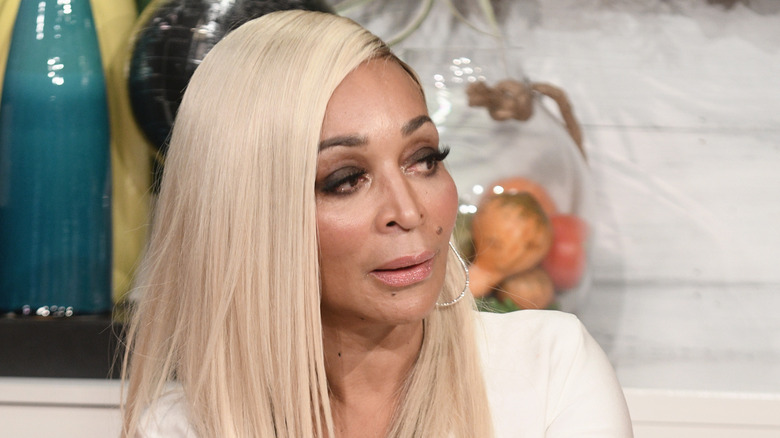 Gary Gershoff/Getty Images
Never one to take it lying down, Karen Huger immediately pounced into Kyle Richards' comment section with some light shade calling out the obvious crop, "[Kyle Richards] WELL!! I thought I look super cute that day," per Instagram. To which Kyle instantly explained, "I stole this photo from an IG page and then saw later there is one with you in it! that is why I posted it to my story after," and Karen seemingly accepted her excuse with an, "Ok Queen." 
After Kyle responded yet again with an, "Adore you!!!!" the crisis seemed averted. However, the fans weren't as forgiving. Bravo fan account, All About The Real Housewives (@allaboutrhr), clocked the moment with an Instagram screenshot post, and the comments section was flooded with fans calling Richards out for her fake excuse. One fan offered their two cents, "Kyle was there when the pic was taken. The 'clueless' act is ridiculous at this point." While others applauded Huger's instant callout, "Take her down Karen."
Kyle wasn't quite done backpedaling though, as she hopped onto Karen's Instagram posts from the day (both of which definitely didn't have Kyle cropped out) and commented, "So fun!! The pic I had you weren't in! this is better!!" Fans definitely aren't buying it, as one replied to her comment with, "Lmao fake a**. Stop Lying." The real question is: Did Karen buy it? Or is the Grande Dame too busy plotting her own shady retort?