Why We Can't Wait To Ditch Two-Tone Hair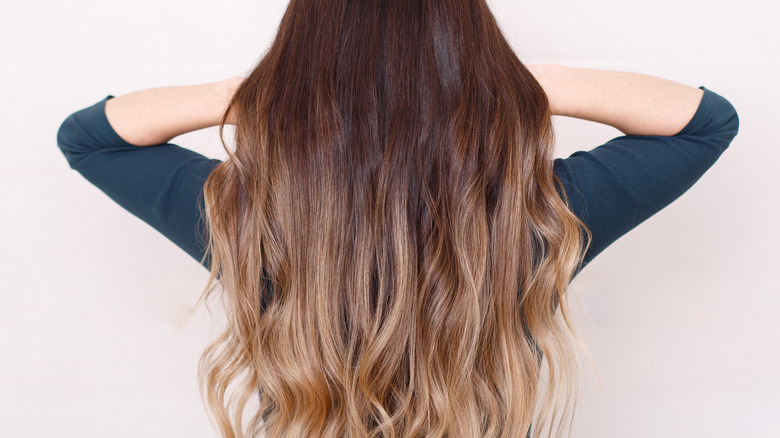 galyakiss/Shutterstock
Two-toned hair, or ombre, the dark locks on top that gradually flow into lighter tips, has been all the rage for over a decade. After all, who could forget all the celebs that came out in droves in the early 2010s with ombre locks? From early takers like Demi Lovato to Miley Cyrus to those who later joined the ombre fad like Drew Barrymore and Sarah Jessica Parker, we saw it everywhere (via HuffPost). That naturally led to the style becoming mainstream and all of us trying the trend.
Part of the appeal is that ombre is a low-maintenance color combination to keep up with and you can be as subtle or as bold as you like. You'll likely only need half of the salon visits that you'd need if you had to keep up with roots. According to Byrdie, most people only need touch-ups about every three months.
The whole look began out of necessity. Celebrity colorist Jafra Bryant told Byrdie, "Ombre was created when the 2008 recession was here because money was tight everywhere and the one thing people could cut back on was getting their hair colored all the time."
However, even though keeping a two-toned look can be easy and more affordable, it's time to move on from the look for a few good reasons.
Ombre can be hard on hair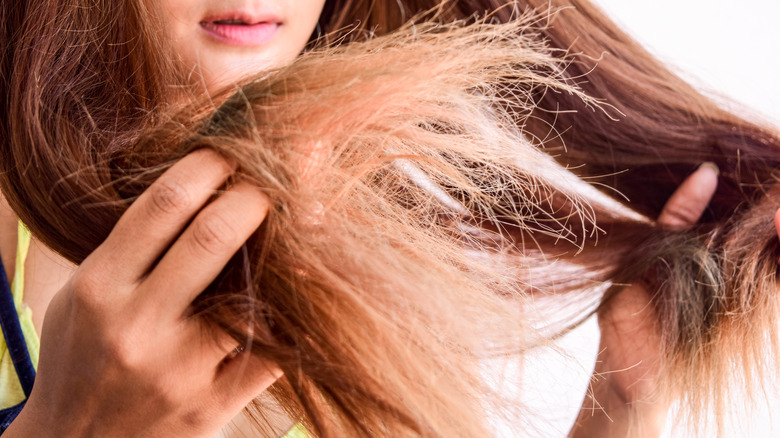 Koy Jang/Shutterstock
Though the color blend allows for more space between salon visits and a less rigid upkeep schedule, the truth about ombre is that it can damage your hair (SheKnows). Anytime you put highlights in your hair, you begin the arduous task of keeping them looking vibrant.
This is especially true in the summer when the sun can make highlights look dim and dull. Then they eventually fade out. If you're in the pool often, the chemicals in the pool water can also change the hue of your highlights.
You may find yourself stressing over keeping the dark to light balance looking fresh and with all currently going on in the world, isn't it time to make life easier?
Also, ombre can be a tough look to pull off on your own. If you try to do on your own or go to a colorist who isn't skilled in doing ombre, the final product can look messy and leave you looking like you need a salon visit. If you have bangs or super straight hair, it might look forced or just strange. Ombre tends to look best on hair with some volume, so wavy or curly hair works best (via Hairstyle Camp).
There are so many new looks to try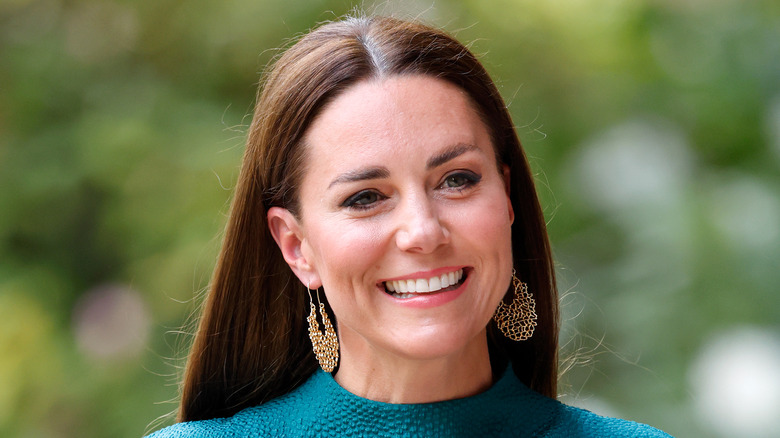 Max Mumby/indigo/Getty Images
The ombre look was such a fascinating new color blend back in the 2010s, but the keyword is was. If your find yourself sporting the ombre look that you had in the early 2010s, it's probably high time you changed it up a bit. Styles that appear like you're living in the past are never good looks.
There are so many new best hair trends right now and many don't involve coloring. Let's face it, anytime you color your har, it becomes a chore to upkeep. An easier way to get a new look is to get a new haircut or style (via Cosmopolitan). 
The pixie cut is a popular trend that allows freedom. It's less work to wash and style and a good move for warm weather. If you don't quite want to go that short, try a mid-length bob. For longer locks, long layers or mid-sized layers can be such a classic, bouncy look (via Allure).
And if you don't want to cut or color, try doing a different part. Even Kate Middleton switched up her signature hairstyle for a middle part. Lastly, you may have actually been parting your hair wrong, and whether you should choose a middle or side part depends on your face shape.