Is Zay From The Ultimatum In A Relationship?
Not every relationship is built to last, a point that Netflix's reality dating show "The Ultimatum: Marry or Move On" proves. The show revolves around several couples, where one partner wants to get engaged and the other doesn't. To put their relationships to the test, they must have a "trial marriage" with another castmate. By the end of the first season, some couples were engaged, some had broken up, and one even announced they were expecting a baby.
Zay Wilson and his girlfriend Rae Williams were one of the unlucky couples who seemed to wrap up "The Ultimatum" at war with each other — and with neither getting down on one knee. Wilson and Williams' bad blood first came after Williams decided she wasn't yet ready to settle down with Wilson, and instead took up her trial husband's offer to go on a trip together. Then on the reunion episode, Williams learned that Wilson and his trial wife Shanique Imari may have hooked up. This only seemed to drive them apart even more.
Now that the first season of "The Ultimatum" is over and the reunion is a distant memory, what is Wilson's relationship like with Williams, and is he currently on the market or coupled-up?
Zay Wilson continued seeing Rae Williams after The Ultimatum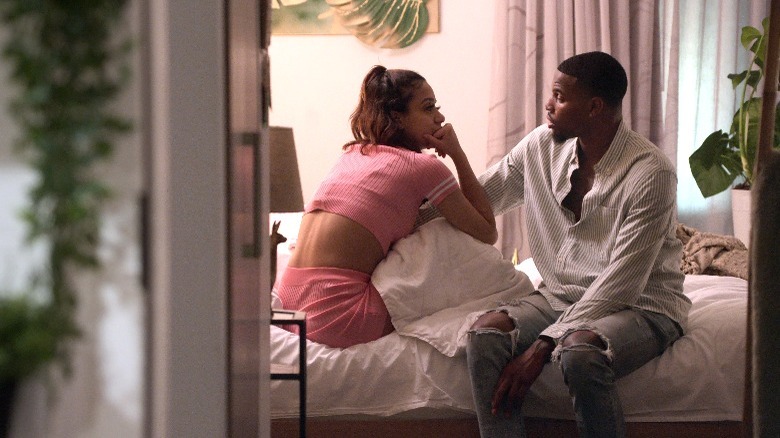 Netflix
In episode 9 of "The Ultimatum," it seemed that Zay Wilson was left all alone. Rae Williams, who came on the show as Wilson's ready-to-wed girlfriend, had now dumped Wilson in favor of her trial husband Jake Cunningham. And Wilson's trial wife Shanique Imari accepted her boyfriend's proposal, even though she seemed to have some chemistry with Wilson.
Imari and her boyfriend, Randall Griffin, are still together and regularly cuddling up in photos on Instagram. However, things seemed to remain complicated between Wilson and Williams behind the scenes. On the show's reunion episode, Wilson and Williams revealed that they had continued seeing each other after "The Ultimatum" was over, though they were currently broken up.
Williams also insisted in a now-deleted TikTok that she never really left Wilson for Cunningham, suggesting that she thinks Wilson was to blame for their relationship ending. Either way, it's clear Wilson didn't find his future wife on the Netflix dating show.
Zay Wilson isn't actively looking for a relationship
Not only did Zay Wilson not walk away from "The Ultimatum" an engaged man, he also confirmed he's now totally single on the reunion episode, saying, "I've been ... trying to figure out what I actually want." In a May 6 report, Us Weekly confirmed that he's still flying solo and no longer has any contact with ex Rae Williams.
Though Wilson may still be recovering from the drama that went down on "The Ultimatum," he's not closed off to love. He told Telli Swift on the "Telli Talks" podcast that he "would never [actively] look for a relationship, but if I meet someone ... I think that I could take that next step with them." Until he meets that special someone, the reality show alum appears to be living his best life working his day job as a model (per Elite Daily), posting Instagram Stories at events, and inspiring his followers with motivational captions on social media.