What Raven Of RuPaul's Drag Race Had To Say About Her Makeup Aesthetic Taking Off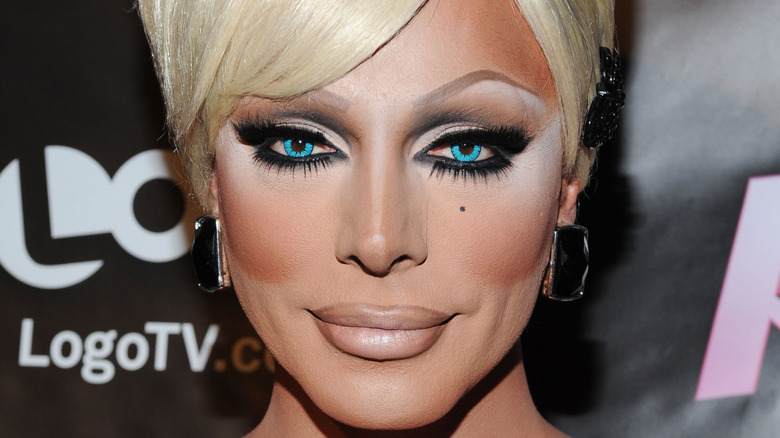 Amanda Edwards/Getty Images
Viewers of "RuPaul's Drag Race All Stars 7" on Paramount+ recently received a surprise when a secret queen sashayed into the room at the end of an episode. When it was revealed to be none other than fan-favorite Raven, contestants such as Raja, Monét X Change, Trinity The Tuck, and Shea Couleé all expressed shock, pointing out Raven had never won the competition and therefore wasn't eligible to be an all-star. However, even they recognized her importance, noting Raven had won an Emmy in 2020 as RuPaul's makeup artist, according to Entertainment Weekly.
While her appearance was all in good fun, it highlighted the drag queen's status as an icon, especially when it comes to makeup and appearance. Raven — also known as David Petruschin — rose to fame as a contestant on the second season of "RuPaul's Drag Race," finishing as a runner-up, thanks in part to her unique and bold makeup choices. Years later when she needed a new makeup artist, RuPaul hired Raven, who has since been her exclusive makeup artist, according to W Magazine. As co-host of the YouTube series "Fashion Photo RuView" and host of the upcoming reality competition show "Painted with Raven," Raven has become the go-to expert for drag queens everywhere, with her looks and style being adopted by many — including the Kardashians — throughout the years. 
So, how does the veteran queen feel about the imitation? She loves it, of course.
Raven always wanted to transform the face of drag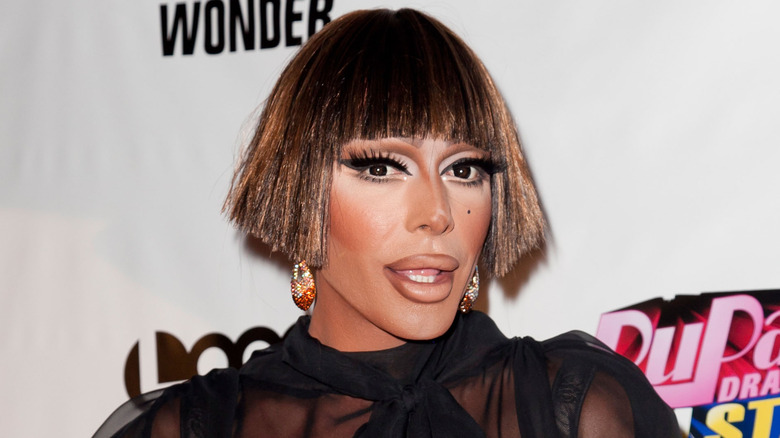 Imeh Akpanudosen/Getty Images
In an interview with W Magazine, Raven reminisced that when she first started doing drag there only seemed to be two styles of makeup, so she decided to mesh the two together. "There were two types of faces I saw: the one where it was the huge cut crease with the arch brow and the brown, pink, and white down the cheek," she said. "Then I saw the other one where it was the softer beauty, and I wanted to be somewhere in the middle, where there was that definition, but also that soft beauty to it."
She further explained she never wanted to mimic what others were doing; she was simply trying to hide her natural appearance. "That's probably why I always wear contact lenses and I always did everything a little bit bigger," she added. "I wanted to make sure you didn't see me at all." She also admits she wasn't certain why people began recreating her looks when it first began happening. "You think to yourself, did I do something that was commonplace for everyone? Or did I do something that made people go, 'No, that's perfection. I want to look like that.' As I slowly started to see more people wearing it, I thought, okay, obviously I did something right," she said.
However, it felt odd seeing it expand to the mainstream, Raven admitted. "I never tried to brand it or trademark it," she said.