Swimsuits From Target You Need For 2022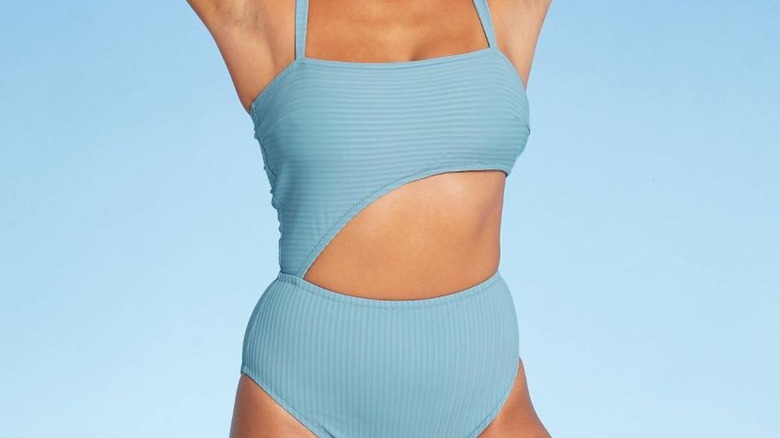 Target
Summer is upon us, which means it's officially time to revamp that swimsuit drawer. Each year, we see new trends coming out for swimsuits and 2022 is no different. According to Nylon, the biggest trends this year involve underwire, mirroring the corset looks often found on celebs, textured suits, graphic prints, cutouts, sparkles, and for the more modest type, athletic-looking one-pieces perfect for having fun in the water.
Celebrities have already taken note–we've seen Dua Lipa posing in a fantastic cutout one-piece on her Instagram and Emma Roberts in a textured pink high-waisted two-piece while on vacation. But you don't need to be a celebrity to snag this year's latest trends. Lucky for us, Target has also been noticing what's in style, and they have released some must-have swimsuits that are not only on-trend but super affordable too. Whether you want to be a bit riskier this summer or prefer to stay modest, Target's swimsuits are made for everybody and come in all different sizes. Here are some of our favorites.
Target swimsuits hit the biggest trends of the year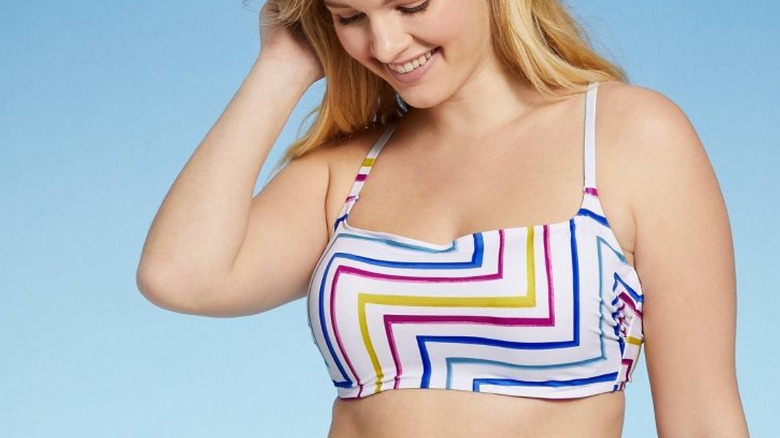 Target
Target has quickly become a go-to for affordable fashion. According to InStyle, this past Spring, the retailer released over 300 new styles of clothing, all mirroring big trends in the industry. Shoppers were delighted to see Birkenstock dupes, high-waisted bike shorts, and balloon jeans, so it's only fitting that we would see some big trends entering the stores for summer.
And those trends start with swimwear. The bathing suit section at Target can be overwhelming–the store offers everything from bikinis and tankinis to swim skirts and active styles (they also have a line of swimwear perfect for post-mastectomy, which is pretty amazing). To narrow down your selections, we've focused on hitting the biggest trends, like this longline cut-out bikini in colors like blue and green or a fun cheetah print. This underwire bikini hits two style trends: underwire and textured, making it a win in our book. Plus, the neon colors add to its' flair.
Other favorites include this cutout one-piece and this swim romper, which is perfect for chasing kids, doing laps, or simply laying out with a bit more coverage.
More Target summer styles you need for 2022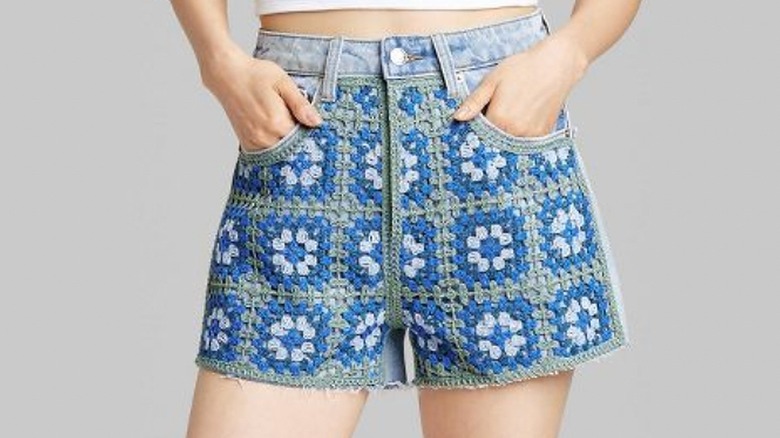 Target
If your plans include more than just lounging around in a swimsuit all summer, Target still has you covered. Their summer line of women's clothing will keep you looking fashionable no matter what you're doing.
Megan Bair on TikTok recently shared a Target haul for summer and we are loving the crochet skirts and crop-top looks for that '90s vibe that is so in style right now. Target also has new dresses, shorts, tanks, and sandals to complete your look. Some of our favorites include this sleeveless dress for an easy and cool go-to and these textured jean shorts that can be paired with a simple white t-shirt for an instantly stylish look.
Plus, according to US Weekly, Target is even coming out with a brand new line of styles by Tabitha Brown, the vegan chef, author, and actress. Her line will feature everything from dresses and swimwear to hats and sunglasses and include sizes up to 4X. We can't wait to rock these trends all summer long.