How The May 30 New Moon Will Affect You If You're A Sagittarius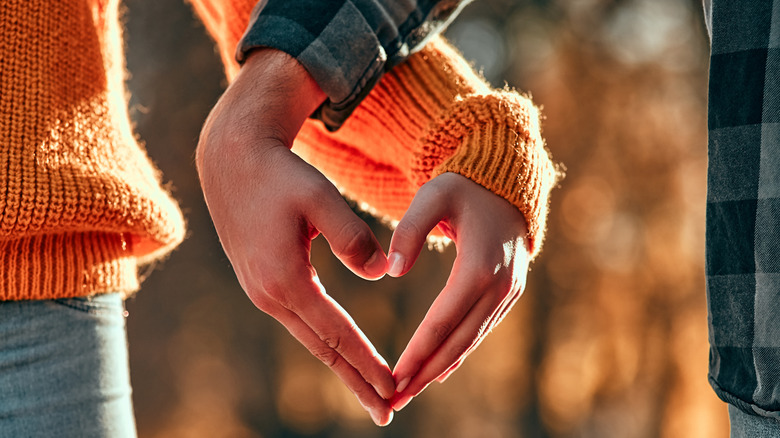 4 PM production/Shutterstock
With May ushering in two eclipses and Mercury turning retrograde, per Nylon, it was an overwhelming month, to say the least. Luckily, this impeccably timed May 30 new moon offers a calm after the storm. Landing in Gemini season (May 21 – June 21), this new moon is also ruled by Mercury. What this means is that in the same way that Mercury brings out intellect and introspection in Gemini, this new moon will bring that out in you. 
A new moon is always the perfect occasion to slow down and reflect on where you've been and where you want to go, but this one will especially provide you with the energy to ask yourself important questions. According to Yoga Journal, this new moon will give your brain a workout. Things you may have been avoiding or brushing under the rug should finally see the light of day. New moons are about new beginnings and new chapters. It is a time to really think about what you want to manifest for yourself and set intentions, which you can only really do by unpacking what's been weighing you down. 
That may be easier said than done, but understanding exactly what to focus on this new moon can come down to how it affects your specific zodiac sign.
Love is in the air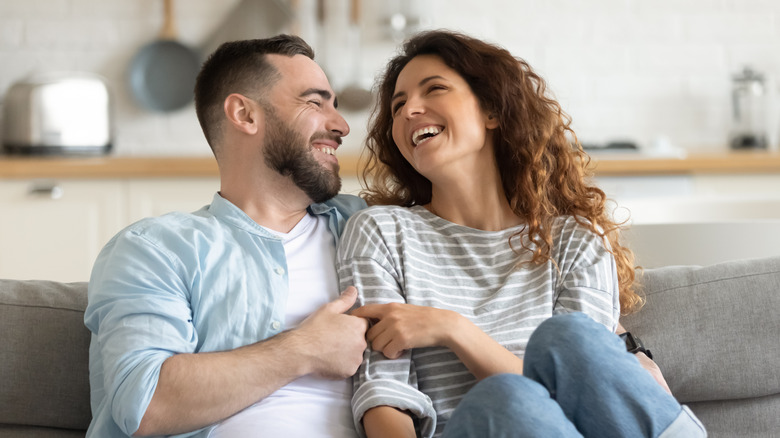 fizkes/Shutterstock
Mercury in retrograde has a way of throwing things out of whack, especially where emotions are concerned. You may have been feeling confused or unsure of your current relationships lately. All of those heightened emotions may even feel like they're reaching a breaking point where something has to give. Well, this new moon on May 30 is here to set things straight for you, Sagittarius (November 22 – December 21).
Landing in your seventh house of partnerships and relationships, this new moon promises a potential new chapter in your love life, per InStyle. Now is the time to make a bold move. It's easy to get complacent in what seems familiar, and often when you begin to feel suffocated by the mundaneness of it all you could feel like the only way is out. Well, this new moon is a time to see a way through. 
Ask yourself what you're looking for in your relationship, Sagittarius – whether it be a love connection or a new friendship. Woman & Home Magazine suggests you even build a vision board to help gain clarity on exactly what your needs are, and more importantly, ask yourself if they're being met. The first step is knowing what to ask for, and this new moon is a great time for setting those intentions. But once you figure out what you need, it's time to actually ask for it.
Communication is key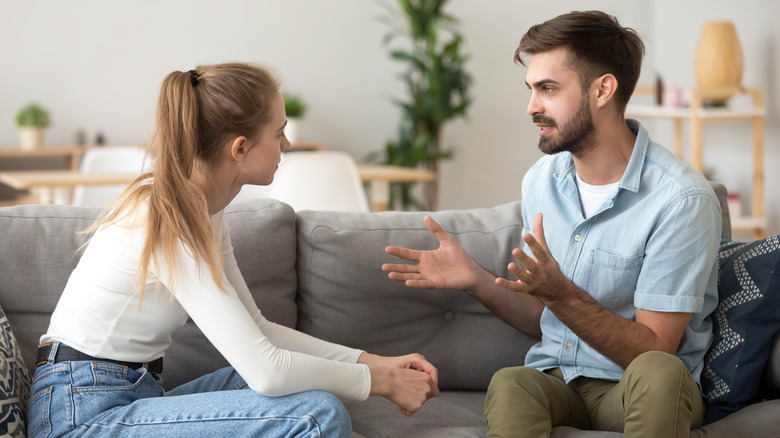 fizkes/Shutterstock
Once you've figured out what you want from your relationships, Sagittarius, it is time to let people know. You're often accused of making emotional decisions and sharing your truth can tend to come off a little harsh, per Co—Star. However, after harnessing this May 30 new moon to figure out what your relationships are lacking, don't let the delivery mess things up for you.
According to Elite Daily, this is an intense new moon for you. With Mercury in retrograde continuing to jumble up your emotions, you could get caught up in the intensity and fumble things when it comes to communicating your needs to others. You already have a tendency of being misunderstood Sagittarius, so be careful during this new moon and make the effort to get your point across in a healthy and productive way that leaves your relationships in a much better place. 
This new moon is shining a spotlight on your relationships, and it is the perfect time for you to have some meaningful conversations you've been putting off, per Bustle. You can use this new moon to either fix a relationship that needed some healing or take a partnership to the next level. Either way, you won't walk away from this new moon the same — the question is just how you want things to look for you this moon cycle. Whatever your vision is, you have the power to speak it into existence.