Is Meghan Markle Really Ending Her Feud With Her Father?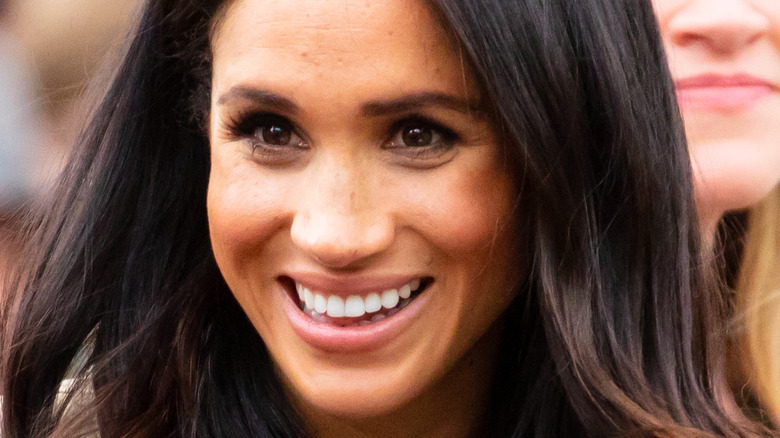 FiledIMAGE/Shutterstock
Could the Palace Wars really be coming to an end? After years of estrangement and hard feelings, it looks as though Prince Harry and Meghan Markle may be on the verge of making peace with not one, but both sides of their family. For the first time since their move to California, the Sussexes will be traveling to London with their two children to help celebrate Queen Elizabeth's historic Platinum Jubilee. The queen is expected to welcome Harry and Meghan with open arms, and will surely be delighted to meet her namesake great-granddaughter, Lilibet Diana, for the first time. Her Majesty also reportedly gave strict orders to the family to "come together" for the weekend, with no unpleasantness that could ruin her big event (via Daily Mail).
The tension between Harry and his other family members appears to be easing up as well. Back in January, Prince Charles wrote an essay on climate change for Newsweek in which he praised both his sons for their commitment to environmental protection. Harry also met with his father in a show of peacemaking during his brief stopover in London en route to the Invictus Games, per TMZ. To the joy of royals fans, Harry is said to be back on good terms with big brother Prince William; a source tells the Mirror that the brothers now FaceTime each other several times a week, even bringing their children in on the conversations.
Perhaps even more surprising, however, is news that the Duchess of Sussex is healing a bitter family relationship of her own.
Thomas Markle just had a terrifying health scare
Meghan Markle's relationship with her dad, Thomas Markle, has been on rocky ground for some time. After staging paparazzi photos of himself preparing to attend his daughter's wedding to Prince Harry — a royal no-no — he bowed out for health reasons, leaving Prince Charles to take on the honor of escorting the bride down the aisle. From there, he went on to publicly speak out against his daughter for everything from leaving royal life to denying him the right to see his grandchildren, per Us Weekly. 
Then, in an alarming turn of events, Thomas was in Tijuana, Mexico, when he suddenly lost his ability to speak, according to a source who spoke to Us Weekly. He managed to find a neighbor and write down his symptoms, and he was rushed by ambulance to a California hospital. It was there that he was diagnosed with a stroke. He was released after five days, still unable to speak, but well enough to write a message expressing his gratitude to "the wonderful doctors and nurses who saved my life. They are angels" (via Daily Mail).
Meghan was boldly criticized by her half-sister, Samantha, about her treatment of their father. Samantha claimed that Meghan hadn't reached out to her ill dad and might come to regret that decision before long. But a new report suggests that the Duchess of Sussex isn't as coldhearted as her family claims.
Sources say Meghan is trying to find a way to contact her dad privately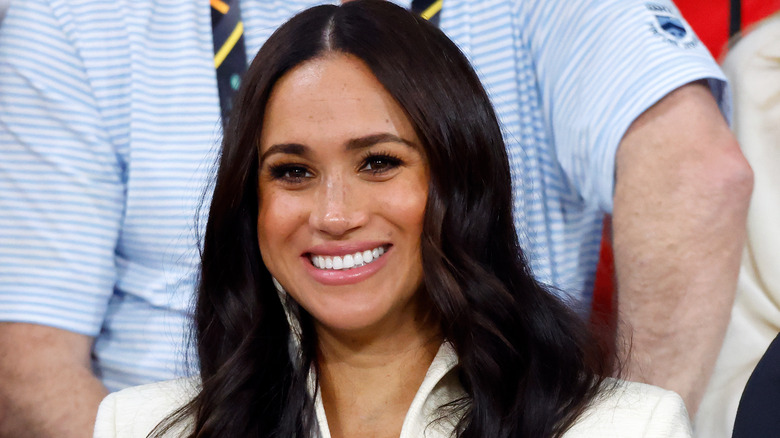 Max Mumby/indigo/Getty Images
The Duke and Duchess of Sussex, along with their children, are scheduled to attend Queen Elizabeth's Platinum Jubilee in London, which begins on June 4. Harry and Meghan will not be appearing on the Buckingham Palace balcony during the Trooping the Colour parade, but they are expected to make appearances at other events and to meet with the queen, Prince Charles, and other family members.
Before leaving California, however, Meghan is reportedly trying to fit in a quiet call or visit to her father, Thomas Markle. The retired film lighting director is at home recovering from a stroke. He is unable to speak, but has use of his hands and can write messages on a dry-erase board. A source told the Mirror, "Despite their estrangement, Meghan is concerned. She wants to know if there is any way to contact her father privately, without other family knowing about it or having to get involved." The source added that she has already contacted Markle's representatives to see if they can arrange a meeting without half-siblings Thomas Jr. and Samantha.
"If she can contact their dad, she wants it to be totally private," the source declared. "It won't involve Netflix, it won't involve any photographs and it must not involve any tip-offs to the paparazzi." Knowing the media's thirst for any dish about the royals, that may be a difficult task — but if Meghan can manage a meeting, it could go a long way toward healing her relationship with her dad.