Thomas Markle Has A Message For The Queen Amid His Health Issues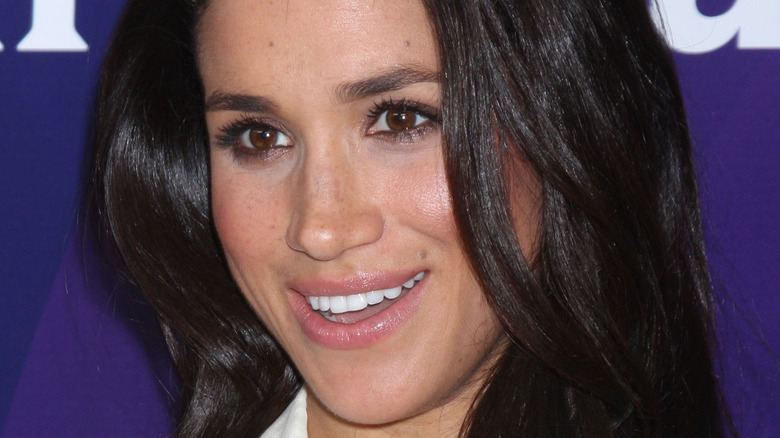 Kathy Hutchins/Shutterstock
Meghan Markle's father reportedly faced a serious health scare when he was rushed to hospital last week, after losing the ability to speak. TMZ confirmed paramedics had attended the home of Thomas Markle, a retired lighting director currently residing in Rosarito, Mexico. 
He shared his symptoms by writing them down on a piece of paper, while photos showed Thomas wearing an oxygen mask at the scene before he was taken to a healthcare facility over the border in Chula Vista, California. 
As the Daily Mail points out, the duchess' estranged father was just a week away from making the trip across the pond for the queen's Platinum Jubilee celebrations. His daughter, Samantha Markle, confirmed simply, "My father is recovering in hospital. We ask for privacy for the family, for his health and wellbeing." 
Meghan's estranged half-sister notably added, "It's a travesty how much he's been tortured and how much he's had to go through thanks to my sister's disregard the past few years." She even described the former "Suits" star's behavior as "unforgivable." 
Both Samantha and her brother, Thomas Markle Jr., rushed to be by their ailing father's bedside. Now, with the knowledge he won't be making it to Britain for the Jubilee after all, Thomas is releasing a special message for the queen. 
Thomas Markle wished the queen the best of luck for her Platinum Jubilee
Thomas Markle had a special message for the queen as he left the hospital, after being admitted five days ago for a stroke. Writing on a whiteboard, Thomas expressed, "I wanted to come to pay my respects to the Queen. I wish her a happy Jubilee and many more years." 
He also thanked the medical staff who had been working with him over the past week, acknowledging he was lucky "to be alive." Moreover, Thomas gushed, "I have been deeply moved by loving messages I've received from all over the world. People have been so kind. I can't speak right now, but I am working hard and will thank people properly when I can."
Per Metro, Thomas had previously expressed his enthusiasm for attending the Jubilee in an interview with GB News. "I'm going to show my respect for the queen and I'm going to make sure that the queen understands that my entire family respects the queen and the royals," he said at the time. "We admire them and we want them to know that's how we feel about them and that's how we feel about England." 
He was also looking forward to finally meeting grandchildren Archie and Lilibet as well as being reunited with his daughter. Meghan Markle's estranged dad notably missed her wedding after suffering two heart attacks in the run-up to it.
Has Meghan Markle reached out to her father in the wake of his health scare?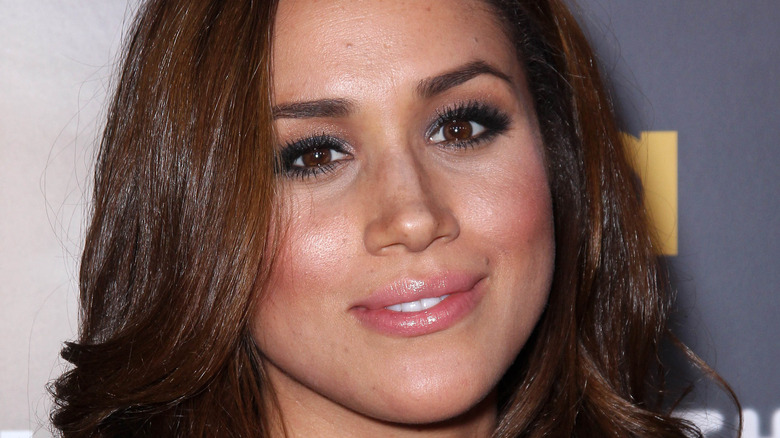 s_bukley/Shutterstock
When Thomas Markle's stroke was initially reported, Meghan Markle's half-sister made a bold statement about her treatment of their father. During an appearance on "Dan Wootton Tonight," Samantha Markle likened the duchess' behavior to "elder abuse."
"He's been through so much — two heart attacks, a pandemic and now a stroke. None of us have heard from Meghan. That's negligence," she said. "If she can't find it in her heart or have the moral conscience to step forward then shame on her." The situation is especially serious, Samantha said, considering Thomas may not have long left.
However, a source clarified to the Mirror, "Despite their estrangement, Meghan is concerned. She wants to know if there is any way to contact her father privately, without other family knowing about it or having to get involved." The former "Suits" star wants to avoid speaking to Samantha or Thomas Markle Jr. if she can help it because Meghan believes their intentions are more selfish than they're letting on. 
And, yet, during an appearance on "Good Morning Britain," Samantha claimed there has been no attempt to reach out to their father thus far. The Sun reports that "The Diary of Princess Pushy's Sister" author explained, "I heard rumors that she was trying to reach out to my dad's camp but my brother and I are my dad's camp and his number has never changed." Thomas currently can't speak, but he's able to text.