Samantha Markle Confirms What We Suspected About Meghan's Relationship With Their Father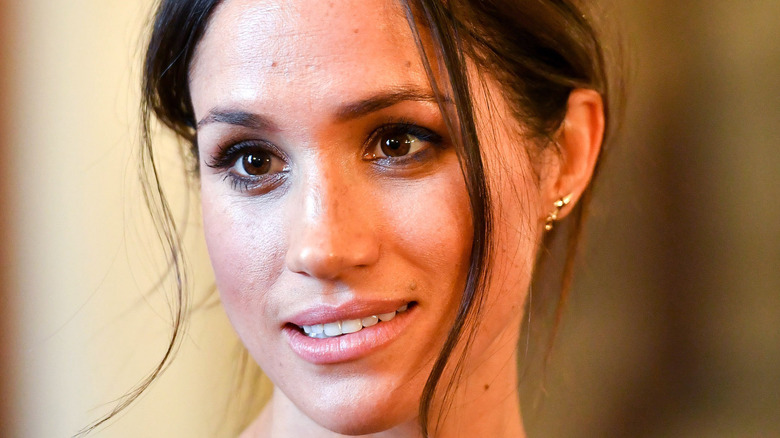 Wpa Pool/Getty Images
Thomas Markle's health issues have brought renewed interest to his strained relationship with daughter Meghan Markle. TMZ confirmed that the retired lighting director was transported from his home in Mexico to a hospital in California after complaining of losing his voice. 
Paramedics attended the scene, and Thomas wrote down his symptoms for them in a note. Meghan's estranged dad had been looking forward to attending Queen Elizabeth's Platinum Jubilee in June 2022, and Thomas had a special message for the queen amid his health issues.
In a statement to the Daily Mail, he wished Her Majesty all the best for her upcoming 70th-anniversary celebrations. Thomas also took a moment to thank everybody who had worked with him over his five-day hospital stint, admitting he felt "lucky to be alive." 
Thomas and Meghan have had well-publicized problems for years, not least because he's consistently taken public aim at her husband, Prince Harry. The duchess' father even described Harry as "arrogant" to The Sun, asserting he needs to give him another chance.
Thomas isn't the only one, either. Meghan's half-sister, Samantha Markle, reckons she needs to stop pretending that the problem is solely with their father. 
Meghan Markle's estranged half-sister claims she hasn't reached out
Earlier this week, Meghan Markle's half-sister made a bold statement about her treatment of their father, causing major controversy in the process. 
During an appearance on "Dan Wootton Tonight," Samantha Markle likened the duchess' alleged lack of care — in relation to Thomas' ongoing health issues — to "elder abuse." In fact, the published author warned that, if Meghan didn't change her ways soon, she might lose her chance. In case there was any doubt, however, Samantha made it clear that the former "Suits" star has not reached out.
While speaking on "Good Morning Britain," Meghan's estranged sister railed against rumors that the duchess had been trying to contact their dad. "Those rumors are not true, she has not reached out," the "Diary of Princess Pushy's Sister" author stated firmly. 
Samantha did acknowledge, though, that there's nothing stopping Meghan from doing so. "He loves all of us and he's been bashed in the media for always speaking out to extend an olive branch to reach out to her," she argued. "He is her father so he has a right to reach out to her."
Moreover, Samantha pointed out that Thomas has always had the same number and home address, so there's truly nothing stopping Meghan from reaching out, either privately or otherwise. Host Richard Madeley countered that Thomas was reportedly planning to corner the Sussexes at the Jubilee with a film crew in tow, but Samantha denied this.
The duchess reportedly wants to speak to her father in private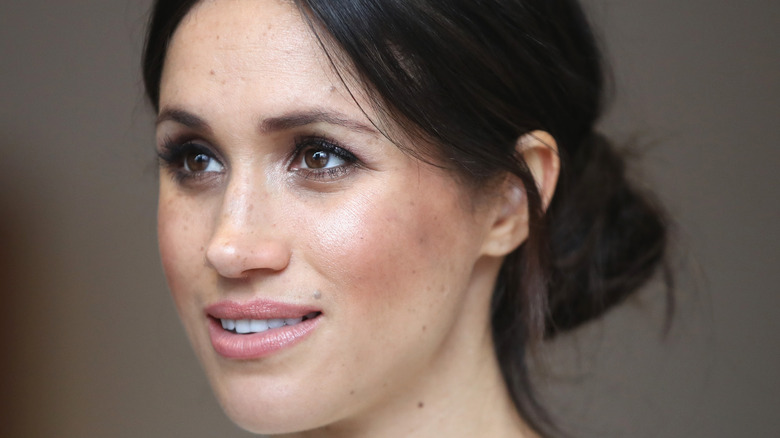 Chris Jackson/Getty Images
Samantha Markle has made it clear that Meghan Markle's behavior is significantly affecting their father. In fact, she told TMZ that Meghan may even have caused Thomas' stroke or, at the very least, his debilitating health issues by refusing to make amends.
He suffered two heart attacks in quick succession in the run-up to his daughter's wedding, which ultimately prevented him from attending. According to Samantha, the ongoing rift with Meghan is causing Thomas severe stress, resulting in life-threatening heart problems. If he does pass away, the author warned her half-sister to "stay the f*** away from a funeral and not use it as a photo opportunity." 
However, a source told the Mirror that the duchess does want to speak with her father one-on-one. "Despite their estrangement, Meghan is concerned. She wants to know if there is any way to contact her father privately, without other family knowing about it or having to get involved," they explained.
Meghan is concerned that Samantha and their half-brother, Thomas Jr., aren't entirely trustworthy and would therefore rather keep them out of it. Judging by Samantha's "Good Morning Britain" interview, though, that's not an option, particularly if Thomas is intent on including the cameras. 
The source clarified, "If she can contact their dad, she wants it to be totally private. It won't involve Netflix, it won't involve any photographs, and it must not involve any tip-offs to the paparazzi."