Elijah Richardson Tells Us His Favorite Scene From Hollywood Stargirl - Exclusive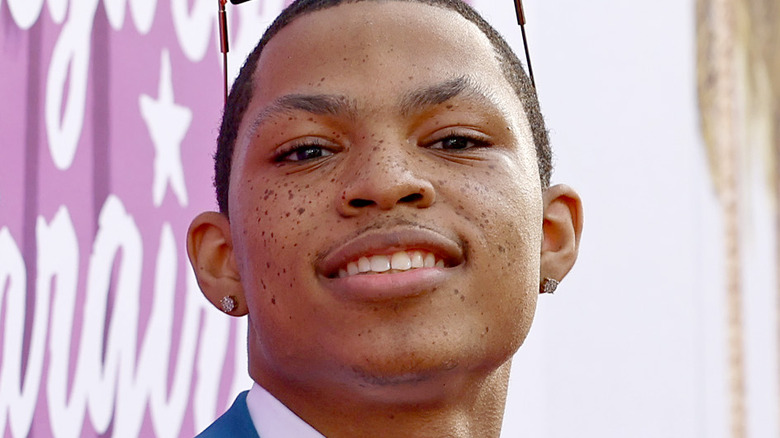 Frazer Harrison/Getty Images
What exactly has Stargirl Caraway been up to since she disappeared from Mica, Arizona? It turns out, she's embarked on another incredible adventure on the West Coast. In the new Disney film, "Hollywood Stargirl," fans get a chance to see exactly where the young singer ended up as she and her mother have relocated to Los Angeles. As Stargirl searches for new friends, she meets two brothers who are making their very first movie. The only thing missing from their musical story is a leading lady — and they quickly find her once they both lay eyes on Stargirl.
Actor Elijah Richardson, who plays Stargirl's new friend Evan, was ecstatic to be cast in the film that's full of singing and dancing. "It was awesome to be around that type of energy, even when the cameras shut off," he said during an exclusive interview with The List.
In one scene, Richardson even sings along with Grace VanderWaal, who plays Stargirl. Yet, out of all the special scenes in the film, there's one in particular that will always be his favorite.
The celebration scene meant a lot to the actor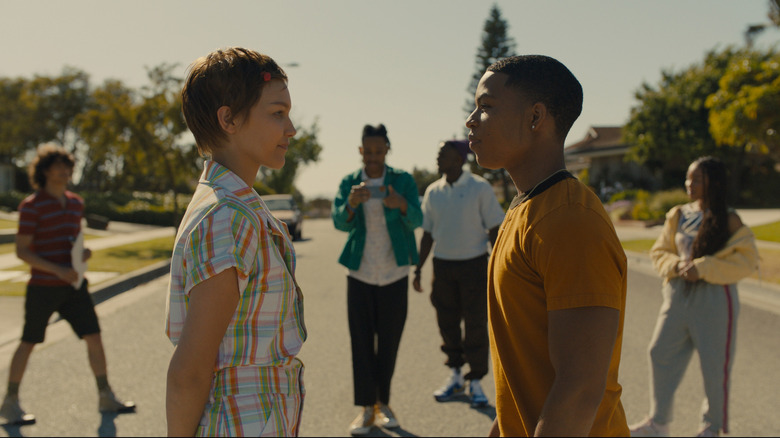 Disney+
After weeks of rehearsals and late-night shoots, the short film that the three characters in "Hollywood Stargirl" set out to complete is finally finished by the end of the movie. To mark this special occasion, Evan, Terrell, and Stargirl sit down for a special dinner with their families. It's a scene that Elijah Richardson remembers well. "One of my favorite memories was when we all came together at the table to eat in front of our apartments," he told The List. "I thought that was so dope to see how everyone came together and had that sense of realization that we just made a movie."
Looking back, this scene was more than just something that was special to the character he played. Filming that moment was something that meant a lot to the cast, who had grown close over the course of filming. It was a way of acknowledging all the hard work they had done over the last year, along with their filmmaking characters. "Let's celebrate!" Richardson said. "You know what I mean?"
"Hollywood Stargirl" is now streaming exclusively on Disney+.