Joe Biden Is Making An Unexpected On-Screen Appearance Amid Rating Nosedive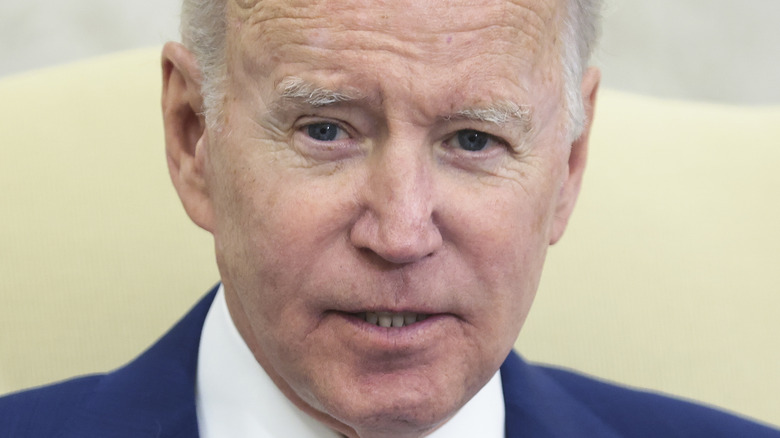 Bloomberg/Getty Images
We may receive a commission on purchases made from links.
Politicians appearing on late-night TV shows is not a new phenomenon. From John F. Kennedy chatting on "Tonight Starring Jack Paar" in 1960 to Bill Clinton playing the saxophone on "The Arsenio Hall Show" in 1992 and Donald Trump getting his hair tousled by Jimmy Fallon on "The Tonight Show" in 2016 (per The Washington Post), those running for office have long viewed late-night television as an effective — and informal — way to speak to a wide audience.
Barack Obama became the first sitting U.S. president to ever appear on one of the late-night talk shows. In 2009, while still in the Oval Office, he dropped by "The Tonight Show" to banter with Jay Leno (per Time). Joe Biden followed suit by chatting virtually with Jimmy Fallon on "The Tonight Show" in 2021 (per Deadline).
And now, the current president will appear on "Jimmy Kimmel Live!" June 8 — in person. Jimmy Kimmel shared the news yesterday via Twitter: "Our very elected President @JoeBiden visits @JimmyKimmelLive Wednesday night. No malarkey."
Joe Biden's poll numbers keep dropping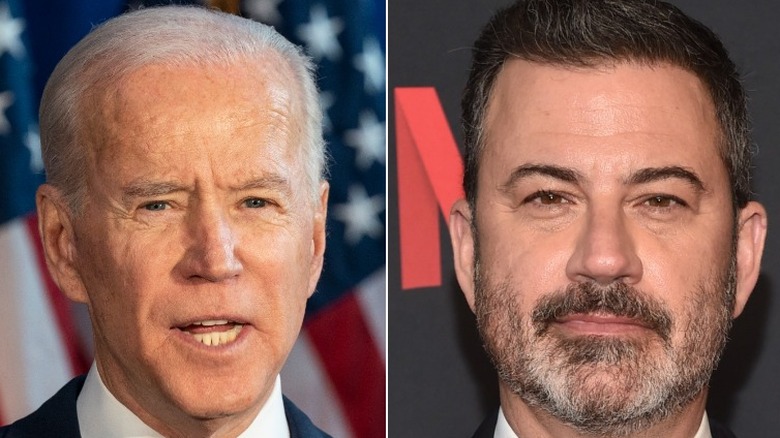 Alberto E. Rodriguez/Getty & lev radin/Shutterstock
Joe Biden is proving to be a very unpopular president. According to Reuters, since summer 2021 his approval rating among Americans has not risen above 50%. Last month, his approval rating plummeted to a new low that was scarcely higher than Donald Trump's all-time low of 33%. Biden's rating has improved only slightly since May, hitting 42%.
Myriad factors are contributing to Biden's abysmal numbers (per Forbes), including the ongoing war in Ukraine, rising COVID-19 numbers, out-of-control inflation, new school shootings, and a nationwide shortage of baby formula. Biden's weak numbers are especially troubling for Democrats given that November and the midterm elections are fast approaching (per Bloomberg).
The septuagenarian president's upcoming appearance on "Jimmy Kimmel Live!" is no doubt an attempt to improve Biden's tarnished image. The popular talk show has been going strong for 20 seasons and has earned host Kimmel an impressive net worth along the way.
The president is not a naturally gifted speaker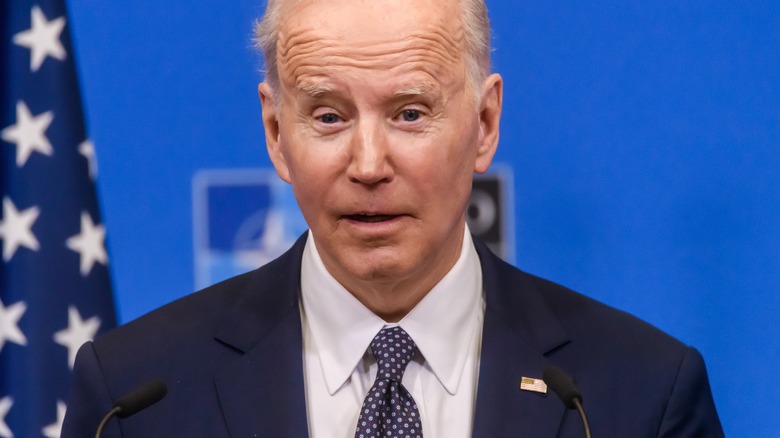 Gints Ivuskans/Shutterstock
Despite the show's name, "Jimmy Kimmel Live!" isn't actually live. This is a good thing for Joe Biden, whose legendary verbal gaffes and blunders sometimes bring the Twitter bullies out in full force. For example, during a campaign stop in 2020, he called an audience member a "lying, dog-faced pony soldier," according to The Guardian. Biden is fully aware of his own shortcomings and has described himself as a "gaffe machine" (via CNN).
The president is also known for ignoring his prepared remarks and talking about whatever strikes his fancy. Politico quoted a campaign official as saying, "The general status quo was whatever the speech was, regardless of how good it was, he would go off script."
Also contributing to his difficulties with public speaking is his stutter. Learning to cope with this childhood stutter was part of Biden's stunning transformation over the years. In his memoir, "Promises to Keep," he wrote: "There were times I thought it was the end of the world, my impedimenta. I worried that the stutter was going to be my epitaph."
An unpopular and verbally clumsy president who's looking for an approval ratings boost appearing on a show with a quick-witted host (who once asked Barack Obama a very awkward question) — what could possibly go wrong?