The Awkward Question Jimmy Kimmel Asked Barack Obama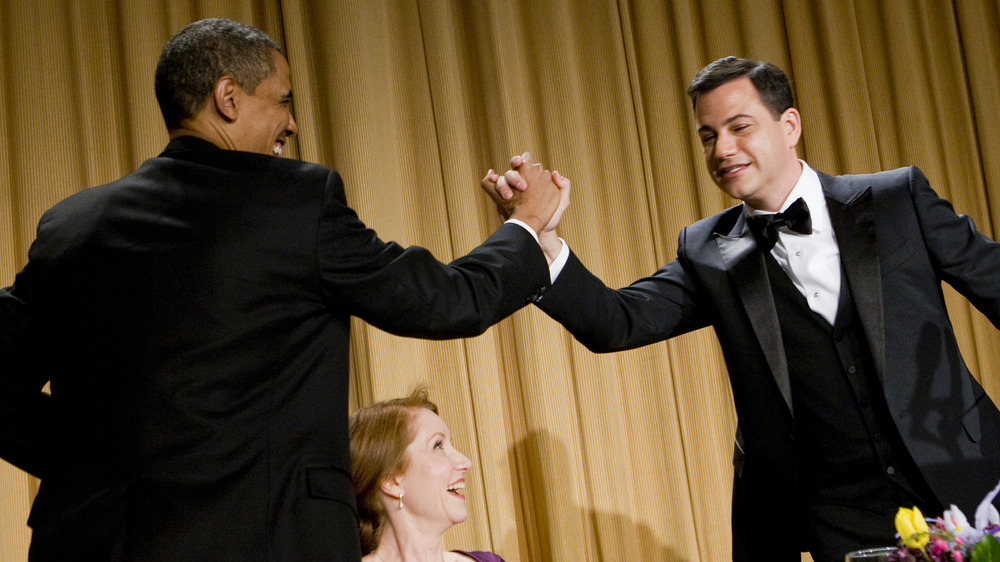 Pool/Getty Images
Barack Obama isn't easily flustered. But the former president found himself at a loss for words when late-night talk show host Jimmy Kimmel put him on the spot during a recent interview, while promoting his new memoir, A Promised Land. The massive, 701-page book details Obama's celebrated two terms as commander-in-chief and describes how he handled, among other things, the finding and killing of Osama bin Laden. According to Variety, the memoir sold a whopping 890,000 copies in the U.S. and Canada during the first 24 hours alone, setting a new record for its publisher.
Kimmel asked Obama what he thought about President Trump's support, on Twitter, of unsubstantiated claims that bin Laden may still be alive and, further, that Seal Team 6 may have actually been killed instead. The former president remained characteristically diplomatic, pointing out it wouldn't be quite so crazy if Trump wasn't the one pushing such wild claims. When it comes to his own personal memories of that time in his life, however, Obama wasn't quite as stoic.
The host wanted to know how Barack and Michelle celebrated bin Laden's killing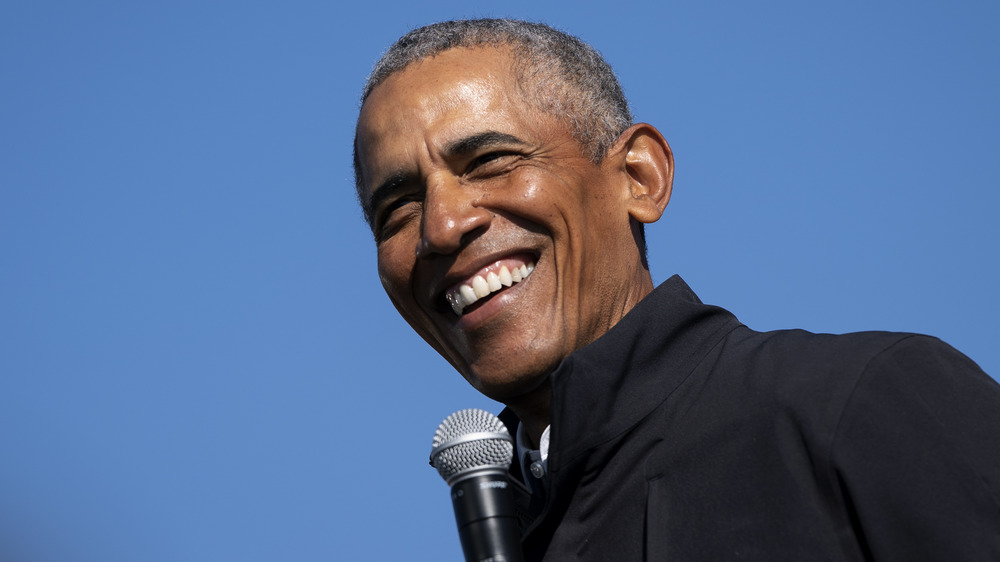 Drew Angerer/Getty Images
Kimmel cheekily revealed he'd asked Michelle, during a previous interview, if the first couple "made love" on the night the then-president ordered the raid that ultimately led to the killing of bin Laden. According to Kimmel, the former first lady promised to tell the story the next time their paths crossed. Unfortunately, they haven't yet. Obama looked flustered and his eyes darted off to the side as he asked, "Did she say she was going to answer that?" Kimmel insisted Michelle promised she would spill the beans and even inquired as to whether A Promised Land jogged his memory at all.
"When I read the book and you were talking about hearing people outside the White House chanting 'USA! USA! USA!' I had an image in my head. I did," revealed the TV host. After taking a breath, Obama jokingly responded, "I suspect that she was asleep, 'cause the truth of the matter is, most of the time, by the time I was done working, she'd be snoozing." He added, "Michelle goes to bed about 9 o'clock." When Kimmel reassured the former president that he didn't need to make excuses, Obama corrected him: "It's not an excuse, it's a lament!"
Elsewhere, the former president joked that the Navy SEALs who conducted the raid on bin Laden's hiding place could be used to remove Trump if necessary, if, indeed, he continues to dig his heels in.