The Best Mascaras For Sensitive Eyes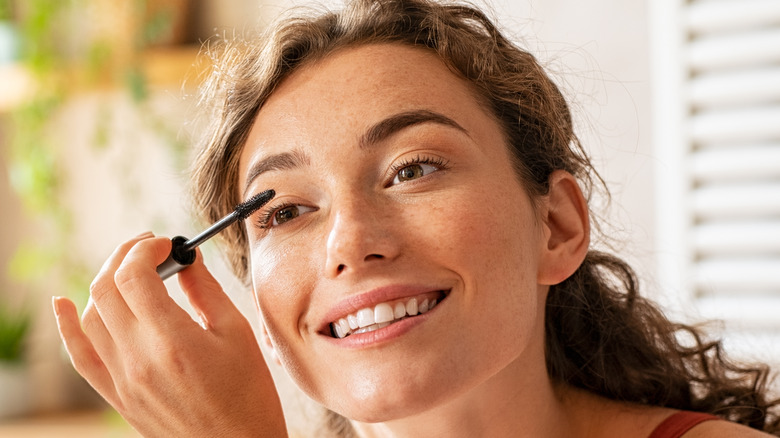 Rido/Shutterstock
We may receive a commission on purchases made from links.
Mascara is a beauty staple in many people's makeup routines, but it can be difficult to find one that's right for you. 
You don't want it running down your face after a bad downpour like you just cried for hours, but you also don't want a mascara so natural you can barely see it. Waterproof mascara is a good solution, but it can feel heavy on the eyes and is more difficult to take off. Moreover, mascara can cause issues for people with sensitive eyes due to the fact it can flake off during the day (via Good Housekeeping). You may feel you're the only one suffering from sensitive eyes, but this isn't the case. Amongst some of the biggest triggers are things many people encounter daily, such as pets, dust, and pollen. Hayfever and wearing contact lenses are big factors too, though of course some people just have naturally sensitive eyes (via Grazia Daily).
Perfect for sensitive eyes, mascaras with the hypoallergenic label usually mean that they won't contain ingredients that cause an allergic response (via Allure). However, the label does not mean that the mascara you've had your eyes on for months won't cause you any irritation. Still, if you're sick of red, watery eyes, hypoallergenic mascaras are worth a try. Below are some of the best hypoallergenic mascaras so you won't get asked if you're okay 10 times a day.
You don't have to sacrifice a dramatic look with a hypoallergenic mascara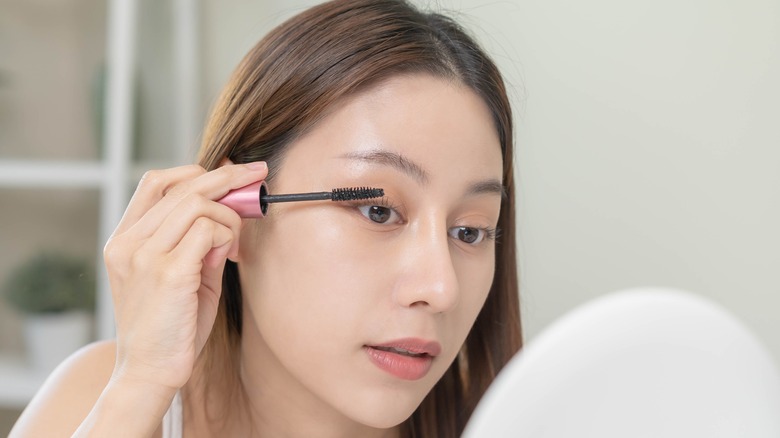 Kmpzzz/Shutterstock
According to Good Housekeeping, the best overall mascara for sensitive eyes is the Lash Blast Volume Mascara by CoverGirl. Affordably priced, it scored highly for "going on smoothly, volumizing, lengthening, and separating lashes." It is also mostly resistant to water with minimal smudging. All of that and no constant blinking? We're in!
If you're a contact lens wearer, the La Roche-Posay Toleriane Waterproof Mascara is ideal for you. In the test run, participants noticed that this mascara gave "volume so noticeable, [they] could skip mascara." La Roche-Posay is a brand well known for its sensitive skincare and products that live up to their hype, meaning most of their makeup products won't cause you problems. 
Want to up the ante? If you're after a mascara that will create the right amount of drama for a night out, Tarte's Lights, Camera, Lashes Mascara is described as a "push-up bra for your lashes." Additionally dermatologist and ophthalmologist-tested, it will give you all a dreamy sexy eye look without any of the (decidedly unsexy) eye watering.
If you prefer a more natural look, try these mascaras instead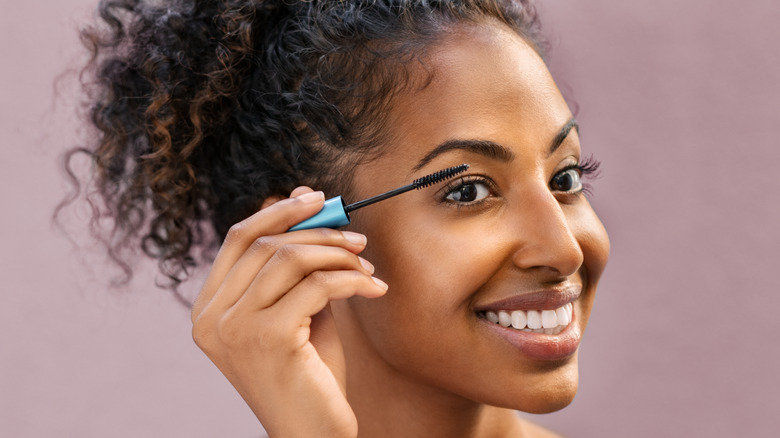 Rido/Shutterstock
On the flip side, you may have sensitive eyes but not like the dramatic look. In that case, Prima recommends Glossier's Lash Stick. It's designed to give you a subtle length boost but still fits in with the no-makeup makeup look Glossier is famous for (via Us Weekly). Fragrance-free and ophthalmologist-tested, Lash Stick won't irritate your eyes and will come off easily with warm water. 
For those of you who want to thicken their lashes without them looking false, Good Housekeeping recommends Almay's Thickening Mascara. Specially made for sensitive skin and eyes, the mascara gives a "thick and full" look to your lashes without irritating them. Best of all, it's super affordable too. 
Finally, if you hate rubbing at your eyes with makeup remover after a long day, Maybelline's Full 'N Soft Mascara is enriched with vitamin E to do exactly what its name says — create full and soft lashes with subtle definition that comes off easily when it's time for bed. 
With these mascaras, you can banish watery eyes (or at least, less obvious watering) and know you're slaying the lash game.