Professional Makeup Artists Reveal How They Apply Natural-Looking Concealer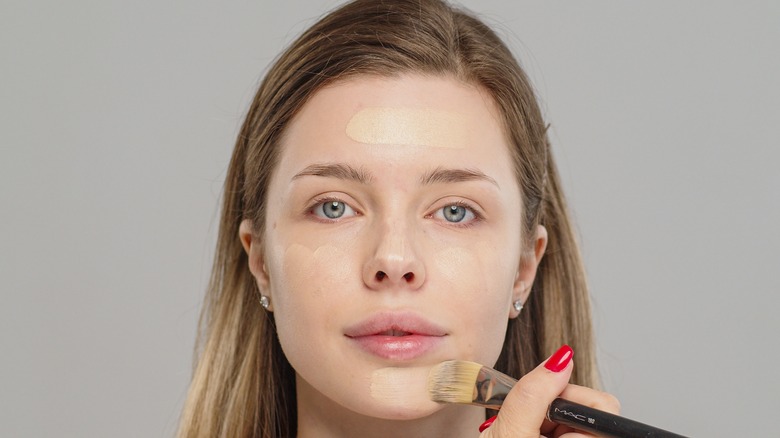 Valua Vitaly/Shutterstock
When applied correctly, concealer can be a godsend in your beauty repertoire. With it, you can cover up dark circles, blemishes, or uneven skin in minutes to create a flawless finish.
However, concealer can be pretty difficult to use correctly. You don't want to use so much that it looks caked on, and if you're a shade or two off, it can look disturbingly artificial (via Cosmopolitan). Let's face it, when it's uneven and dramatic looking, it may not give you the results you're looking for. After all, concealers are enhancers, and whether you pick up a drugstore concealer or use a professional-grade one, they're not a magic wand. There are certain things a concealer can and cannot do for you.
In general, makeup works best when it looks natural (via The Trend Spotter). The goal for most is to enhance your features, rather than create a whole different face.
Apply a lighter shade of concealer under your eyes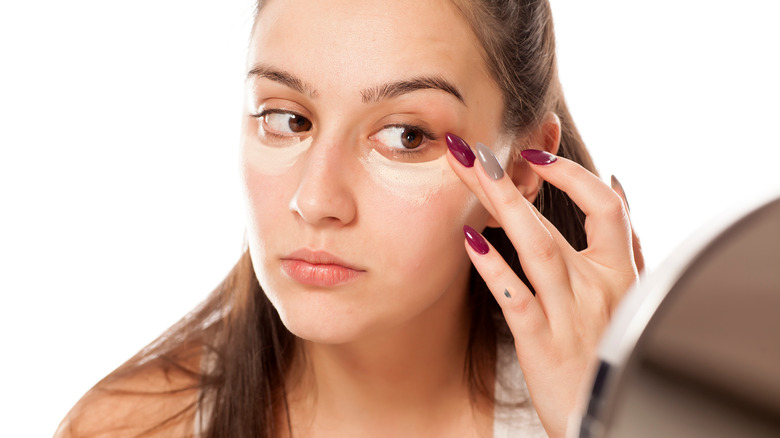 Vladimir Gjorgiev/Shutterstock
When you want to learn something new, it helps to go to the best: So if you're talking makeup, take advice from those most skilled. Makeup artist Bobbi Brown told mindbodygreen that the secret to applying concealer revolves around blending. "You need light under the eyes because it's darker under there," said Brown. This applies to all people, including those with dark circles and those without, because we all have a slightly darker color under our eyes.
"It always helps to lighten the area just a bit, especially around that little socket in the inner corner of the eye," Brown mentioned. "It shouldn't look too light [compared to the rest of your complexion], just a bit brighter than your skin tone."
Makeup artist Colby Smith said you can also try using two different shades of concealer under your eyes to ensure that it will differ from the rest of your face (via Allure).
Conceal rough spots and dark patches on the rest of your face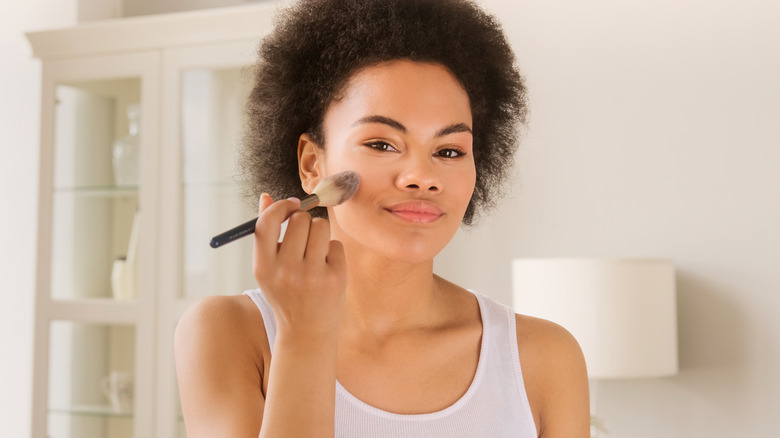 AliceCam/Shutterstock
To finish, use concealer on any other dark patches on your face — just not the same color under your eyes. Some spots you can use concealer on are any areas of redness around your nose as well as blemishes, breakouts, or scars.
Ultimately, you want other rough patches on your face to blend flawlessly, so using a different concealer for each spot you're trying to cover up is important (via Glamour). Makeup artist Mai Quynh explained, "Undereye concealer should be less dry and thick in texture and consistency compared with pimple concealer."
According to Quynh, each concealer has a different function. "You want to make sure your pimple concealer stays put, while your under eye skin is delicate and thinner, and you want a concealer that won't settle into fine lines." You should also take into consideration the order in which you're putting on your concealer. Quynh recommended applying concealer before foundation.