How To Create A Crocodile Manicure At Home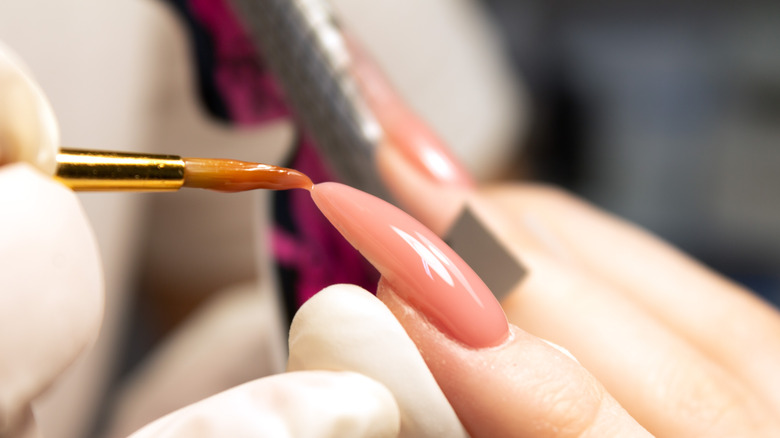 NataliyaR/Shutterstock
The wonderful world of nail art is constantly churning out new trends and styles. You can go long short, natural, or acrylic, use stickers – the options are endless. If you're itching for a new set, you'll always have something exciting to try out.
A new nail trend you might want to consider are crocodile nails. PopSugar named crocodile nails as one of the best nail trends of the year. According to Nylon, blooming nails are nails decorated using a sort of marbling technique in which nail artists apply dots of colored blooming gel onto a wet, uncured top coat. The color starts to bleed into the top coat forming a cool watercolor patterns that nail artists often use to make nails look like marble, watercolor paint, or in this case, crocodile skin. Allure pointed out that Lizzo's purple set is reminiscent of HBO's "Euphoria."
It's hard not to think about the Himalayan Birkin bag when looking at these nails. On Brandon Blackwood's Instagram, Kali Uchis matched hers to her purse. They'd make the perfect accessory and if you do them yourself, you can match them to your own crocodile or snake skin-inspired accessories. Here is how to achieve this effect at home.
How to nail the crocodile manicure yourself
According to Ché Monroe, also known as Class Act Nails on YouTube, you'll need a few things to get started: blooming gel, gel polish, and a top coat. If you want to make your crocodile nails three-dimensional, you'll also need builder gel and a brush to apply it with. Crocodile nails, also known as #crocnails on Instagram or reptile nails, are a kind of blooming nail, which Allure named one of the top trends of 2021.
You can find Monroe's tutorial on YouTube, but the basics are simple: You start with a coat of blooming gel — but don't cure it. Instead of curing, you'll reach for your color gel and begin doting it in rows along the length of the nail. You'll notice the color bleeds across the nail, forming a row of scale-like ovals. Doing this across your nail will give it that crocodile-effect. Once you're satisfied with your crocodile pattern, you can leave it at that, cure it and apply a top coat. Or, you can use builder gel to dot little "bumps" into your "scales." Monroe's tutorial advises you to cure the nail every few bumps to prevent them from bleeding into each other. Once you learn the technique, the options and variations are endless.
Also on YouTube, Tabitha Scott Nails explains how this crocodile nail technique is one of five basic techniques every nail artist should have and explained that it can be used to make roses and other patterns.
The crocodile nail's many stylish variations
Instagram is full of #crocnail inspiration. A popular variation is to contain the crocodile nail pattern to the French tips of the nail, as demonstrated on nail artist Neon Drip's Instagram. Other nail artists use the same color for the nail and the "scales" creating more of a texture than a pattern.
The crocodile nail can be made to look like crocodile and snake skin, yes, but also alien skin.  For the alien skin look, Instagram's @nailsandbri coated the finished nail, with its 3D bumps, in holographic pigment, giving the overall manicure an extra-terrestrial effect. Artist @maradisenails added colored "bumps" over a clean nail for a more fun pop art look. If you're still honing your technique, consider featuring this crocodile technique for a single accent nail, as seen on nail artist Chloe Arellin's nails. The options are endless with crocodile nails and it's a handy technique to add to your repertoire.