How COVID-19 Affected Michelle And Jim Bob Duggar's Marriage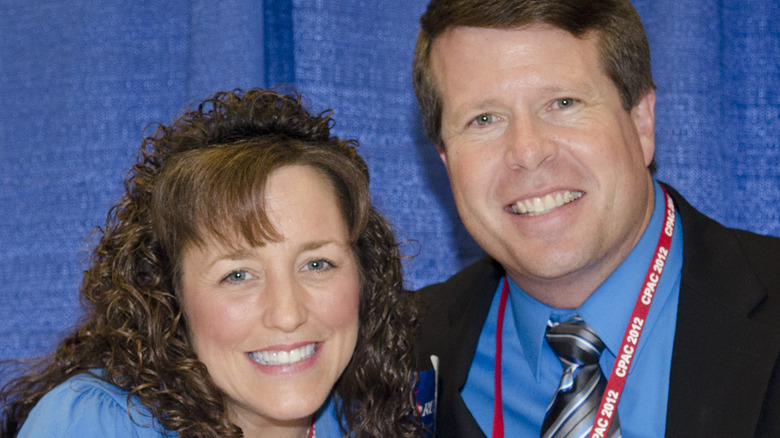 Kris Connor/Getty Images
Michelle and Jim Bob Duggar have been together since they were teenagers: The reality stars unsurprisingly take a no-nonsense approach to marriage as a result. In a blog post on the family website, the Duggars shared their story and how low-key their wedding day was, with Michelle confirming she even wore Jim Bob's mom's dress for the occasion. "Everything we did for our wedding was so inexpensive, but perfect for us. We wanted to spend our money on our honeymoon!" they wrote. The couple got hitched just a few months after Michelle graduated high school. She was on the cusp of turning 18, while Jim Bob was about to be 19.
Regardless of their youth, the couple has assuredly stood the test of time. And the "19 Kids and Counting" stars have plenty of opinions about what it takes to make a marriage work. The most problematic thing Michelle has said about her relationship with Jim Bob surrounds a wife's so-called "duty" to always be available to her husband for sex, including when she's tired at the end of a long day, or even looking after a new baby. During a chat with Today, Jim Bob emphasized his own role in their partnership, advising, "That's key in a relationship, the husband needs to cherish his wife and always treat his wife like a queen." 
Evidently, nothing is going to destroy their union, including quarantining together during the pandemic.
The long-time couple is even more dedicated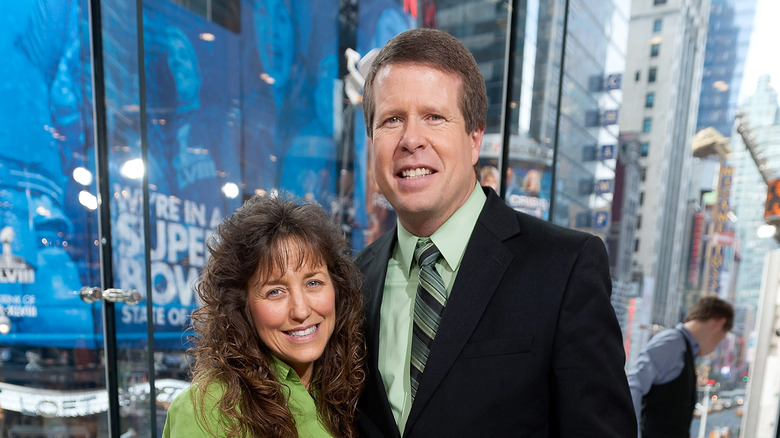 D Dipasupil/Getty Images
Most couples found it taxing spending every waking hour together during the COVID-19 lockdown, but Michelle and Jim Bob Duggar are not most couples. The reality stars revealed to Us Weekly that their marriage is so strong, quarantining at home actually made it even better. "I really know that our relationship with God and our close walk with Christ is what holds our marriage together," Michelle shared. "That's the glue that started our relationship years ago. And I know because of our faith, that is the solid foundation that we have." As a result, she's more in love with Jim Bob than ever, despite the fact they've been married for over 30 years.
"He is the man that stands strong and is solid, and then he's steady," the "Counting On" star gushed. "And I'm so grateful that God brought us together 36 years ago. And he's given us these precious children and we love every one of them." In fact, the Duggars consider themselves "more blessed than any couple," considering they've got a number of grandchildren to love too. Regardless of its many setbacks, including everything that happened at the height of the pandemic, and their son, Josh Duggar's, prison sentence, Michelle and Jim Bob are grateful for everything their life together has given them.
Divorce is rarely an option for the Duggar family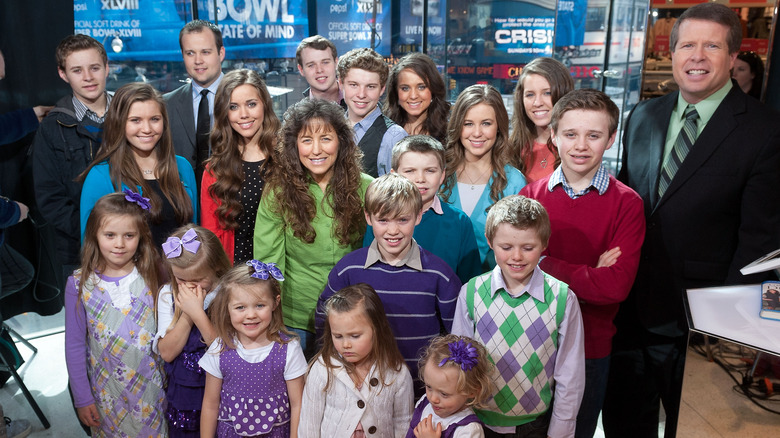 D Dipasupil/Getty Images
If you're wondering what the Duggars really think about divorce, suffice to say, they're completely against it. Per In Touch Weekly, the Duggars are strict fundamentalist Christians, so when they tie the knot, it's generally assumed to be for life regardless of what happens down the line. Obviously, there are exceptions, though the situation isn't always black and white. 
As In Touch Weekly noted, after Josh Duggar was found guilty of possession of child sexual abuse material, his wife, Anna's, in-laws offered her a place to stay. An insider pointed out, "Now comes the hard decision, whether to stay and wait for Josh to come out or start her life over without him," adding, "Some of her kids will be grown with possibly children of their own by the time their dad gets out." Put simply, Michelle and Jim Bob don't want Anna to divorce him.
This no-nonsense attitude relates to the family's take on dressing modestly too. So, why aren't the Duggar girls allowed to wear pants? Dressing modestly is taught in scriptures the Duggars read. In Touch Weekly reported why the girls didn't wear pants in their younger years. "We do not dress modestly because we are ashamed of the body God has given us; quite the contrary. We realize that our body is a special gift from God and that He intends for it to be shared only with our future husband," said the four eldest Duggar daughters.