Diana Ross Hairstyles You'll Want To Recreate Today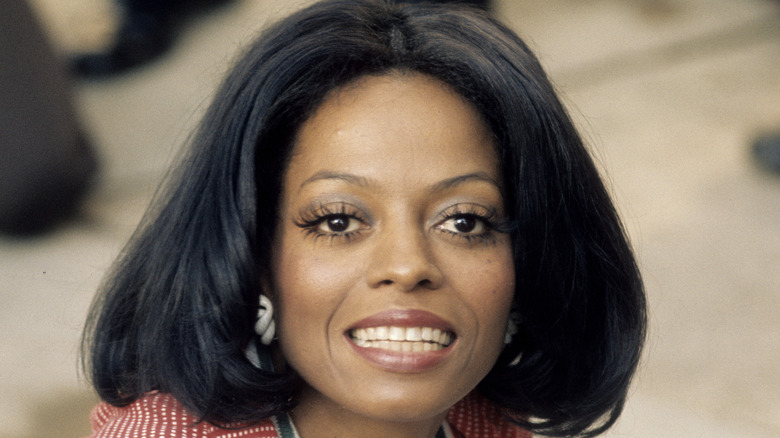 Anwar Hussein/Getty Images
Diana Ross, singing superstar and fashion icon, has tried a ton of looks over the years. As i-D VICE puts it, Ross is known for her glam style as much as she is for her established career. The "I'm Coming Out" and "Upside Down" singer has turned out look after look throughout her time in the spotlight, which has spanned over 60 years. Known for being a disco diva with a penchant for fashion, Ross' style is sometimes bold and other times casual. Most importantly, it's completely her own. Whether it's a sparkly mini dress or a plain tee and jeans, there's no doubt Ross curated a series of looks that were innovative but also true to herself. Her style, though on-trend for the time, remains timeless. 
Still, if there's one thing Ross was known for perhaps more than her clothes, it's her series of iconic hairstyles. From bouffant beehives to hippie curls, Ross tried it all out. With summer around the corner, it's the perfect time to try something new. Grab your hairspray and get ready to be inspired! 
Diana Ross has embraced a wide variety of hairstyles through her career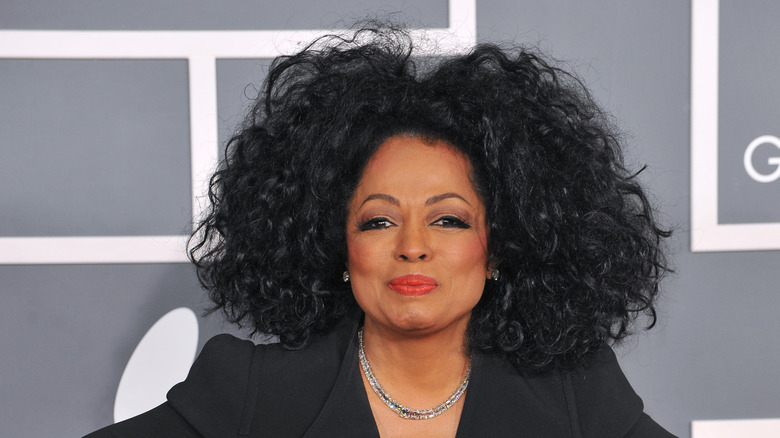 Featureflash Photo Agency/Shutterstock
Diana Ross changed her hair numerous times over the years, meaning there are plenty of looks for us to try. As highlighted by Essence, Ross has been seen with everything from a bob with popular 1960s-style bangs to her signature curly afro style. During the swinging 1960s, Ross was mostly seen with a cute little bob, sometimes with bangs and sometimes without. During the early 1970s, she was more likely to be seen with her stunning signature up-do, which emphasized her gorgeous bone structure. 
Later on in the 1970s, the singer was pictured several times with the curly hairstyle that was to become her signature. Though it was still tamed, the free-flowing look was definitely beginning to take shape. Still, Ross never stuck to one style. Within a few years, she went from a sleek bun to a beautiful afro, never sticking to one style for long. As she entered the 1980s, she began to embrace a longer length and tons of volume, though she did make exceptions for the occasional photo shoot. Throughout the 1990s, Ross alternated between stunning and voluminous curls and the super straight hair many rocked during this time.
In the last few years, Ross has returned to her iconic head of curls. With volume for days, it's the look most of us associate with her, and it doesn't seem to be going anywhere anytime soon. 
Her style helped to kickstart trends still seen today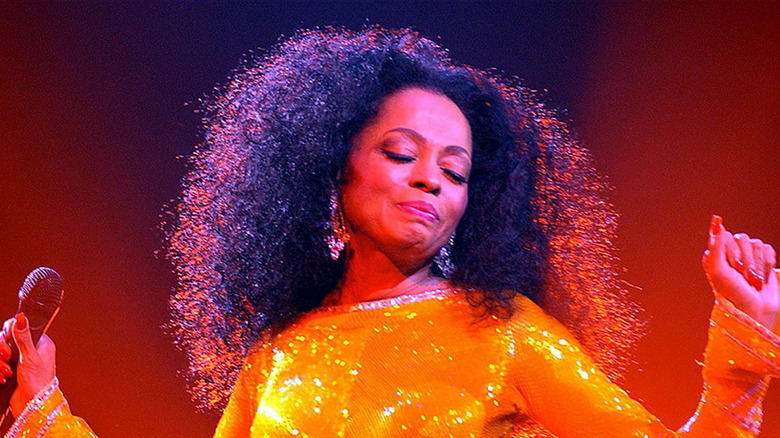 Showbizireland/Getty Images
It isn't just Diana Ross's hair that's legendary. Her fashion and accessory game has always been incredibly strong and remains so to this day. A 1960s style icon, Ross pioneered a ton of fashion trends we look back fondly on, plus some that can be seen today as the retro resurgence continues. 
The VOU states that Ross was one of the first stars to popularize sequin dresses during her time in "The Supremes." Glitzy, daring, and as dazzling as Ross herself, the singer continues to wear sequined looks even now. Another major trend Ross helped to start was sheer clothing. She wore several dresses where the fabric was thin enough to see through, a trend that's immensely popular today. Finally, Ross was pictured several times in skinny scarves and bandanas, a trend that was major in the 2000s and is making a comeback.
As summarized in Glamour, Ross' larger-than-life hair and long lashes made her a striking figure to look at even when she was dressed casually. Nowadays, the superstar is still slaying in her 70s — we can't wait to see the hairstyles and outfits she has lined up for the future.