If You're An Enneagram Type 9, Here's The Hairstyle You Should Try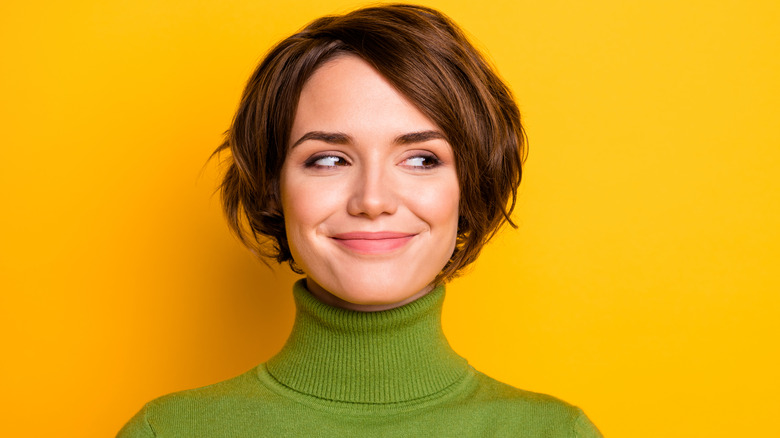 Roman Samborskyi/Shutterstock
If you have taken the Enneagram test and learned you are a type 9, you are probably taking calming deep breaths as you read this and planning a relaxing day ahead. As "the peacemaker" of the Enneagram, your biggest hurdle in life is avoiding conflict at all costs, which is usually quite easy to do for someone who is so levelheaded, positive, and optimistic.
According to The Enneagram Institute, type 9s are quite special. Type 9s are the ones most in touch with themselves and the energies that surround them and as the top number on the Enneagram chart, 9s encompass the best personality traits of all the enneagrams. In fact, they are referred to as "the crown of the enneagram." But, this can also cause a 9 to lose their own self and identity and instead, become someone else to ensure peace and harmony.
To avoid losing yourself, start small. Get a makeover, take a trip, read a self-help book, or get a haircut. If you're ready to head to the salon, here's the hairstyle to try.
Enneagram type 9s should stick to a minimalist style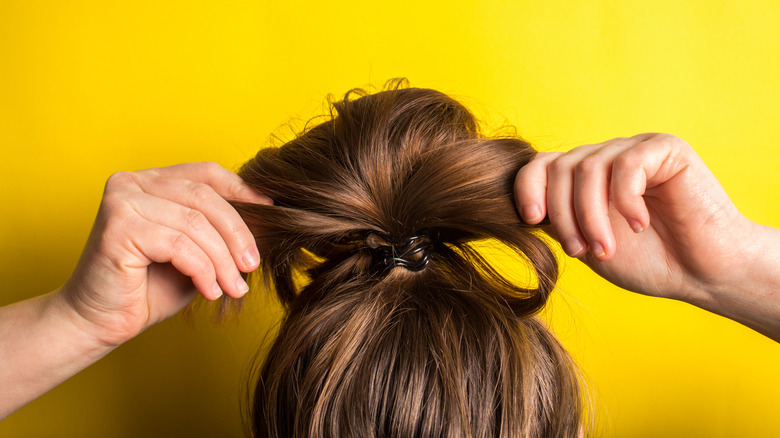 Anasttrofimova20/Shutterstock
You are carefree and happy-go-lucky, but at your core, you are also a people pleaser. According to Psychology Junkie, you are patient and kind, and have probably been avoiding tension since you were in high school. But, your positive attitude has led you to also be well-liked and popular, making it important for you to stay on trend with style, without going too wild.
As a teenager, you likely rocked a stylish yet messy look that matched your laid-back energy and need to fit in. But, as an adult, you probably want to look a bit more polished. You are always looking to make others happy, even when it comes to your own style, so Gliks recommends choosing a minimalist style. UM Square Magazine mirrors this sentiment, recommending an on-trend style that is super practical. Choosing a simple style will help you blend in, but that doesn't mean you can't stand out a bit with a cool minimalist style.
Minimalist styles type 9s should try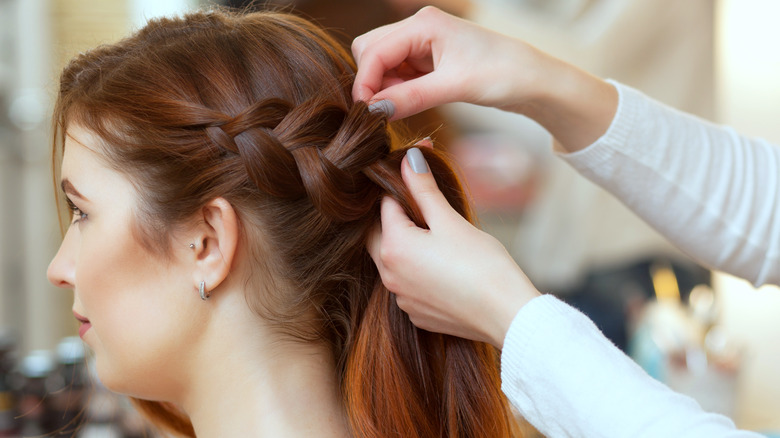 dimid_86/Shutterstock
As an enneagram type 9, you want to keep things calm and peaceful. If you are looking to switch up your usual hairstyle, you don't have to work too hard to achieve an on-trend look. Nykaa recommends opting for a messy bun, which can be achieved by pulling your natural or blow-dried hair back, using a texture spray to add some pizazz. Leave a few pieces of hair loose to nail that messy look and viola! The perfect minimalist style for a type 9.
If you want to look more put together, you can still rock a bun but instead of a messy style, choose something more sleek. Cosmopolitan recommends the slicked-back bun look with a bit of volume at the top. This look is so easy and will instantly make you look put together. If you do want a bit more fun with your hair, The Zoe Report recommends braids. This season, it's all about two baby front braids or bubble braids — an on-trend style that will keep you looking fashion-forward without ruffling any feathers.