The Time Two Dogs Got Married On Days Of Our Lives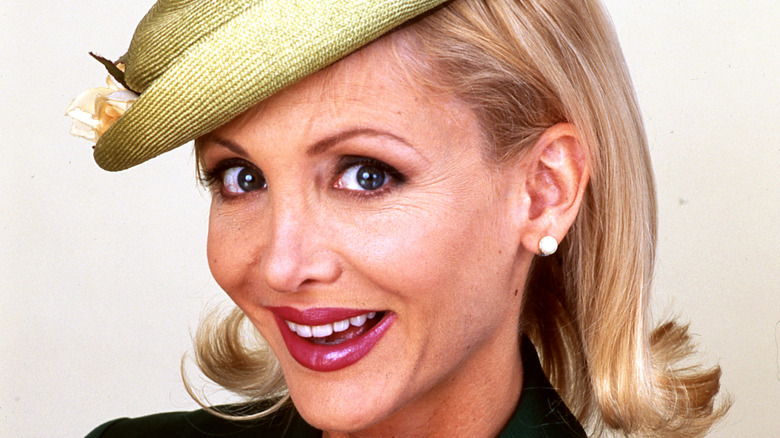 Donaldson Collection/Getty Images
If you think recent storylines on "Days of Our Lives" are far-fetched, you wouldn't be wrong. After all, viewers have seen satanic possessions and a mad scientist bringing characters back from the dead with a serums. However, longtime fans of the NBC soap opera know that's nothing compared to the zany storylines depicted on the show in the 1980s and '90s. Aside from the usual back-from-the-dead tropes commonplace on all soap operas, "Days of Our Lives" became determined to play up the comedic aspects of its wackiest characters — most notably Calliope Jones (played by Arleen Sorkin) and her on-again, off-again lover, Eugene Bradford (played by John de Lancie). In a video interview with the Television Academy Foundation, executive producer Ken Corday credited Calliope and Eugene as the show's first attempt at "intentional comic relief," noting Calliope was modeled after musician Cyndi Lauper.
Calliope, whose careers ranged from flamboyant fashion designer to Jennifer Horton's talk show co-host, was so kooky and colorful and she actually inspired the creation of DC Comics character Harley Quinn (per Nerdist). Her storylines with Eugene were among the show's first foray into the absurd. Not only did Eugene once build a time machine, but he came back from the future years later pursued by men who wanted the Calliope-replica android he'd built while the duo were apart. Needless to say, it was Calliope who also organized one of the show's most extravagant and unusual weddings — for her dog.
Calliope arranged the wedding after her dog got pregnant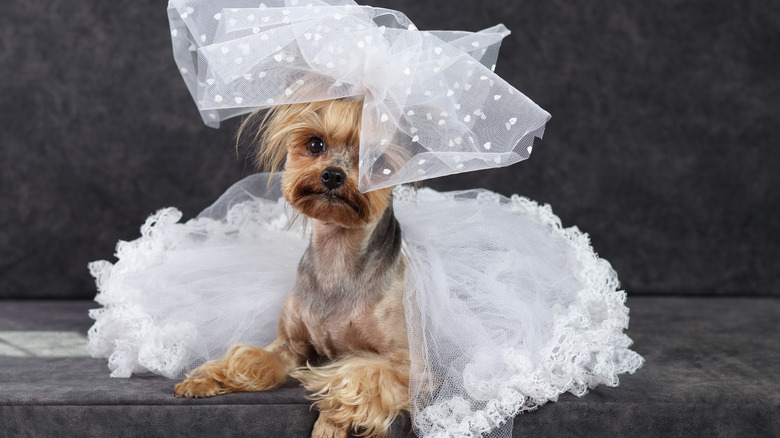 Mariia Romanyk/Shutterstock
According to We Love Soaps, the show aired the wedding of Calliope's dog, Martha Bradford, to another canine named Reggie DuBois on April 16, 1987. Disturbed that her beloved pooch had gotten pregnant out of wedlock, Calliope tracked down the dog that had impregnated her pet so he could make an honest dog out of her. Guests came in tuxedos and gowns, the same as the bride and groom. The event also helped Calliope add wedding planner to her long resume of jobs and skills. 
Weddings are something "Days of Our Lives" has gained a reputation for doing well, often adding heavy drama or some humor to the proceedings. Recently, Leo (Greg Rikaart) and Craig (Kevin Spirtas) attempted to get married, only for drag queen Jackie Cox to sashay in and declare she's already married to Leo (via Michael Fairman TV). There was also the time Jack (Matthew Ashford) and Jennifer (Melissa Reeves) got married during a Wild West show at Universal Studios(via Soap Central), and let's not forget the many nuptials of Sami Brady (Alison Sweeney), including one that saw her marry E.J. (James Scott) in all black — right before he was shot (via Soaps.com).
What happened to Calliope?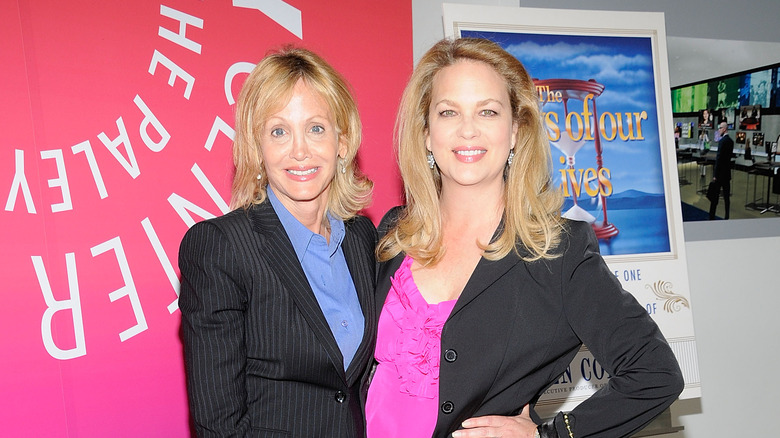 Michael Tullberg/Getty Images
Calliope's portrayer, Arleen Sorkin, left the soap in 1990 but has made return visits as recent as 2010. She returned in 2006 as a wedding planner (via Soap Central). Initially hired to oversee Marlena's wedding, she also organized the wedding of Shawn-Douglas Brady and Mimi Lockhart as well. It was during her return to Salem that viewers also found out that Calliope was still happily married to Eugene. 
After inspiring her college friend, Paul Dini, to create the comic book character Harley Quinn, according to Nerdist, Sorkin also provided the voice for the villain in several DC Comics animated series and video games (via IMDb). While Sorkin hasn't done much acting lately, according to her IMDb profile, you never know. Calliope might return to Salem once again someday with one of her great-great grand pups in tow. At least it would provide some much-needed comic relief during the show's most recent murder mystery.