The Haunting Truth About Some Homes On HGTV's Good Bones
Home renovation isn't nearly as glamorous as it seems, as HGTV's many dedicated shows on the subject prove. In fact, it can be downright frustrating and even dangerous at times. 
In an exclusive interview with The List, "Good Bones"' Mina Starsiak Hawk revealed that the most challenging part of renovating homes is that there are "so many decisions to make." She elaborated, "It's all the finishes, all the floor plan, then you have budget." There are also plenty of "variables to mess up." 
In fact, during one season of the show, a house "literally fell down," with the HGTV star hilariously confirming, "It wasn't supposed to do that!" Starsiak Hawk and her mother and co-star, Karen Laine, have been showing viewers how tough it is to redo homes for years on their hit show. 
As Country Living points out, unlike many of their contemporaries, the "Good Bones" stars detail the sheer amount of work it takes to complete projects, from the crew they use on each property to getting involved themselves.
Evidently, the mother-daughter duo isn't afraid to keep it real, including when it comes to dealing with pesky supernatural presences. 
Home renovation is frequently spooky for the Good Bones crew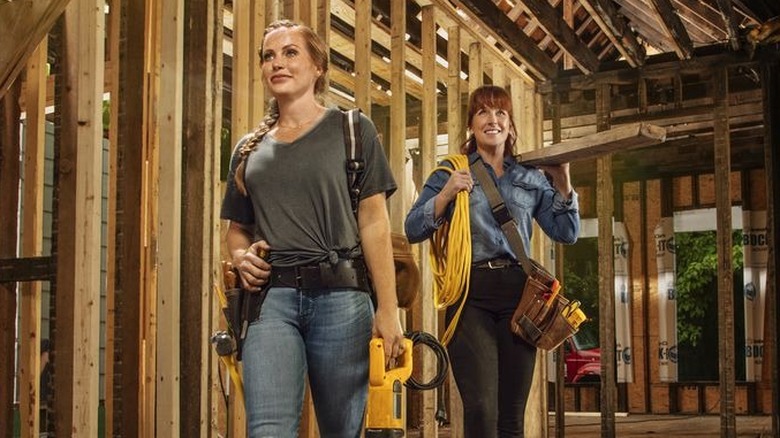 HGTV
"Good Bones" stars Mina Starsiak Hawk and Karen Laine discussed a particularly strange occurrence from Season 6 of their hit show during a joint interview with Pop Culture. 
"We had a cool — I don't know how to say it — not a ghost story, but a creepy incident at one house," Starsiak Hawk recalled, with her mom confirming it was "definitely supernatural." The event in question involved a whole bunch of crew people getting hurt, which was enough to freak out Starsiak Hawk. 
It wasn't an isolated incident, either, since, back in Season 3, the team fell afoul of a voodoo doll, which was housed in the attic of an old property they were redoing. Originally built in 1910, the duplex was located in the historic Fletcher Place neighborhood of Indianapolis, and Laine shared how the doll mysteriously went missing right when it was time for the money shot, much to everybody's confusion.
According to Laine, she learned to have "respect for the voodoo doll because apparently, it can move on its own power," even though it was more likely a cat dragged it around, as her daughter reasoned. 
Everything viewers see on the show is 100% real, as Starsiak Hawk made clear in an interview with People. In fact, the one demand the "Good Bones" stars have for producers is no manufactured drama whatsoever. 
Fortunately, they don't ever have to create anything, with Laine even casually confirming, "Poltergeists happen."
Karen Laine and Mina Starsiak Hawk also have to deal with disgusting discoveries
Aside from encountering supernatural presences, seemingly on a regular basis, the most disgusting thing the "Good Bones" team finds in a ton of houses is shocking. 
During a lengthy chat with the Indy Star, Mina Starsiak Hawk revealed, "There's so much poop. ... Human and animal poop." In fact, her mom, Karen Laine, acknowledged it's sometimes better if a property has endured a fire since, typically, "it's burned some of the poop."
The house that was featured on the very first episode of the show, which was fire damaged, also boasted a freezer that hadn't been used in a long time. As a result, the smell when they opened it wasn't great. "It was full of slabs of meat," said Starsiak Hawk. The HGTV stars were expecting to make a grisly discovery in there, but, thankfully, they didn't.
Unfortunately for Laine, she had a shocking revelation — in her own home, no less — after a burglar broke in and defecated in her garage, per local outlet FOX59. As Laine explained, "It's sort of an epithet to say I poop on you." Of course, since the "Good Bones" star is a former lawyer, she's not the best person to target.
Laine shared proudly, "Probably not the house you want to burglarize because I was immediately on the case! I found out where my credit cards were used, I got it to law enforcement."