Prince William & Catherine's Latest Public Appearance Speaks Volumes About Their Relationship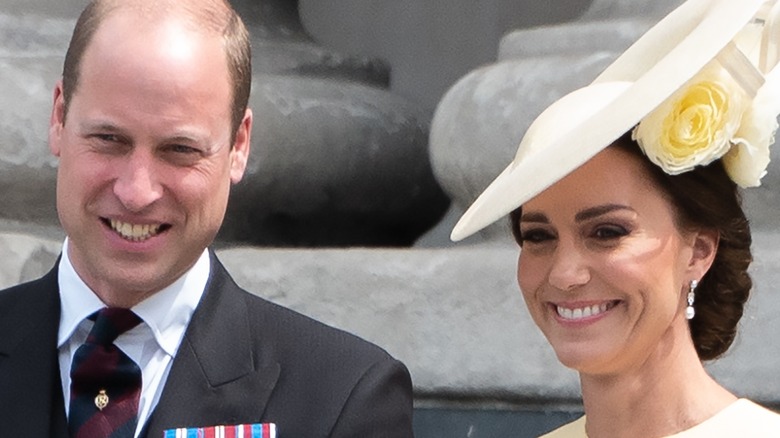 Featureflash Photo Agency/Shutterstock
The royal family might be the most elusive family in history. They're seen when they want to be seen, and, well, who knows what they're up to when they're not. The mystery is part of why people are so drawn to them. But lately Prince William and Kate Middleton have been making it a point to be more open about their family, and their latest trip to Wimbledon together is a sign at how that's working out for them. They don't often get a lot of public one-on-one time, so the outing says a lot for the current state of their relationship (via Marie Claire). 
Prince William and Middleton don't often go places together outside of work events. This year alone they've traveled together throughout the Caribbean ahead of the Platinum Jubilee but, although they were spotted showing some rare PDA at their hotel, it was technically a work vacation. even when they joined in on the Platinum Jubilee festivities, it was to honor Queen Elizabeth and make face for the family.
The two recently took a break from royal duties to enjoy some tennis, and enjoy it they did. 
Kate and Will were in complete unison at Wimbledon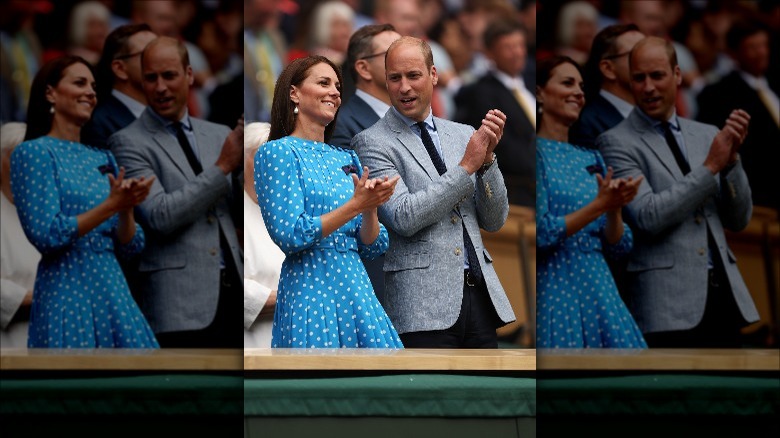 Julian Finney/Getty Images
Eyes are on Prince William and Kate Middleton at all times, but this time the two were having fun regardless. The Duke and Duchess of Cambridge headed out to Wimbledon together and, according to body language expert Darren Stanton, were "in complete unison" the entire time. Speaking on behalf of Slingo, Stanton said, "It's interesting, as the couple was in complete unison with their behavior while spectating—during a tense moment on the court, Kate was seen anxiously tucking her hair behind her ears as William pulled an expression of tension."
According to People, Middleton is an avid tennis fan and is even a patron of the All England Lawn Tennis Club herself, so it makes sense that they were both into the match. "At times, we also saw Kate smiling broadly with enjoyment — she has become known for always displaying genuine emotion and Wimbledon was no different," Stanton said to Marie Claire. "Her smiles were sincere and her whole face was engaged as she soaked up the atmosphere."
Nothing like a game of tennis to bring the two together. If this is any sign of how their relationship is doing, then it looks to be all love for the couple.
This could be a push to continue modernizing the monarchy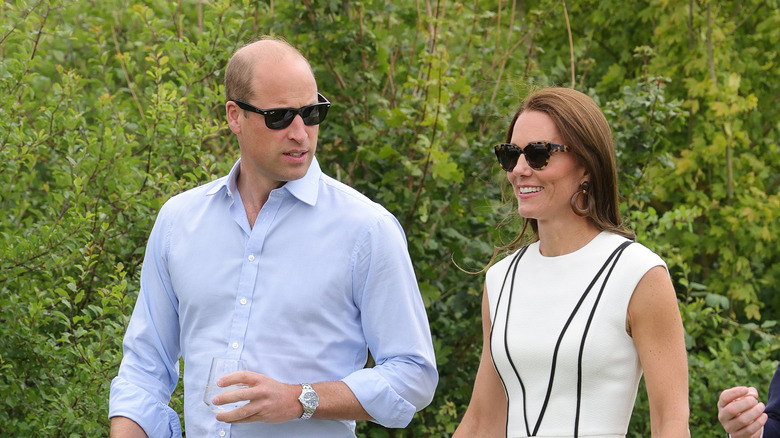 Chris Jackson/Getty Images
Of course, there's also another reason that these two would be hyper-aware of their very public date together. According to Marie Claire, Prince William and Kate Middleton have been making an effort to modernize the monarchy — as shown by their recent dropping of their royal titles from their names and going by Kate and Will. Because, you know, no one wants to kick it with the Duke and Duchess of Cambridge, but Will and Kate sound like a blast. 
The exact opposite could also be true, and they could have just had a really great time on their Wimbledon date as well. Body language expert Darren Stanton said they're simply just "two individuals who aren't afraid to be themselves while still upholding their royal duties graciously and as best they possibly can."
The world may never know if this is the true Prince William and Kate Middleton or if they just were turning it on at a public outing, but it's nice to see them getting out more as a couple. After all, Prince William will be very busy in the future and they might not get a lot of time for dates.