Retro Foundation Techniques Everyone Should Know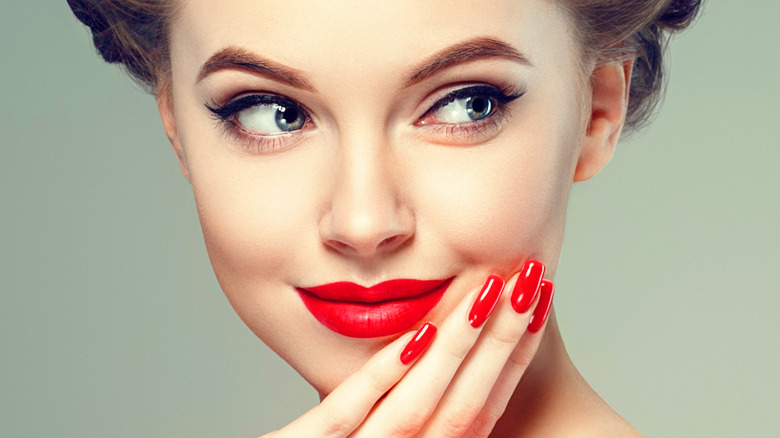 Irina Bg/Shutterstock
When the present feels a little overwhelming, it's fun to long for a bygone era. We all have our retro favorites: They could include a TV show that aired decades ago, a beloved pair of pants passed down from an older relative, or a celebrity we admire from the Golden Age of Hollywood. Many vintage trends don't translate well to the current moment; others, like certain retro hairstyles, feel timeless. Some things deserve to always stay in style.
It's easy to track how quickly beauty trends change. Tips shared via social media, like TikTok makeup hacks, highlight new products and techniques every day. However, if you're bored of the same-old style, you might want to take a look back in time. There's no need to go way back — no lead-based products, please! —but even the past 60 or 70 years boast a treasure trove of cosmetic info. And where else is better to start than with the base of all beats? 
Here's a few retro techniques for applying the most important product: foundation.
Heavy foundation ruled the 1930s through the 1950s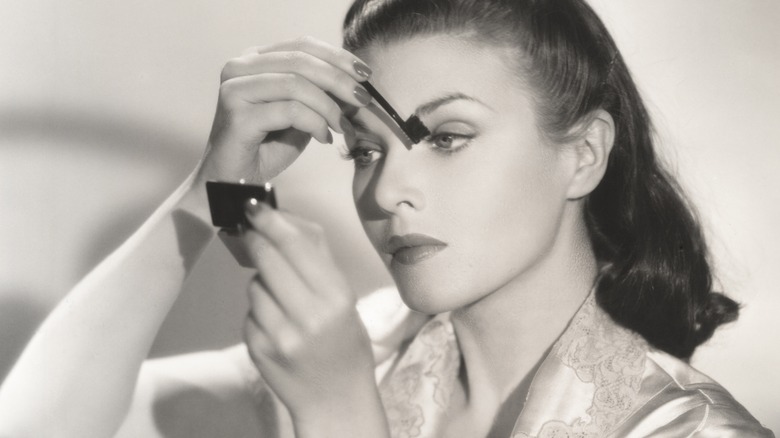 Everett Collection/Shutterstock
Before the 1930s, the trend for American women was a heavily-powdered face. A pale powder could create a matte, porcelain finish, which accented the bold makeup looks that become popular in the '20s. In the '30s, however, something shifted. Gentle femininity reigned, especially on screen where Hollywood beauties were soft, delicate, and alluring all at once (via Glamour Daze).
Everything changed in the '30s with the development of a product called Pan-Cake (via Cosmetics and Skin). This foundation was specifically created for film actresses since the new popularity of Technicolor made skin on screen look shiny and reflect color. Pan-Cake was a "dehydrated powder cream" that provided a heavy matte coverage. Best of all, it was water-repellant, which prevented makeup from sweating off under hot set lights. In 1937, Pan-Cake was commercially released, and it changed the game for makeup bases.
These days, a fresh, clean face is en vogue. However, sometimes a heavy, matte base is where it's at, and Pan-Cake's application can be replicated with the full-coverage foundations of today. To apply, make sure your face is cleansed and moisturized first. Then, take a dense makeup sponge and run it under water. Complete coverage is achieved with a damp sponge, while more moisture creates a lighter look (via Love to Know). The water lets the sponge glide over the skin to create a truly flawless finish. Pan-Cake's original formula further suggests "[blotting] gently with tissue" at the end, which removes excess product and any cakeyness (via DesertCart).
In the '50s and '60s, liquid foundation was fashionable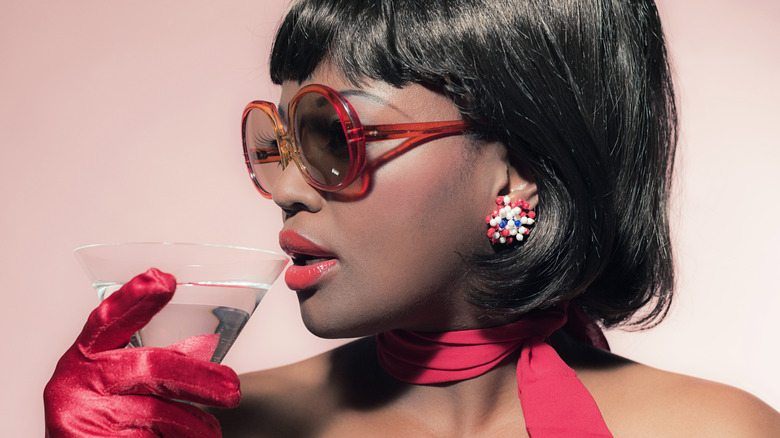 Ysbrand Cosijn/Shutterstock
If a heavy cream or powder base isn't your thing, give liquid foundation a try. Many women in the 1950s and '60s fell in love with liquid foundation. This product had a little more versatility: It could still achieve full-coverage but could also be applied more sparingly and came in lighter formulas. In 1967, some liquid foundations even started containing a light sheen, which created the "dewy" look that's still so popular today (via Hair & Makeup Artist Handbook). Overall, the trend was for skin to look more natural and less matte.
These liquid foundations of the past were best applied with techniques that still make sense today. In one makeup tutorial video from the late 1960s, beauty consultant Marla Craig advises viewers to "go easy" with their application; otherwise, "the results can become ludicrous." She applies a liquid foundation with her fingertips, starting from the center of the face and blending "using gentle upward strokes" (via Vintage Makeup Guide). Starting in the center means that you'll get more coverage there, where redness, discoloration, and other skin woes are most likely to appear (via The Skincare Edit). Marla also offers another hot foundation tip: Use a rosier shade to brighten skin or tone down unwanted redness with a shade that leans more beige.
The next time you're daydreaming about the past, turn on TCM, put on your most glamorous robe, and give one of these application tips a try. Maybe you'll find your new (old) favorite!