The Timeless Print Kate Middleton Is Most Known For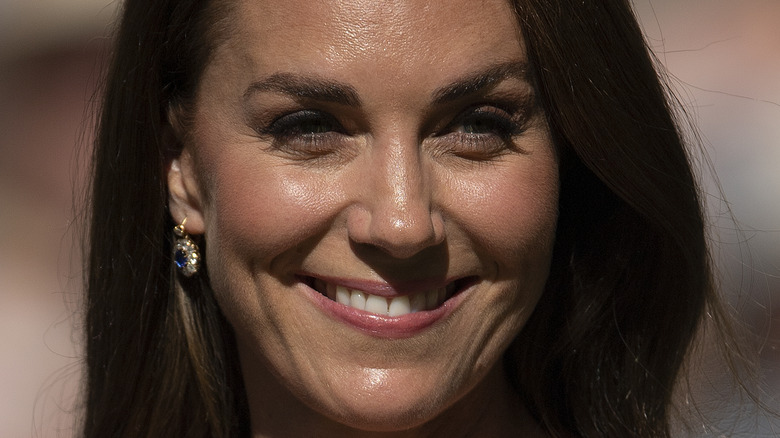 Visionhaus/Getty Images
Kate Middleton is known for her fashion prowess, which seemingly just gets better with age. A fashion expert recently assessed the Duchess of Cambridge's shoe game and said she is stepping it up when it comes to this accessory as she grows into a "confident" future queen (via Daily Mail). Indeed, Kate has shifted from beige and somewhat boring footwear, with a sprinkle of equally-tame black heels and boots, to more exciting options that have royal fans in a tizzy. In fact, the new styles the Duchess is sporting almost instantly sell out (via Twitter).
Meanwhile, above the ankle Kate is thrilling fans as well. Recent examples of fashion knockouts include the pink power suit she sported to a business meeting last month, and the elegant gown the mom of three donned for the "Top Gun: Maverick" London premiere — during which Tom Cruise touching the royal stirred up some major controversy.
And a pattern her mother-in-law once made famous has also seemingly been a go-to for Kate.
Kate Middleton pulled out polka dots for a major event in her life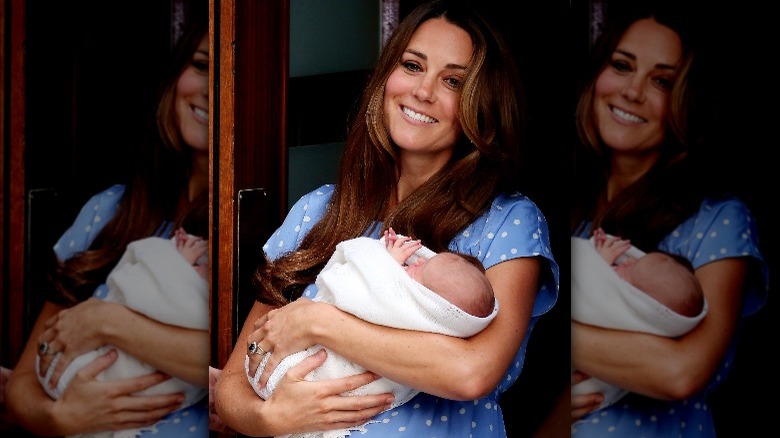 Scott Heavey/Getty Images
Before everyone was fixated on the Duchess of Cambridge's fashion, Princess Diana was our object of admiration when it came to her clothing — and just about everything else! Remember back to 1986 when she wore black-and-white polka dots to the Epsom Derby horse race? Well, some of us do and, well, if not, the photos preserve the iconic look (via Heart).
Just recently, Kate Middleton copied her mother-in-law's classic outfit during a recent outing to Royal Ascot. The black-and-white polka dotted dress she wowed us in was hardly the first time the royal chose this classic pattern.
As People reminds us, Kate stepped out in polka dots after the birth of Prince George. Her blue-and-white Jenny Packham dress made almost as many headlines as the future king's arrival. And now, all these years later, the mom of three has stepped out at Wimbledon in a dress that pays homage to the 2013 look that spawned tons of copycat styles.
Kate Middleton honors her iconic look from 2013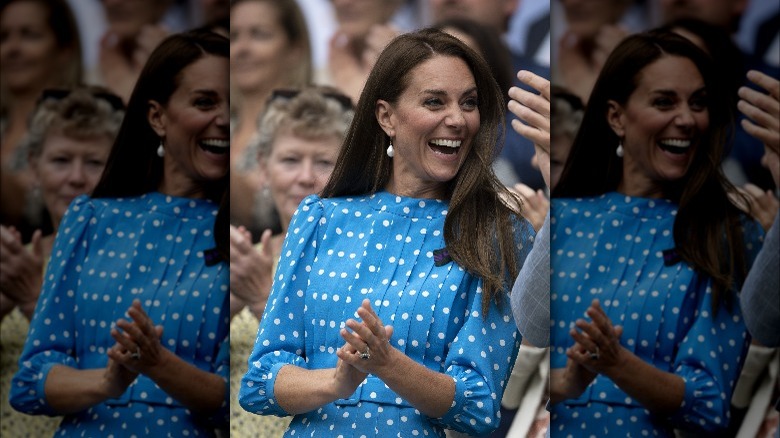 Visionhaus/Getty Images
Almost a decade after Kate Middleton first created buzz over blue-and-white polka dots after the birth of Prince George, she went back to the print in the same colors for a day at Wimbledon. According to People, this longer, belted dress is by ​​Alessandra Rich. Sticking with the trend of choosing interesting footwear, the Duchess of Cambridge opted for white heels also by the designer (via Hello!).
Meanwhile, we can't credit Kate for being the only royal to favor polka dots. Of course, Princess Diana originated the pattern back in the 1980s — she owned more colorful versions of dotted dresses as well, in both pink and red, incidentally. More recently, Meghan Markle has stepped out in dots, as has Princess Beatrice (via Cafemom).
That said, the Duchess of Cambridge has also worn this iconic print over the years to less high-profile events, like when she visited a London park in a navy and white dress also designed by Alessandra Rich. Every time she dons dots well, she pulls it off. Not that this is a surprise! 
Here's to more polka dots in the future, Kate.