Stassi Schroeder's Nail Tip Will Change How You Get Manicures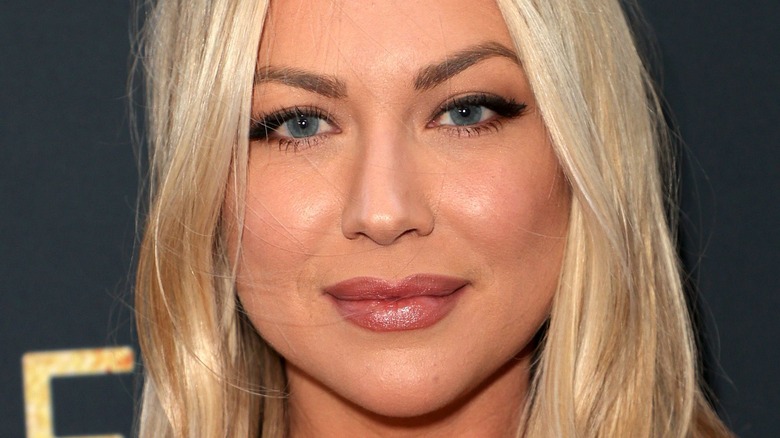 Kevin Winter/Getty Images
Stassi Schroeder is the queen of many things. The 34-year-old famously loves being basic — i.e. #OOTD pics, zodiacs, and girl squads (via Slice). Now she can successfully add beauty influencer to the list as well. Schroeder's nail hack that she shared in her Instagram stories will completely change how you get manicures. We're talking chic, effortless, and easy to manage between fills. Yes, the perfect mani really does exist. 
Whether you head to the nail salon all the time or you're thinking about going for the first time, getting a manicure can be intimidating. There are tons of different nail shapes to consider on top of picking a color and a design. Thankfully, the pros are constantly sharing their tips to help people out. And by pros we mean people that get manicures all the time, but are also people navigating real life with acrylics.
That's what makes Schroeder's hack so great; it's practical, classic, and will save you tons of money. Be warned though, you will want to schedule a nail appointment after reading this. 
Stassi's negative space manicure hack is genius
Getting a manicure is no easy feat. You have to find the time for your appointment while also taking into account when your next fill will be, and taking into account what events you have coming up. Honestly, sometimes it feels like you need an advanced degree in calculus just to get it right. Until now, that is. Schroeder found the perfect way to let your nails grow out without looking tacky — a negative space manicure.
"Ever since I had Hartford, I get negative space manicures so that they grow out without looking 'grown out,' since I don't have as much time to get regular manis," Schroeder said in her Instagram stories. "And that's a manicure mom hack." She also added that her nails don't feel grown out right when she gets them because "the shape of the color isn't the shape of the actual nail."
While she technically calls the manicure style a mom hack, it's a pretty great hack for anyone who gets busy throughout the month. The idea is to have the bottom part of your nail clear, so it's less noticeable as your nail grows out. As Byrdie points out, there are tons of different ways to do this, like with different colored stripes across parts of your nail or fun-printed tips. Of course, the white asymmetrical print that Schroeder opted for is a great, chic option too. 
There are other ways to make the most of your mani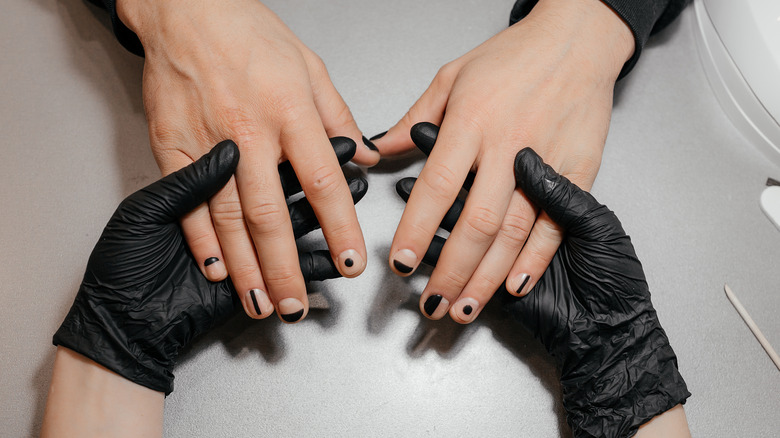 Elena_Lavrova/Shutterstock
Investing in a manicure is just that, an investment. According to Cosmopolitan, your average acrylic set can cost between $35 to $85 and last until about three weeks before getting filled. Of course, you also have to time that with your finances and schedule. Besides getting a negative space nail design, here are tons of other ways to make the most of your mani in between fills.
As Bustle points out, there are simple ways to make your manicure last like making sure your hands are moisturized. "Apply oil to your cuticles and nails to keep them soft and healthy. It's also important to keep your hands and fingers moisturized to prevent your nails from drying out," Los Angeles-based nail artist Christa Cole tells the publication. You can also make sure you're going to a good, reputable nail salon for a strong set.
The more you go get your nails done, the more you'll figure out what works for you. But of course, it's always nice to see a hack or two as well.