The Real Meaning Behind Ivana Trump's Infamous Motto About Divorce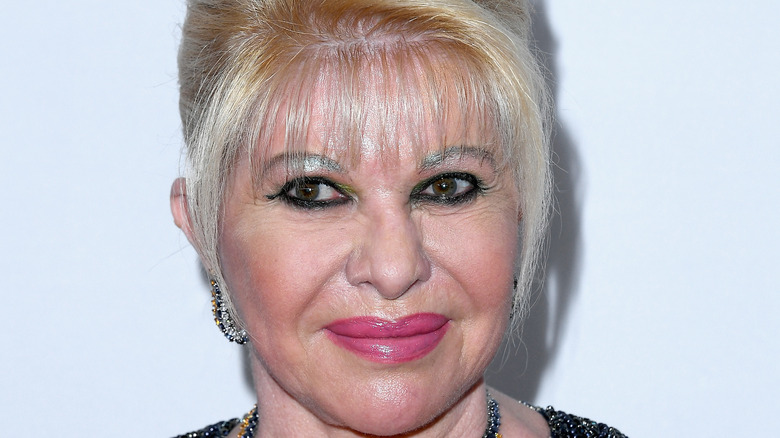 Steve Granitz/Getty Images
Ivana Trump was a best-selling author and businesswoman, and the first wife of former President Donald Trump. She passed away Thursday morning in her Manhattan apartment at the age of 73. Before her death, she was famous for her relationship with her ex-husband, who she divorced in 1992 after having three children together. The divorce was a "messy split" according to People, who credit Donald Trump's infidelity as the downfall of their marriage.
In Ivana Trump's book "Raising Trump" published in 2017, she reflects on the media coverage of her divorce, saying, "I couldn't turn on the television without hearing my name." The future president was having an affair with Marla Maples at the time, who would become his second wife. According to the memoir, Maples approached Ivana Trump and said, "I love your husband. Do you?" Trump cites this at the moment she knew their divorce was inevitable. Luckily, Ivana turned her misfortune into some serious fortune: $14 million plus a mansion, per CNN. The divorcée's motto? "Don't get mad, get everything."
Where did Ivana Trump coin her iconic phrase?
Ivana Trump's infamous divorce motto was actually a line from her first on-screen appearance in the 1996 film "First Wives Club," starring Goldie Hawn, Diane Keaton, and Bette Midler. The movie follows the story of three women who getting revenge on their husbands after being left for younger women. Trump plays herself in the movie, sharing her wisdom with Hawn, Keaton, and Midler after running into them at an event: "Ladies, you have to be strong and independent ... And remember: Don't get mad. Get everything!"
The film was made four years after Trump's public divorce, and the clip went viral after resurfacing in 2017 as rumors of another divorce for Donald Trump was circling (via U.S. Sun). Clearly, her divorce motto got under his skin; according to Newsweek, he told Howard Stern that his ex-wife was "out of control" for her appearance in "First Wives Club." Even with some sprinkles of slandering each other over the years, after 13 years of marriage and three children together, the pair remained close. Donald Trump remembered his first wife fondly at the time of her death, taking to his social media platform Truth Social to say, "She was a wonderful, beautiful, and amazing woman, who led a great and inspirational life."