Who Is Lucas Horton's Real Father On Days Of Our Lives?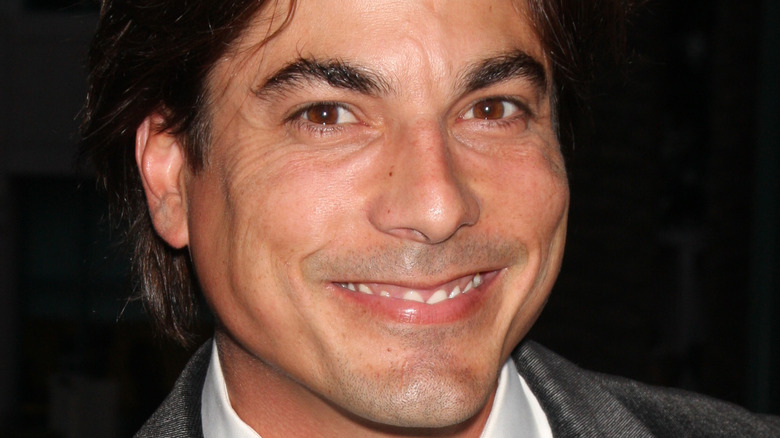 Kathy Hutchins/Shutterstock
Lucas Horton (Bryan Dattilo) has become a staple on "Days of Our Lives" over the years. The character was first introduced in 1993 as Lucas Roberts when he came to Salem with his mother, Kate Roberts (Lauren Koslow). At the time, Lucas was fresh out of military school and immediately took a liking to Sami Brady (Alison Sweeney), per Soaps in Depth. The two became good friends and even shared a common goal. Sami had fallen hard for Lucas' brother, Austin Reed. However, Austin was dating Sami's sister, Carrie Brady, at the time. Meanwhile, Lucas was also smitten with Carrie. So, Sami and Lucas teamed up in hopes of breaking up Carrie and Austin.
When things didn't go their way, Sami and Lucas sought comfort in each other and made an intimate connection. Sami ended up getting pregnant during their night of passion and their son, Will Horton, was later born. Sami passed off Will as Austin's child for a while until Carrie revealed the truth about the little boy's paternity. Lucas and Sami then battled over custody of their son (via Soap Central). However, Lucas had some big issues to contend with as he began to abuse alcohol, per Soaps. He eventually left Salem to attend rehab. When he returned, he joined AA and agreed to let Maggie Horton be his sponsor.
In addition to Lucas' many ups and downs over the years, he was also forced to deal with the news of his true parentage.
Lucas Horton didn't learn about his real father until he was an adult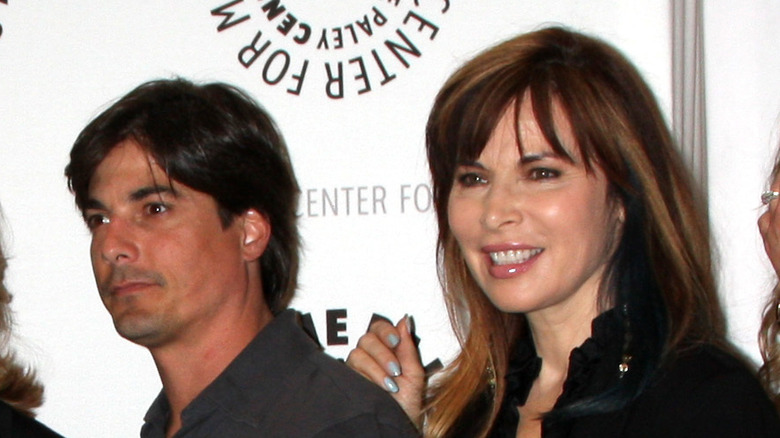 Kathy Hutchins/Shutterstock
As a young adult, "Days of Our Lives" viewers watched Lucas struggle with his alcohol issues, as well as some big family matters. Although Lucas was close with his mother, Kate, he was stunned to learn that his biological father was none other than Bill Horton and that Billie and Austin Reed were actually his half-siblings, per ShareTV. According to Soap Central, Lucas had a tough time processing the information and he felt very betrayed by his mother. The situation put a strain on Lucas and Kate's relationship. However, the Horton family was more than happy to embrace their newest member.
The Horton family is one of the most prominent in Salem with beloved heads of the family, Tom and Alice Horton. Other notable members of the family include Doug and Julie Williams, Hope Brady, Jennifer Horton, and Mickey Horton, as well as their individual families (via Live About). Eventually, Lucas grew close with his newfound family members and even changed his last name to Horton. Shortly after, Lucas' son, Will, also changed his last name.
Who is Bill Horton on 'Days of Our Lives'?
Lucas' biological father, Bill Horton, is the youngest son of Tom and Alice Horton. Longtime "Days of Our Lives" fans may remember Bill and some of the drama that he encountered during his time in Salem. Bill's siblings included Tom Jr., Mickey, Addie, and Marie, per Soap Central. Bill first appeared on the NBC soap opera in 1965 when he returned to Salem on vacation from Harvard Medical School. After graduating, he came home and took a job at Salem University Hospital with his father, Dr. Tom Horton (via Soaps).
Bill's most memorable love interest was Laura Horton, a psychiatric intern who caught his eye. However, Bill's brother, Mickey, also had feelings for Laura, and a messy love triangle between Bill, Laura, and Mickey ensued. Eventually, Bill and Laura got together and welcomed two children — a son, Mike Horton, who later followed his father and grandfather's footsteps as a doctor and a daughter, Jennifer Horton. Later, Bill got involved in an affair with Kate which led to Lucas' conception, making Mike and Jennifer his half-siblings.
Bill was last seen in Salem in 2010 when he returned for the funeral of his mother, Alice. In 2020, it was revealed that Bill had died from a heart attack, and the Horton family headed to Bill's home in Africa for the funeral, per Soaps. Although Bill and Lucas missed so many years together as father and son, Lucas has seemingly embraced his new family members and is happy to have such a big and loving support system.