Heather Rae El Moussa Shares A Very Special Photo With Fans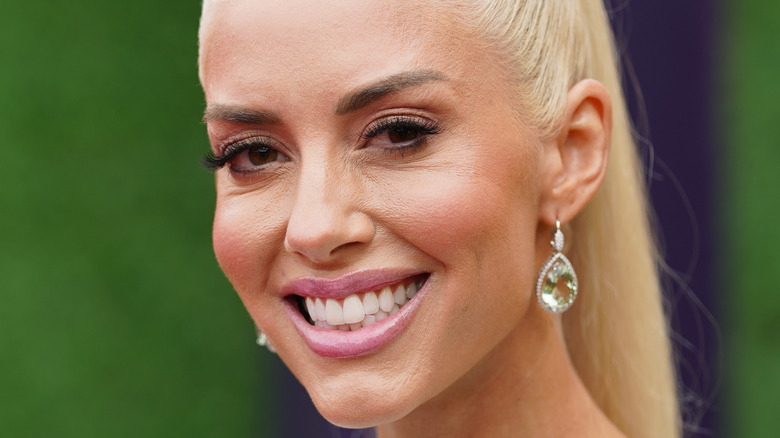 Presley Ann/Getty Images
"Selling Sunset" star, Heather Rae El Moussa, shared the happy family news that her and husband, Tarek El Moussa, are expecting their first baby together. The couple, who tied the knot in 2021, were planning to have a baby via in vitro fertilization treatments, according to People, but were surprised to find out they were already expecting. "It was a huge shock," Heather told People, "I think when you least expect it and there's no stress in your life, the world just brought us what was meant to be. I'm so excited that it happened like this."
The realtor and "Flipping 101" star shared their pregnancy announcement on Instagram as well. Along with a dump of photos of the family taken at the beach all together, the couple both wrote, "Surprise!!! Baby El Moussa coming early 2023!!" The El Moussas even shared the video of Heather surprising Tarek with the pregnancy announcement on Instagram, where Tarek can be seen saying, "I told you to take a pregnancy test today." In her caption, Heather admitted, "So I was two days late on my period and Tarek and I are so in tune with each other that he turned over to me and said, 'babe will you take a pregnancy test today,' and I said sure but kinda blew it off cause I didn't think I was pregnant." The pregnancy news isn't the only thing the happy couple have recently shared online either. 
Heather shared a sonogram of her baby on Instagram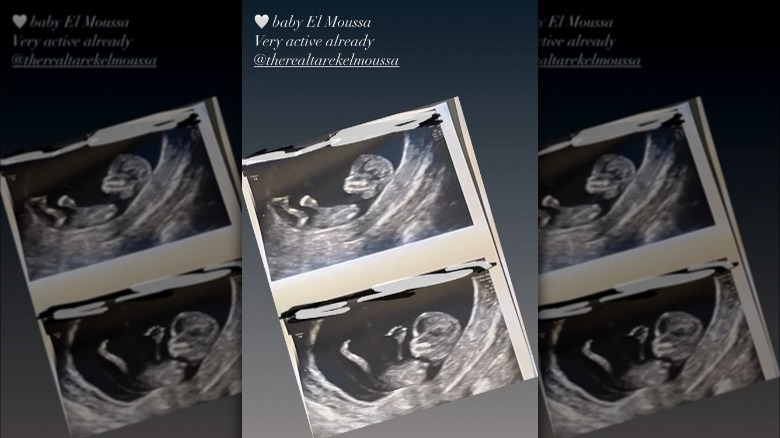 Since announcing her pregnancy on Instagram, Heather Rae El Moussa has not stopped providing fans with baby content on the 'Gram. The reality TV star shared some baby bump pics of herself enjoying the sun on Saturday with the caption, "Baby on board" (via Instagram). On her Instagram Stories, she also shared a very special photo with her fans — a sonogram of her baby. Along with the ultrasound pics, El Moussa shared, "baby El Moussa very active already."
Since this is El Moussa's first child, she's experiencing everything that comes with pregnancy for the first time. She even shared with People, "My body's changing and I'm obviously not used to certain changes. I see myself naked now and I'm seeing my belly grow and other areas of my body grow." While things are new, El Moussa has also shared that her husband, Tarek El Moussa, has been very supportive of all the changes. She shared, "[H]e's just so positive every day, telling me how beautiful I am and how beautiful my body is." 
Heather says Tarek is so 'supportive'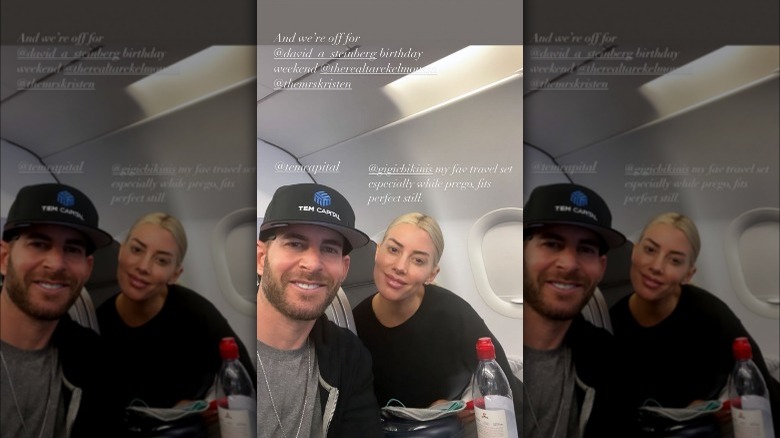 This isn't the first child for Tarek El Moussa, who shares two children – Taylor, 11, and Brayden, 6 – with his ex, Christina Hall (via People). Having been through the experience before, Heather Rae El Moussa says her husband has been so "supportive," per People. She also shared that when they first started dating, she didn't want to have a baby. However, as she fell "deeper in love," she "started picturing [herself] having a child with Tarek." She said, "I started thinking I just wanted to create something with the man that I'm in love with."
Along with sharing the exclusive photo of her baby's ultrasound, Heather also posted a picture of her and Tarek on a plane to her Instagram Story. The photo shows the happy couple on their way to celebrate their friend's birthday for the weekend. It's nice to see the El Moussas enjoying this special time together and are as happy as ever.