Ted Cruz's Comments About Gay Marriage Have Twitter Seeing Red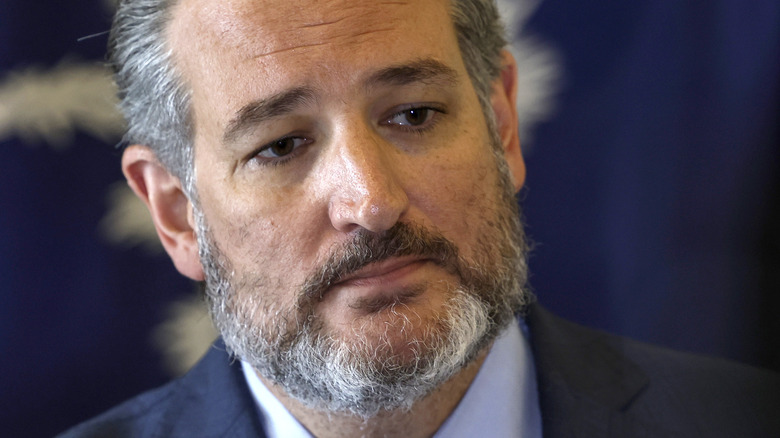 Anna Moneymaker/Getty Images
As Twitter is not afraid to let Ted Cruz know, the Texas senator seemingly can't even go a few weeks without offending people. All we need to do is think back to May when the longtime NRA supporter shared his condolences with Uvalde, Texas school shooting victims and created a firestorm of backlash on social media, with Alexandria Ocasio-Cortez specifically calling him out on what she perceived as hypocrisy (via The Hill).
Fast forward to this week, when First Lady Jill Biden found herself in hot water over her comments about UnidosUS president, Raul Yzaguirre. In part, the educator said he was "as unique as the breakfast tacos here in San Antonio," a statement that didn't go over well with the Latino community (via Bloomberg).
But some folks also weren't impressed with Cruz tweeting in response, "Personally, I'm a chorizo, egg & cheese." Many on Twitter immediately pounced on the conservative, with one person responding, "Perhaps you should invite her to travel to Cancun with you and your family the next time we get a storm in Houston." 
Of course, this comment was referring to the winter storms of 2021 in Texas during which the senator apparently thought it would be well-received for him to flee to Mexico with his family while his constituents faced days-long power outages and scarce heat and water.
But now Cruz's comments about gay marriage really have Twitter in a fury.
Ted Cruz condemned the SCOTUS ruling on gay marriage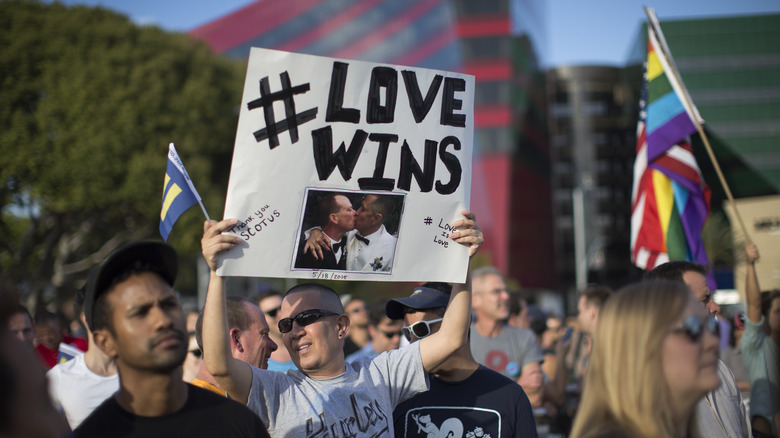 David Mcnew/Getty Images
While speaking on the program "Verdict with Ted Cruz" over the weekend, Senator Ted Cruz blasted the Supreme Court's 2015 decision to make gay marriage legal across the nation, instead of leaving the issue up to the states to decide (via New York Post).
According to Cruz, "some states were moving to allow gay marriage, other states were moving to allow civil partnerships." He added that the court's ruling to legalize same-sex marriage at the federal level was "overreaching" and "was clearly wrong when it was decided." He continued, "The Court said: 'No we know better than you, and now every state must sanction and permit gay marriage.'"
Twitter's reaction to the senator's take on the issue — especially on the heels of Roe v. Wade being overturned — was swift and condemnatory. Some people kept their thoughts on Cruz's latest hot take succinct. "Dude is the worst," tweeted Forbes contributor Maury Brown. 
Other accounts shared more detailed thoughts on why what Cruz said wasn't sitting well with them.
Twitter reacts to Ted Cruz's new comments but this isn't the first time he's spoken out on the issue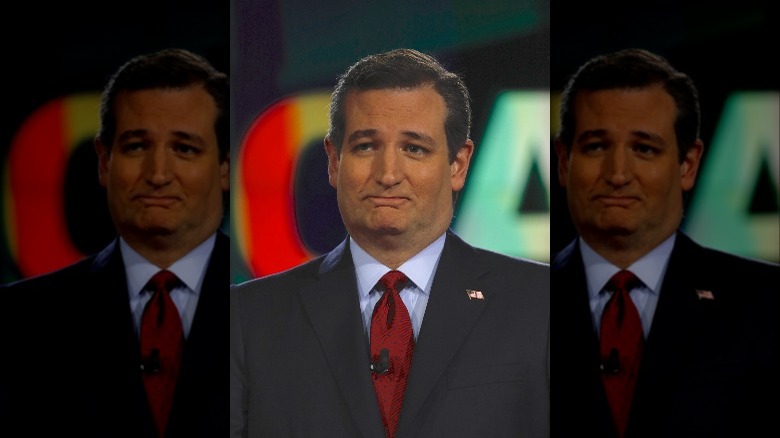 Joseph Sohm/Shutterstock
In a widely-favorited tweet shared in reaction to Ted Cruz's comments about the legalization of gay marriage, one social media user wondered, "What happens in life to make someone into a Ted Cruz, universally loathed even within his own party & family." The tweet went on to call gay marriage legalization "one of the few bright spots" of the SCOTUS' recent decisions, and added, "Anyone attacking it is not only an enemy of progress but of love itself."
Meanwhile, in light of the recent controversies plaguing the conservative, democratic strategist Adam Parkhomenko joked, "When Ted Cruz went to Mexico I didn't care. I was deeply upset he came back to the US."
Finally, another angry Twitter user recalled Cruz's take on COVID-19 mask mandates when he insisted, "I also believe in individual liberty and responsibility." "Hey @tedcruz, don't say you're for freedom and liberty after publicly saying that the Supreme Court was wrong to legalize same-sex marriage," the individual countered.
It's important to note that in 2015 when the decision was handed down, Cruz was also an outspoken critic calling the ruling "illegitimate" (via Today).