Why Fans Are Comparing Meghan Markle's Latest Look To Kate Middleton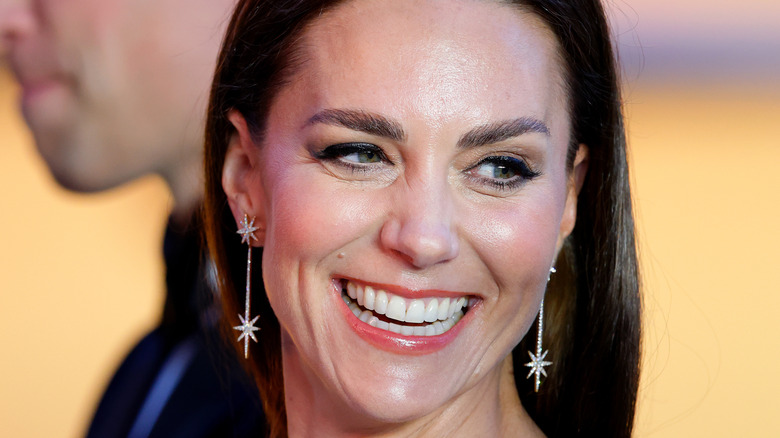 Max Mumby/indigo/Getty Images
Think back to May of 2022 when Kate Middleton and Tom Cruise hanging together at the premiere of "Top Gun: Maverick" was creating major buzz. Among the aspects of their interaction that had fans freaking out was the actor touching the Duchess of Cambridge to help her up the stairs. Fans were also deeply curious about the height difference between the royal and the Hollywood heartthrob. What may have been overlooked but was surely admired was Kate's black-and-white off-the-shoulder dress, which was designed by Roland Mouret (via Hello!).
Flash forward to July, and Meghan Markle has been photographed wearing an eerily similar outfit to the one her sister-in-law sported at the London movie premiere just months ago. In the Duchess of Sussex's case, she was in New York City to support Prince Harry as he addressed the UN General Assembly on Nelson Mandela International Day.
When the royal couple stepped out in style for a dinner date at a downtown restaurant following the address, Meghan was dressed in a black-and-white off-the-shoulder Gabriela Hearst jumpsuit. Immediately, fans flooded Twitter comparing the two ladies' looks.
Black and white and copied all over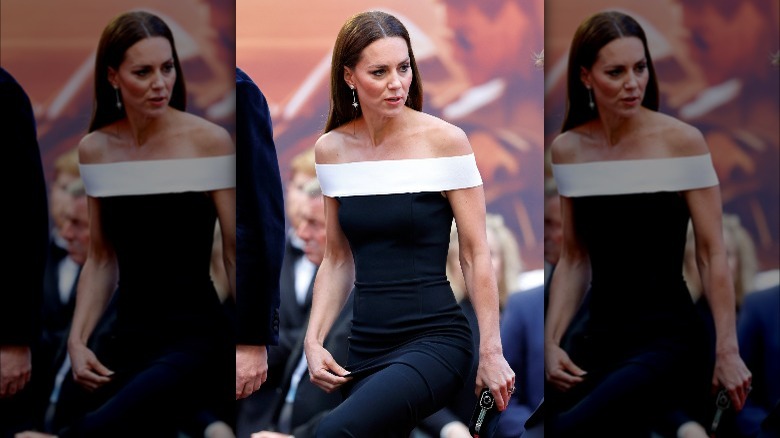 Max Mumby/indigo
We know who wore it first but Twitter had some opinions about who wore it better. The outfit in question, which wasn't identical but very similar, was first spotted on Kate Middleton at a London movie premiere in May. Then, Meghan Markle rocked a pantsuit version of the evening gown for a dinner at Locanda Verde in Tribeca on a warm July night.
Many royal watchers took to sharing side-by-side images of the Duchess of Cambridge and the Duchess of Sussex, with one tweeting, "I'm dead." Some Twitter users were less than kind about the twinning nature of the looks, with one such individual tweeting, "Meghan successfully underlining how much less attractive, stylish and original she is than Kate. I think it's time @KensingtonRoyal took out a restraining order on this stalker lunatic."
More Twitter users alleged Meghan is always trying to copy Kate. Others noted the newer royal simply looks to Kate for inspiration. Either way, it's true that this occasion is not the first time the Duke of Sussex's wife has emulated an ensemble worn by the future queen.
Sometimes Kate Middleton copies Meghan Markle according to royal fans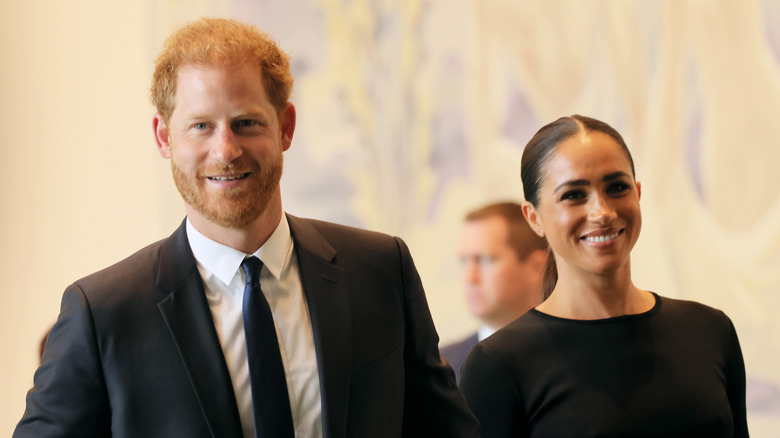 Michael M. Santiago/Getty Images
Meghan Markle has long been accused of fashion unoriginality. In fact, many fans believe she looks to Kate Middleton for more than inspiration, but instead, outright copies her looks.
Outside of this latest example, the International Business Times points to multiple occasions that the Duchess of Sussex donned outfits that were just too much like Kate's to be a coincidence, from the time in that Meghan sported a tartan trench coat that could have been taken out Kate's closet, to examples from years past that saw the former senior royal stepping out in silhouettes and color palettes the Duchess of Cambridge wore first.
Fans even came up with a nickname for Meghan's tendency to dress like Kate according to Express, calling her a "DupliKate." To be fair, the comparison goes both ways, with Cafemom reporting on an instance when Kate wore a camel-colored coat Meghan wowed in first.
Of course, all of these looks, from the black-and-white outfits to the camel coats are somewhat basic wardrobe staples if you're a royal who is photographed constantly. Call us when both women step out in identical LuLaRoe adult pajamas!