Royal Author Claims All The Kate Middleton Comparisons Had Meghan Fuming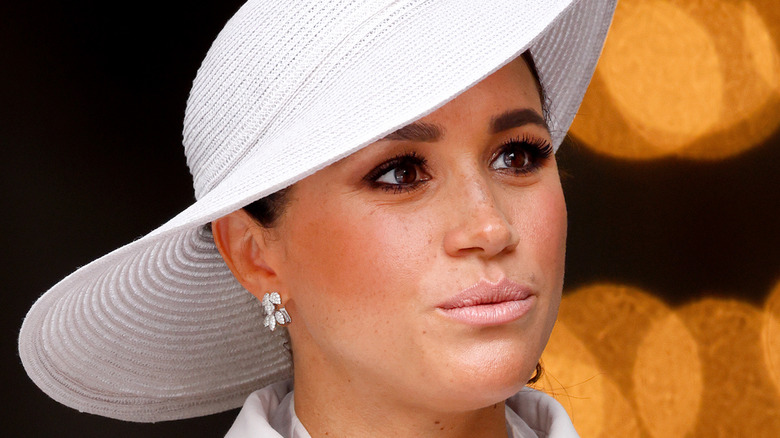 Max Mumby/indigo/Getty Images
A new book about the royal family is revealing quite a bit of dirt that may have the Duke and Duchess of Sussex doing damage control soon. The tome, "Revenge: Meghan, Harry And The War Between The Windsors," was written by British journalist Tom Bower, who makes some outrageous claims involving the former senior royals, including that soon after Meghan Markle and Prince Harry tied the knot, a very unlikely source within "The Firm" pressured her to make things right with her estranged dad. The intervention of sorts backfired, according to Bower, who writes that Meghan did not end up making amends with Thomas Markle despite royal coercion. 
Bower's book also asserts that Harry's school friends were less than impressed with his new girlfriend upon meeting her when the now-married couple got together. In fact, the author writes that they felt Meghan lacked a sense of humor and even texted one another following a shooting weekend together that the Duke of Sussex was "nuts" for dating the former actress.
Now, a new shocking claim about the Duchess of Sussex from this latest royal exposé has been revealed. And it has to do with how Meghan feels about being compared to her sister-in-law, Kate Middleton.
Meghan Markle may have felt pressure to be perfect like Kate Middleton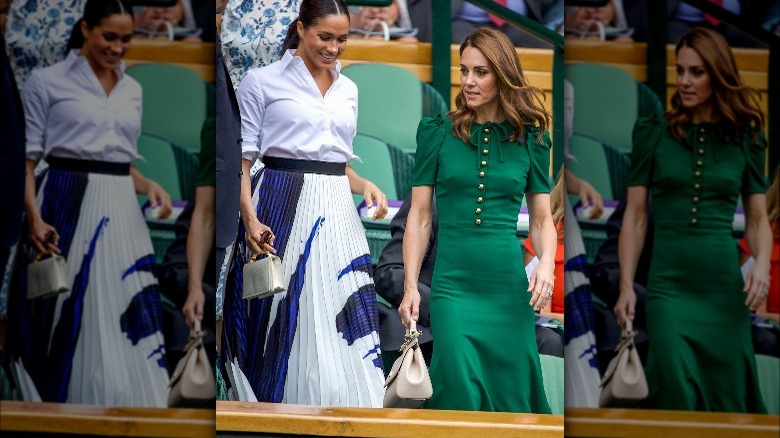 David Gray/Getty Images
Interestingly, just this week Meghan Markle's date night ensemble was blasted for being so similar to a dress the Duchess of Cambridge recently donned for the London premiere of "Top Gun: Maverick." Not that this is the first time Meghan and Kate's fashions have been matched up. But just how the newer member of the royal family may feel about such comparisons is talked about specifically in Tom Bower's book, "Revenge: Meghan, Harry And The War Between The Windsors."
As Newsweek reports, in an excerpt of the buzzy book obtained by UK outlet The Times, Bower pens a specific account of how he says the Duchess of Sussex struggled with living up to Kate Middleton's seemingly "perfect" image. "She hated the comparisons with uncomplaining Kate," Bower writes. "Effortlessly, the Cambridges appeared to be perfect."
Meanwhile, it seems Meghan's jealousy of her sister-in-law's perceived perfection was a big influence on her, if Bower's book is to be believed. What the women have said about one another in public is slightly different, however.
Meghan Markle cleared the air about her feelings toward Kate Middleton previously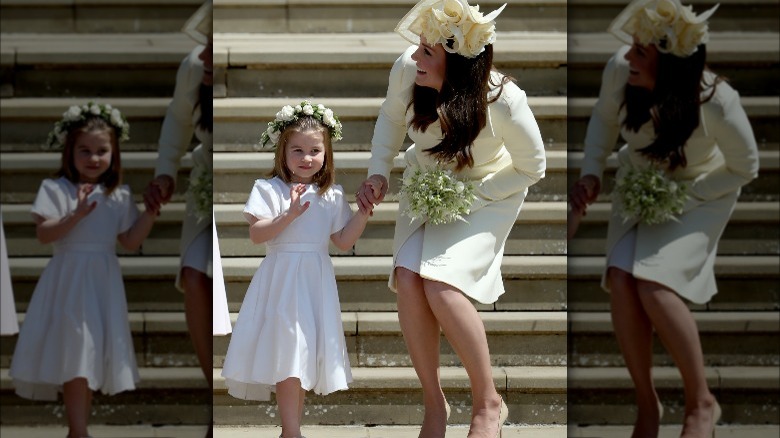 Wpa Pool/Getty Images
Meghan Markle's tiff with Kate Middleton over flower girl dresses the week of the former "Suits" star's wedding to Prince Harry is well documented. The Duchess of Sussex spoke about the disagreement during her infamous interview with Oprah Winfrey, and although she disputed the widely-accepted story that it was her who made the mom of three cry — Meghan claimed it was the other way around — the former senior royal also took the opportunity to praise Kate.
"She's a good person," Meghan noted in part, adding, "and I think so much of what I have seen play out was this idea of polarity where if you love me you don't have to hate her, and if you love her, you don't need to hate me" (via Elle).
But in true royal fashion, the Duchess of Cambridge has kept her mouth tightly sealed when it comes to how she truly feels about her more outspoken sister-in-law. We only hear through sources close to Kate that she has been upset by the drama surrounding Meghan (via Vanity Fair). Whether there's any truth to these claims may never be known for sure.