Vladimir Putin's Recent Public Appearance Is Raising More Red Flags About His Health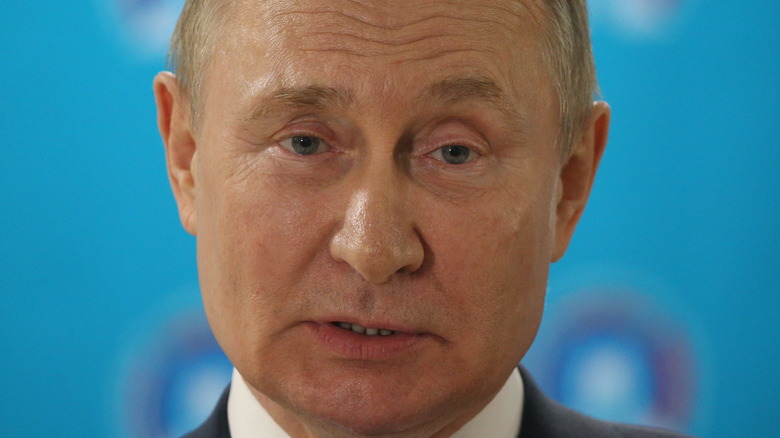 Contributor/Getty Images
As Russia continues its war with Ukraine, questions have consistently been raised about the health of Russian President Vladimir Putin. In April 2022, a video posted to the Kremlin website showed Putin discussing the invasion with Russian Defense Minister Sergei Shoigu. In the footage, Putin appears bloated while firmly gripping the table in front of him throughout the interview.
While there had already been rumors that he wasn't well, it didn't take long for people to start believing that Putin's health issues might be more serious than anticipated. As body language expert Erik Bucy of Texas Tech University told The Sun, "This is not a portrait of a healthy Putin but one appearing increasingly feeble and barely able to hold himself upright at a small conference table."
Although some have speculated that Putin was suffering from Parkinson's disease, a US intelligence report released in June 2022 revealed that the Russian leader had undergone treatment for advanced cancer. In fact, according to Russian news outlet Proekt, Putin has been visited by a surgeon specializing in thyroid cancer 35 times over four years. 
He has also been seen with his legs covered by a heavy green blanket at a military parade and looked to twitch uncontrollably during a meeting with Belarusian dictator Alexander Lukashenko. 
And a new video of Putin arriving in Iran is only increasing talk that he is in bad shape.
Vladimir Putin doesn't appear to move his right arm in a new video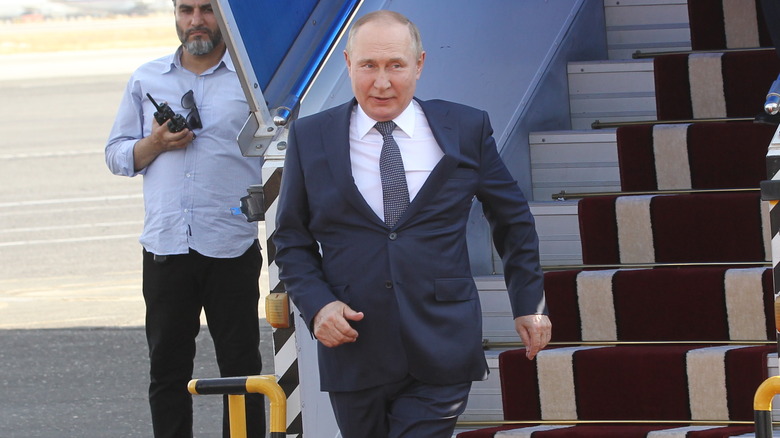 Contributor/Getty Images
A new video of Vladimir Putin has once again raised questions about the Russian president's health. The footage shows him getting off a plane in Iran, where he was meeting with Turkish and Iranian leaders, per Newsweek. 
Viewers quickly noticed that, while walking, Putin's right arm remain stiffly at his side at all times. "There is something wrong with Putin's walk," Middle Eastern Eye journalist Ragip Soylu tweeted. "Also right arm doesn't move. Curious footage."
Some people concurred, taking it as a sign that the Russian leader was having a hard time getting off the plane. Others, however, pointed out that Putin usually doesn't move his right arm when walking — a skill he might have picked up during his KGB training. 
"Profilers usually link this habit to his time in [Russian] intel because one arm is always close to a gun. Obviously, it's difficult to get rid of strange habits," tweeted security expert Ivana Stradner.
Despite all of the rumors about his deteriorating health, the Kremlin has denied that Putin is ill. "It's absolute nonsense," spokesman Dmitry Peskov said, per Reuters. "Everything is fine with the president."