Here's How The Royal Family Celebrated Prince George's Birthday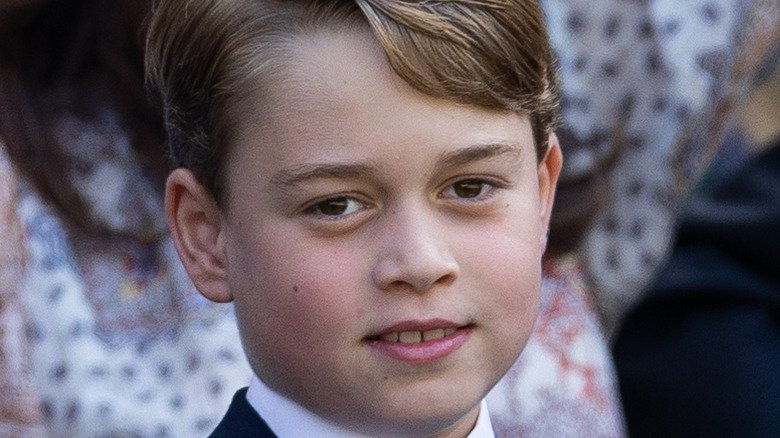 Simon M Bruty/Getty Images
Prince George of Cambridge, the eldest of Prince William and Catherine Middleton's three children, celebrated his birthday July 22. Since the 9-year-old prince's debut photo as a newborn on the steps of the Lindo Wing (via Town & Country), royal fans have watched this future heir to the throne grow up before their eyes.
"His personality is really starting to shine," a royal insider told Us Weekly about the young prince. "His confidence has grown leaps and bounds over the last couple of years." Giving a nod to the Duke and Duchess of Cambridge's parenting skills, the source observed, "He's such a lovable, down-to-earth little boy ... It's clear Prince William and Kate are raising him well."
Past birthday celebrations for George have included a 2014 Peter Rabbit-themed event hosted by Catherine's parents, party planning entrepreneurs Carole and Michael Middleton, per Cornwall Live. That same year the young prince received a luxe playhouse, complete with wood-burning stove and daybed at Prince Charles' Highgrove Estate (via the Mirror).
But George's birthdays haven't all been lavish celebration. Two years ago, William and Catherine sat down with their son to have a discussion about his royal destiny. That conversation included what royal author Robert Lacey describes as "more detail about what the little prince's life of future royal 'service and duty' would particularly involve," per the Daily Mail. 
So what is planned to celebrate his special day this year?
Prince George celebrated with an official photo and birthday serenade
Eamonn Mccormack - Uefa/Getty Images
In honor of Prince George of Cambridge's birthday, Prince William and Catherine Middleton posted an updated photo on Twitter. Posing on the beach, the prince shows off a dazzling smile. "The photograph was taken while on holiday in the UK earlier this month by the duchess," a Kensington Palace spokesman told The Telegraph.
To celebrate George's special day, the Irish Guards Band played "Happy Birthday" in front of Buckingham Palace while onlookers watched the Changing of the Guards, per Twitter. Prince Charles and Camilla Parker Bowles retweeted George's photo along with the message, "Happy 9th Birthday to Prince George!" and a cupcake emoji.
Besides photographs, the Duchess of Cambridge has another tradition for her children's' birthdays: homemade cake. "I love making the cake," she told Mary Berry in 2019 on "A Berry Royal Christmas" (via Woman & Home). "It's become a bit of a tradition that I stay up 'til midnight with ridiculous amounts of cake mix and icing and I make far too much. But I love it."
While it's not known what presents the young royal will receive this year, George's godmother Julia Samuel has enjoyed continuing the late Princess Diana's gift-giving tradition. "I do to George what [Diana] did to us, which is give impossible toys that are really noisy and take a lot of making," she said, per Cornwall Live. "He's funny and feisty and cheeky and God she [Diana] would have loved him so much."
Catherine Middleton, Prince George, and Prince Charles all share artistic talent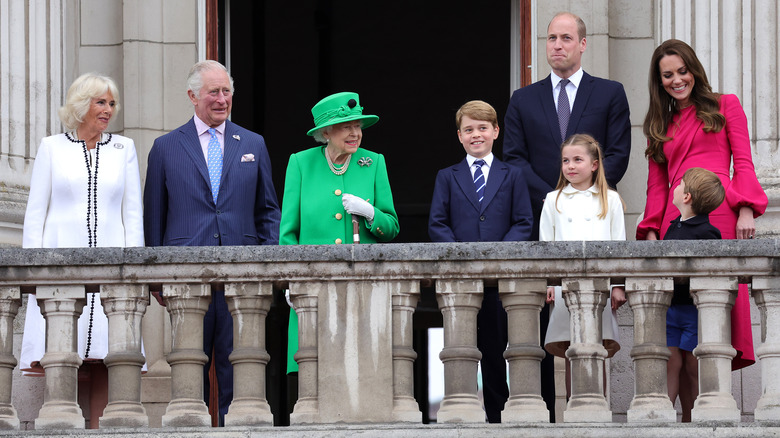 Chris Jackson/Getty Images
Last year, Catherine Middleton also took the photo for Prince George's birthday, which featured the smiling prince posed on the hood of a Land Rover. This was likely a tribute to his great-grandfather, the late Prince Philip, and his favorite vehicles (via People). The Duchess of Cambridge frequently takes photos of all three of her children as part of their birthday celebrations. Recently she took the picture for a magazine cover of honoring Camilla Parker Bowles' 75th birthday. As a child, Catherine's grandfather, Peter Middleton, shared his photography skills with her, per The Telegraph.
As he's gotten older, George has shown artistic ability of his own. When he was 6, the prince made Catherine a stylish Mother's Day card, complete with a tissue paper floral arrangement (via ET Canada). "He copies the art and photographs that are up in his Kensington Palace and Anmer Hall homes," a royal the source told Us Weekly. "Kate and William are astonished by how good he is and have framed some of his paintings and given them to [Queen] Elizabeth [II] as gifts. His favorite thing to do is draw pictures of his family." The royal source believes Prince George also gets his talent from Prince Charles. Since 1997, the Prince of Wales has used his surprising hobby to raise £2 million for charity by selling prints of his nature-inspired watercolors. He raised an additional £4 million from selling his lithographs, per The Telegraph.