A Third Of People Say That This Is Their Favorite Hard Seltzer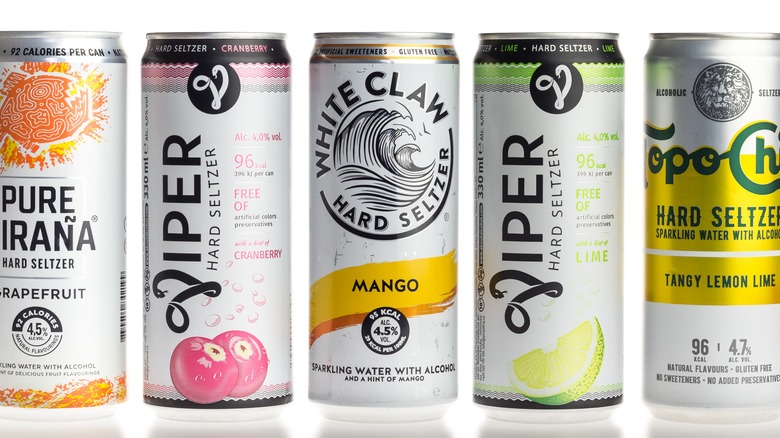 Marc Venema/Shutterstock
How do you plan to cool down this summer? Are you cannonballing into the pool the moment you clock out of work, or do you prefer a lounge chair and some sunscreen to soak up all the summer rays? Whatever your schedule looks like this season, no summer is complete without your cutest yellow swimsuit (haven't you heard? Yellow is summer 2022's hottest color) and a pack of your favorite hard seltzer. According to Slate, the spiked seltzer craze officially began back in 2012; they were invented as a boozy alternative for those who like the taste of cocktails and the convenience of canned beer, and can get you drunk quicker too, UpThirst discovered.
With so many options amidst "the summer of hard seltzer," which spiked drink ranks supreme? A survey conducted by The List asked 573 people, "What is your favorite hard seltzer brand?" The responses proved that one beloved brand surpassed all the rest, and crowned the summer's hottest boozy, bubbly beverage.
The perfect summer vacation vibes in a can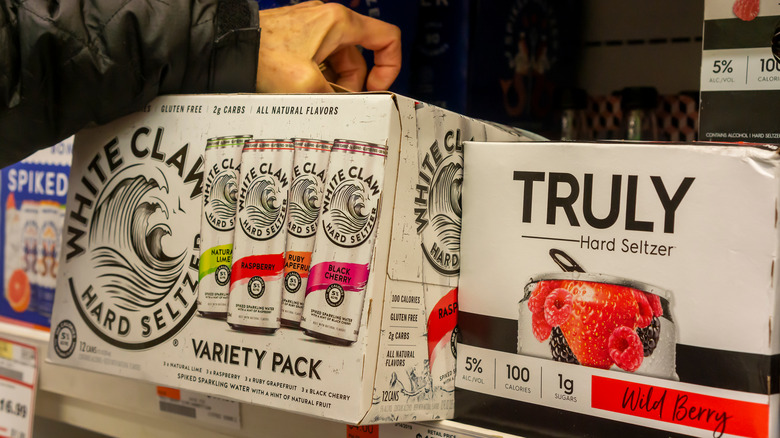 rblfmr/Shutterstock
With all of the hard seltzer options on shelves today, one brand captured our hearts early on and has remained a fan favorite: White Claw! No surprise there that 33.33% of the votes were cast for the sparkling alcoholic beverage, a popular drink since 2016. Anthony von Mandl, who also founded "Mike's Hard Lemonade," created and released the OG White Claw flavors: Natural Lime, Black Cherry, Ruby Grapefruit, Raspberry, and Mango, per Thrillist.
Truly hard seltzer was also released in 2016, and remains White Claw's original rival, coming in at second place with 20.94% of the vote. Surprisingly, tied for second place is a newcomer on the hard seltzer scene: Bud Light seltzer also claimed 20.94% of the vote. According to Syracuse, Bud Light Seltzer can easily go head-to-head with hard seltzer royalty White Claw and hold its own, but we can't help but notice that Bud Light's flavors bear striking resemblance to White Claw's original recipes.
Voters left brands like Topo Chico, High Noon, and Vizzy Hard Seltzers in the dust; High Noon squeaked out 11.87% of the vote, Topo Chico had almost 7% and Vizzy earned a whopping 5.93%. Top brands White Claw and Truly make up 75% of all hard seltzer sales, according to Business of Business, which calls them the "Coke and Pepsi of the industry."
Up your drink game with these hard seltzer cocktails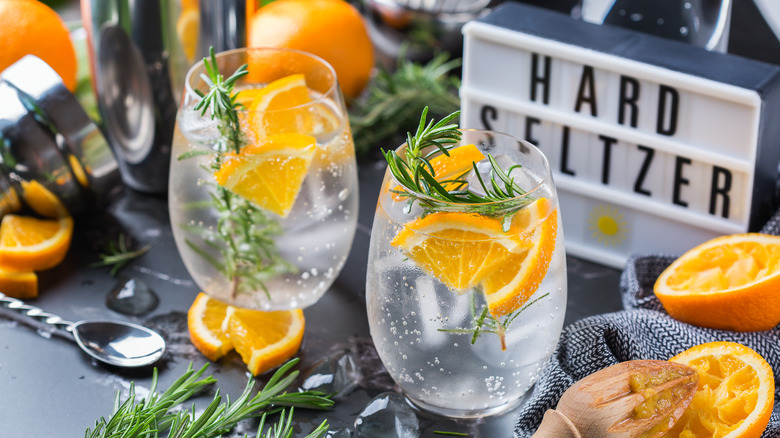 Antonina Vlasova/Shutterstock
By now, we've proven that we love a hard seltzer, but sometimes we want something just a little bit flashier. Summer signature cocktails can be expensive and full of sugar that makes us feel extra hungover the next day, but let's face it, they're so pretty! Luckily, Vine Pair crafted the perfect list of classic cocktail recipes with a hard seltzer twist, for those times when you still want to enjoy the taste of a White Claw while you get that Instagram-worthy photo op.
You may think that the margarita has been perfected by now, but a splash of a Lime White Claw with some tequila and lime juice takes your signature poolside drink to a whole new level. If you're in the mood for something fun and flirty, how about a Paloma? Instead of traditional grapefruit juice, try a Truly Grapefruit for less sugar and more buzz. Or, toss your Truly grapefruit into Italy's most beloved drink, the Aperol Spritz, if you're feeling adventurous (When in Rome, right?). And who can go wrong with a pina colada, a cocktail that screams summertime on the beach. Adding a BON V!V Pineapple Coconut to the mix takes the drink from good to great and will keep you happy and tipsy all summer long.