Buckingham Palace Insider Slams Recent Reports Involving Camilla And Archie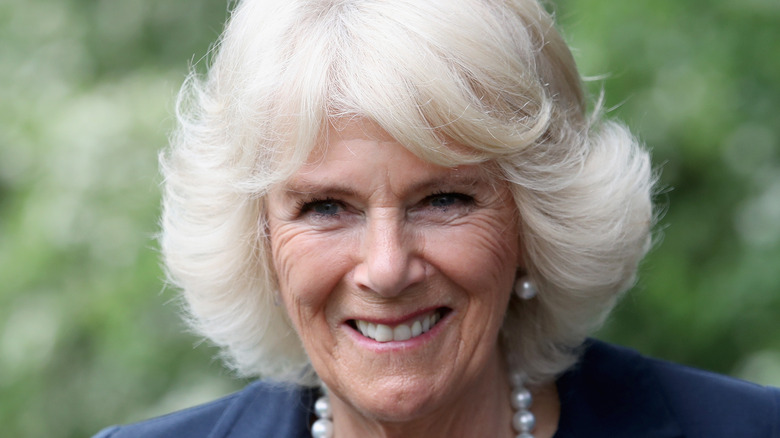 Chris Jackson/Getty Images
As Camilla Parker Bowles celebrated her 75th birthday, there was more palace drama surrounding the new book by Tom Bower, "Revenge: Meghan, Harry and the War between the Windsors." Excerpts of Bower's book were published in The Times, dropping tidbits of juicy gossip about the royal family. The new book provided surprising details about Meghan Markle's first marriage and made bold claims about her behavior while still a working member of the royal family.
But some are pushing back on the stories published in "Revenge." Yahoo UK Royal Editor Omid Scobie pointed out one of the discrepancies in Bower's book. Scobie tweeted: "Telling the truth. Buried deep within the letters section of today's @thetimes is a note from journalist Sam Kashner, who denies biographer Tom Bower's negative account of his experience interviewing Meghan Markle for Vanity Fair in 2017." The book claimed Kashner had a bad encounter interviewing Meghan, which the reporter says isn't true. Kashner wrote, "I found Ms. Markle to be exceptionally warm and gracious and admired her intelligence and her remarkable courage. I still do." 
Despite the cloudy skies, the royal family is staying positive during this book storm. Clarence House posted a snap of the Duchess of Cornwall and a thank you for the birthday wishes for Parker Bowles on their Instagram page and wrote: "Thank you for all your kind messages and well wishes on The Duchess of Cornwall's 75th birthday today!" Meanwhile, Buckingham Palace slammed one of the reports from Bower's book about Camilla and Archie.
New book claims Camilla Parker Bowles joked about Archie's Harry's ginger Afro hair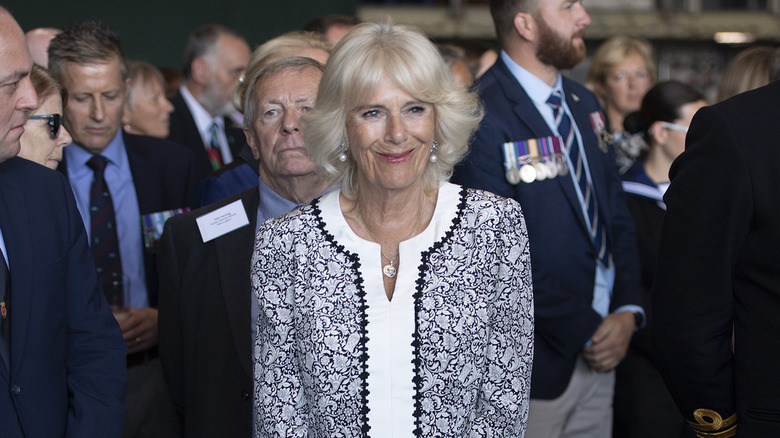 Wpa Pool/Getty Images
Infamous royal biographer Tom Bower claimed in his newly released book that Camilla Parker Bowles joked about baby Archie having a ginger afro, according to Page Six. In "Revenge: Meghan, Harry and the War Between the Windsors," Bower reported when Prince Harry and Meghan Markle first started dating in 2016, the Duchess of Cornwall joked with Harry, "Wouldn't it be funny if your child had ginger Afro hair?" But multiple sources told Page Six that Parker Bowles is not the royal who allegedly made racist comments about Harry and Meghan's baby. A "highly placed" source told Page Six, "Camilla is not racist — I can tell you categorically she is not the royal who Harry and Meghan were talking about."
Charlie Lankston, an editor for the Daily Mail, further told Inside Edition of the claim against Camilla, "The palace insiders, not officially on the record, but behind closed doors, have been very quick to try and speak out against that allegation, saying that it's absolute nonsense, that comment was not made." 
During their famous Oprah Winfrey interview in March 2021, Harry and Meghan recounted that a family member commented on their future baby's skin color. The Duke and Duchess of Sussex wouldn't spill who made the racist comment, but told Winfrey it wasn't Queen Elizabeth or Prince Philip. Royal watchers have been trying to guess which royal family member made the offensive comment ever since. Some media outlets claim Harry's upcoming memoir will contain dirty laundry about Camilla, so perhaps we can expect answers then. 
The latest gossip from Bower's book about Camilla and Archie is put to bed, but "Revenge" contains many stories that could damage Meghan and Harry's reputation.
The author claims that everything in the book is factual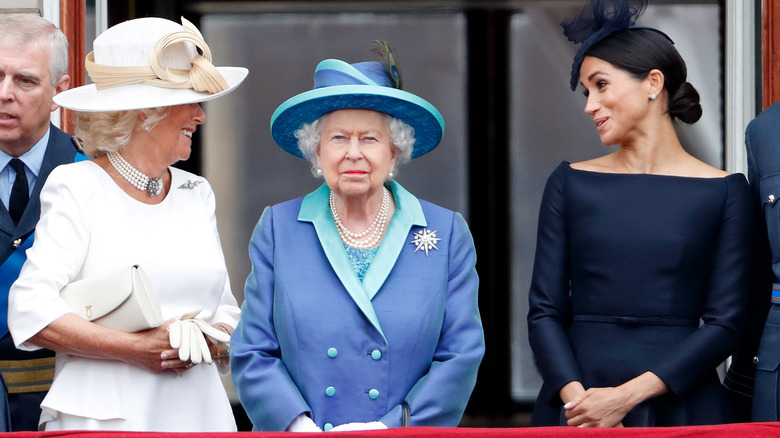 Max Mumby/indigo/Getty Images
To call the book a bombshell is an understatement. The claims made in "Revenge: Meghan, Harry and the War between the Windsors" range from the royal pair allegedly clashing with the Beckhams to throwing tea in the air. It doesn't exactly paint a smooth picture of Meghan Markle and Prince Harry living amid the royal family, as the name of the book clearly suggests.
Even without reading the book and getting snippets of its allegations in the headlines, it's a whole lot to take in, but author Tom Bower claims that everything stated in his pages is factual. "I work very hard to make sure all I write is true and accurate," Bowers told Inside Edition. "It's obviously checked and double checked and sifted by lawyers. We don't take any risks unnecessarily, but the book is still quite explosive."
Of course, it's close to impossible to know exactly what goes on behind the doors of Buckingham Palace. The world is aware that something happened — or a series of incidents took place — to make the Duke and Duchess of Sussex move across the pond to California. The book is the closest that many people will get to royal truth.