Tarek And Heather Rae El Moussa Reveal Big News About Their Baby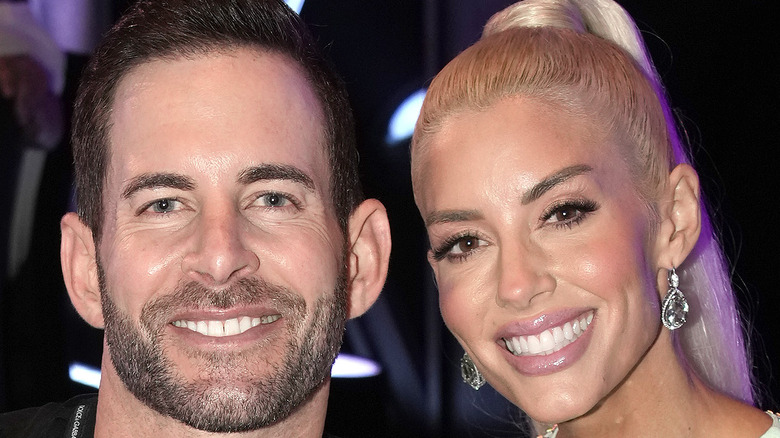 Jeff Kravitz/Getty Images
Tarek and Heather Rae El Moussa are expecting their first child together in early 2023, and they are over the moon. The pregnancy came as a shock to the couple, who had been undergoing IVF treatments and were planning to have an embryo implanted next fall when they found out they had conceived on their own. After Heather surprised Tarek in a sweet way that she was expecting, they were ready to share their happiness with the rest of the world.
"I think when you least expect it and there's no stress in your life, the world just brought us what was meant to be," Heather told People. "I'm so excited that it happened like this."
Tarek and Heather aren't the only ones who are excited. Tarek's two children, daughter Taylor and son Brayden, whom he shares with his ex-wife, Christina Hall, are thrilled to be getting a new sibling. In fact, Heather revealed to People that her favorite part about expecting is "how sweet and supportive" her stepchildren have been about the new baby, including trying to guess the gender and coming up with names.
In fact, Heather said she was waiting to design the nursery for their new arrival until they found out the sex of the baby. And, now, it looks like she can get to work because the El Moussas have revealed the gender of their little one.
Tarek and Heather Rae El Moussa know the sex of their baby
Tarek and Heather Rae El Moussa have announced that they are expecting a boy. The couple shared the news on Instagram, showing their gender reveal party with family and friends. Tarek and Heather — along with his two children, Taylor and Brayden — shot off canons that were filled with blue confetti. "Baby boy El Moussa," they posted, along with a blue heart.
Heather has come a long way when it comes to having children. When she and Tarek first met, she told him she never wanted to have kids of her own. But her strong bond with Taylor and Brayden changed her mind, as well as seeing what an amazing father Tarek is to his children. 
"Tarek will move mountains to do everything in his power to be at every school event, every game, he shows up for me when I need help with the kids even after a long day of work and filming and stress, he never questions anything, will drop everything for me and them," she explained on Instagram.
Now, the countdown is on until the newest El Moussa joins the family in early 2023.