The Real Reason Days Of Our Lives' Sami Brady Posed As A Man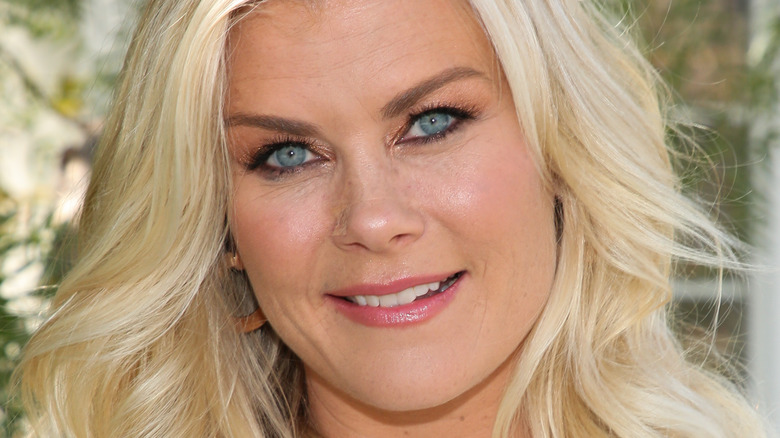 Paul Archuleta/Getty Images
Dan Wells stepped into the role of Sami during Alison Sweeney's maternity leave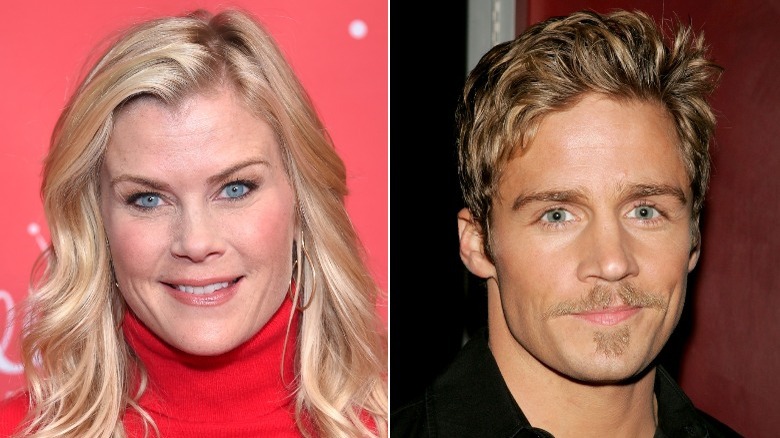 DFree/Shutterstock & Kevin Winter/Getty Images
In 2005, "Days of Our Lives" actress Alison Sweeney was leaving the show for her maternity leave and the soap opera wanted to keep her character on the canvas. So, they made a casting decision that made TV history when they opted to have Sami dress up as a man named Stan for the duration of Sweeney's leave. Actor Dan Wells took over the role of Sami in disguise, marking the first time that a man had ever been cast in a woman's role on a soap opera, per Little Things.
"When I was on DAYS, I sort of got thrown into the deep end of the pool, because Sami carried such a huge workload," Wells said of his time on the show (via Soap Opera Digest). "I felt like I was constantly studying and working. I remember spending a lot of time at home watching tapes of Alison Sweeney, and trying to mimic her mannerisms. That was a lot of fun. I think that's one of the things that carried through to the fans, is that they appreciated the time that I worked on the show. I took it very seriously and I put in a lot of time. There was a lot of work to do. Alison Sweeney was a fun one to follow," he added.
So, why did Sami disguise herself as a man in the first place?
Sami used her disguise to get revenge on her enemies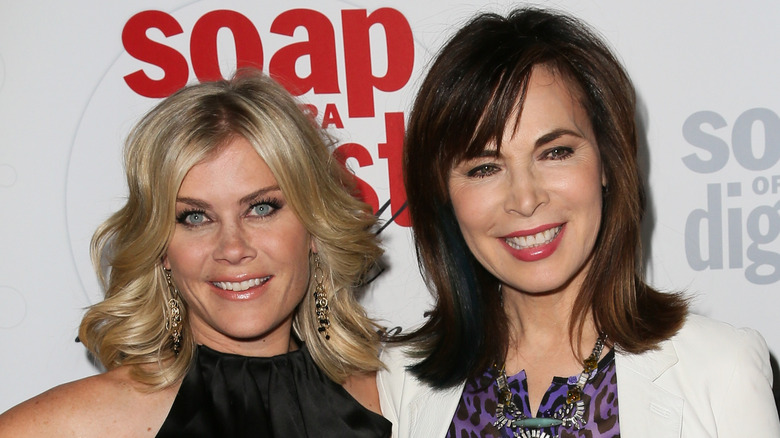 David Livingston/Getty Images
Back in 2005, "Days of Our Lives" viewers watched Sami Brady and Lucas Horton (Bryan Dattilo) become engaged. However, Lucas' mother, Kate Roberts (Lauren Koslow), wasn't thrilled about her son's love match, per Soaps in Depth. So, Kate decided to sabotage Sami and Lucas' relationship by making her son believe that Sami had cheated on him the night before they were supposed to get married.
Sami was devastated about being set up by Kate, and eventually turned to Andre DiMera pretending to be his identical cousin Tony Dimera (Thaao Penghlis) for help. Sami began working with Andre, and he gave her a male disguise and a voice changer so that she would sell illegal drugs, as Soaps in Depth reported. However, Sami used her male disguise for much more than selling drugs. She walked around Salem as the man, whom she named Stan.
The disguise allowed Sami to roam freely around town and spy on her enemies so that she could eventually get her revenge on those who had wronged her, such as Kate (via Soaps). The storyline even sent Stan to Iraq to save Philip Kiriakis. Eventually, Kate exposed Sami as Stan and her plans were ruined.
Sami used the Stan disguise again in 2021, and Dan Wells returned to the role for a brief stint (via Celebrating The Soaps). Of course, fans will never forget Sami's time as a man on "Days of Our Lives."