What Happened To Marlena's Twin On Days Of Our Lives?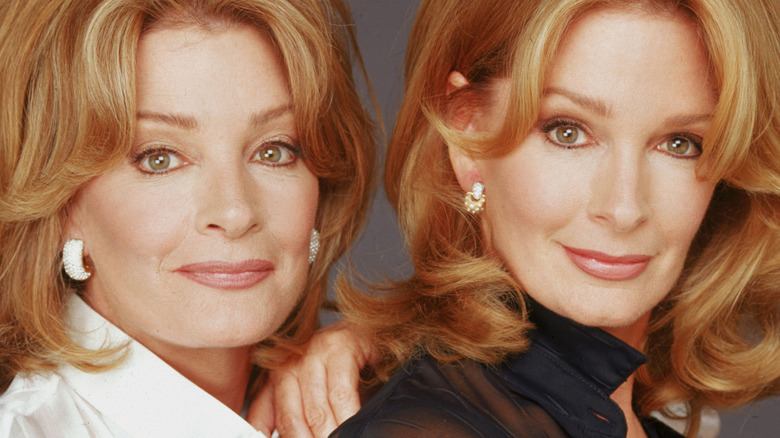 Jeff Katz/Getty Images
"Days of Our Lives" viewers have been watching Dr. Marlena Evans (Deidre Hall) bring the drama and romance for decades. The character is one of the most popular on the NBC sudser and has been involved in some of the show's most iconic storylines ever (via Nine). Marlena has been kidnapped and brainwashed by Stefano DiMera. She has also lost a baby, and been married multiple times. She endured a heartbreaking love triangle with John Black and Roman Brady and has suffered some issues with her children over the years, per Soaps in Depth.
Marlena has also been presumed dead, held prisoner at the DiMera mansion, and was even shockingly possessed by a demon on two separate occasions. It's safe to say that Marlena is one of the most recognizable soap characters of all time due to all that she's been through over the decades. However, one of Marlena's most memorable early storylines included her twin sister, Samantha Evans, played by Deidre Hall's real-life twin, Andrea Hall, per Soap Central.
Samantha attempted to steal Marlena's life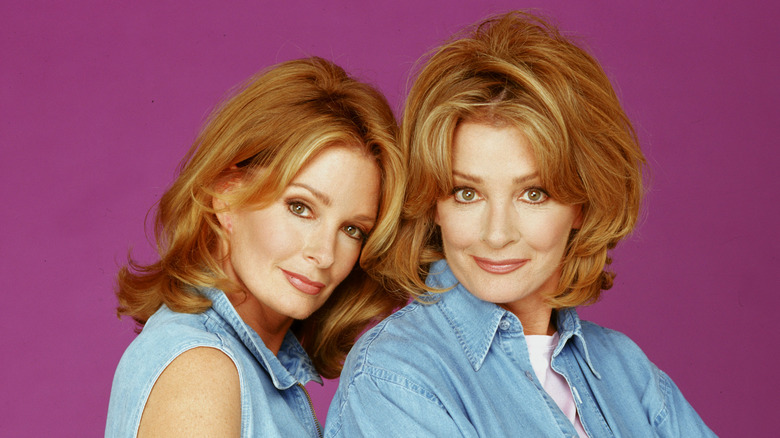 Jeff Katz/Getty Images
After Marlena was introduced to "Days of Our Lives" fans and began to make a life for herself in Salem, her identical twin sister Samantha came to town with a serious drug problem and an interest in becoming an actress (via Soap Central). Samantha was terribly jealous of her twin sister, and even stole from Marlena.
Eventually, Samantha had enough of playing second fiddle to her sister and concocted a plan to steal Marlena's life when she had her twin locked away in a mental institution (via Soaps in Depth). Although Marlena attempted to escape and head back to Salem, her sister insisted on electroshock therapy to keep her subdued. Samantha used her acting skills to impersonate Marlena and had everyone fooled, even Marlena's then-fiancé Don Craig.
However, when the truth finally came out, Samantha was sent to the mental hospital and Marlena was released. Sadly, the sisters' drama wouldn't end there.
Samantha was killed by the Salem Strangler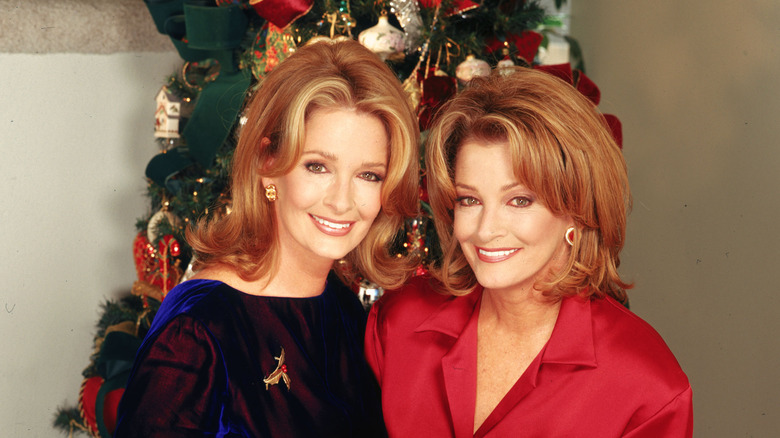 Jeff Katz/Getty Images
When Marlena started her own radio show she drew the attention of the town's creepy serial killer, The Salem Strangler (via Soaps in Depth). During this time, Marlena and Samantha made amends and years after the stolen identity incident, Samantha returned to Salem to visit her twin sister. Samantha headed to Marlena's home and discovered that she wasn't there. However, the Strangler had been watching Samantha and broke into the home. The Strangler killed Samantha before realizing that he had mistaken her for Marlena (via Soap Central). The storyline had "Days of Our Lives" fans in a tizzy as they believed that Marlena may have been killed by the serial killer.
After realizing that Samantha had been killed by the murderer in her place, Marlena carried a lot of sadness and guilt. Years later when she gave birth to her own set of twins, she named her daughter Samantha after her late sister. Meanwhile, Deidre Hall's real-life twin sister, Andrea Hall, made an appearance on "DOOL" years later when she appeared as Marlena's doppelganger, Hattie Adams.
Fans loved seeing the sisters work together, and the duo was even the first-ever set of twins to appear on daytime television together, per Little Things.