Audrina Patridge Talks Choices: To The Hills And Back Again - Exclusive Interview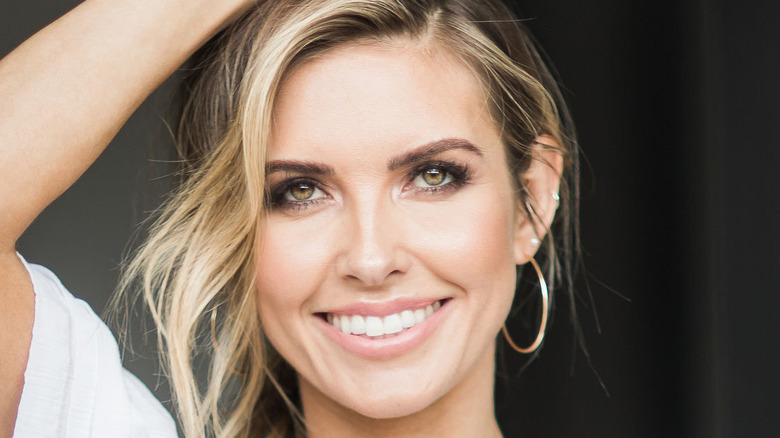 Ashley Burns Photography
Audrina Patridge became a household name thanks to her role on "The Hills." Since then, she's done everything from acting in movies like "Sorority Row" and "Honey 2" to competing on Season 11 of "Dancing With the Stars." Now, the multi-hyphenate is telling her side of the story in "Choices: To The Hills and Back Again." 
In her new book, Patridge reflects on what it was like being catapulted to fame in MTV's hit reality TV series alongside Heidi Montag Pratt and Lauren Conrad. As a cast member of "The Hills," Patridge was exposed to the exclusive clubs and VIP parties of Los Angeles in the late '00s, which saw her rub shoulders with the likes of Paris Hilton, Lindsay Lohan, and Leonardo DiCaprio (yes, really). But as well as regaling readers with tales of the glamorous side of being a pop culture icon, Patridge takes us behind the scenes of her life, exploring everything from her high-profile relationships to life as a single mom.
In an exclusive interview with The List, Audrina Patridge opened up about her new book "Choices: To The Hills and Back Again," the cancelation of "The Hills: New Beginnings," and Justin "Bobby" Brescia.
Audrina Patridge was ready to tell her story
Why was it the time to write "Choices: To The Hills and Back Again"?
The conversation started with my manager and a publisher, and there's so much interest in "The Hills" and "Was it real? Was it fake? What really went on?" That's how it started. Then we kept the conversation going and I was like, "A lot of people are writing to me and want to know about me, [things] that they don't know from Instagram and my real life." I was like, "Well, I have all of these other things that people want to know. Let's put all of this in one place and I'll explain everything in one place and then they can buy the book."
I had a ghostwriter who was amazing, Jen Schuster. It was very therapeutic. It was quite the process, and sometimes we would be talking so much and it would get really emotional and I'd be like, "I don't think I can go there. This isn't something I want to expose. Let's leave that out." There's a lot of moments where it was like, "Audrina, this is what people want to know. You have to touch base on this." I had this moment where I was like, "Okay, if I'm going to do this, I have to give 120% — I have to do it all." So I went for it.
You get into some really personal anecdotes and stories in this book. What do you hope people take away from it?
I hope that people find some inspiration or motivation in their life from it and don't feel alone. They don't feel ashamed. They don't feel like they're the only ones going through something hard [and] that there's hope, there's light at the end of the tunnel. Don't give up. [I hope they] learn about the choices that I've made in my life and the consequences, whether they were good or bad, from those choices that I had to endure ... I wanted to help or give something back in some way.
Opening up about her private life hasn't always been easy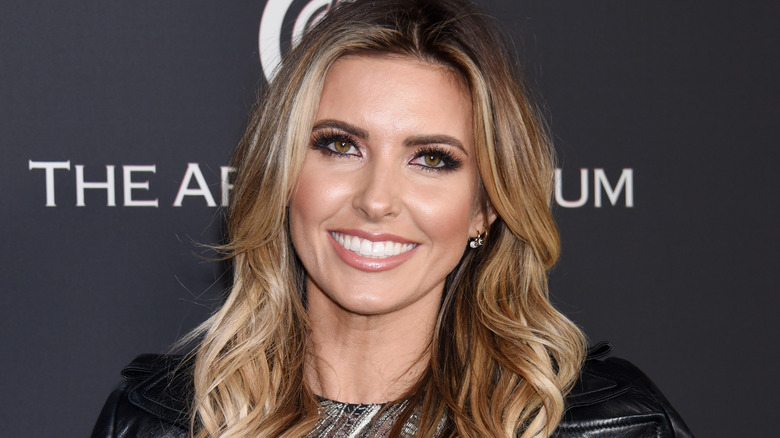 Ga Fullner/Shutterstock
Seeing you on TV talking about your divorce was therapeutic because I went through a divorce. When someone opens up and is really personal, it does help [other people].
Yes, it does. A divorce is — it's almost like mourning a death. You're mourning the end of something that you can never get back, but you have to keep moving forward. It was the ups and downs and emotions of being in love and the what-ifs. "Did I do everything I could possibly do? Am I making the right decision?" [It's] going through all those crazy emotions, but knowing that this is the right thing and sticking to your guns and being strong and moving forward. Divorce is hard.
You touched on this a little bit, but is it difficult sharing those aspects of your life? You've been on TV for a long time, but is it hard to put [those personal details about your life] out there?
It is really hard, but at the same time, there's not many secrets. It's no secret that my relationship — or relationships, even — with Justin ["Bobby" Brescia] were not healthy. They were toxic. All you have to do is Google and you'll see pictures of me and my ex on the street crying and fighting. Then on the show, there's these fights and there's this and that. Even if you Google ... TMZ and all these websites were getting my court documents and the police reports and everything that I was going through before I even had a chance to process the decisions that were being made and what was being put out there. It was really hard.
That was something that I couldn't pretend didn't happen in my life because I didn't want to talk about that or feel that again. But [writing the book] forced me to feel it and go through it. Also, I had to touch base on it because it's already out there. It's not something I can hide. That, again, is another subject that I had to talk about from my perspective. It's not about putting the other people down or calling them names or saying it's all their fault. No — it's talking about where I was in my mind and my heart and what I was going through ... I bit my tongue a lot and I didn't ever say anything back. I let people say and judge and think whatever they wanted about me.
Audrina Patridge's Leonardo DiCaprio story is literally perfect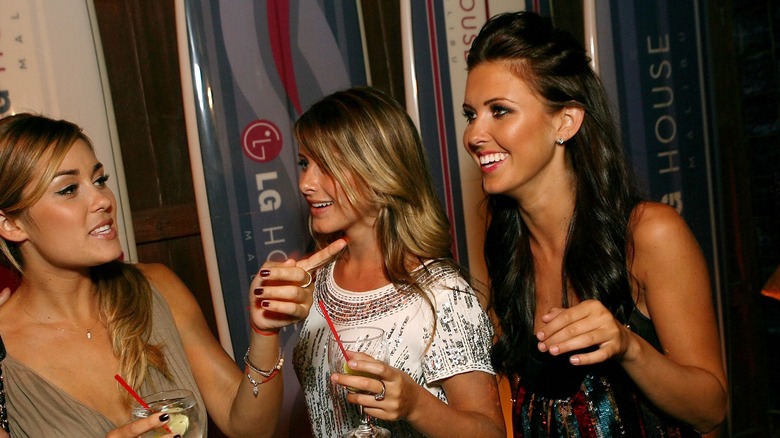 Michael Buckner/Getty Images
You reveal some fun anecdotes in the book and mentioned that Leonardo DiCaprio asked for your phone number. What was that like, and what fun moments are fans going to enjoy reading about?
I wanted to include that time of my life where we were going out and you have access to all of these amazing places and opportunities to go and be a part of amazing things. You're surrounded by other celebrities that understand what your life is and what you're going through with the paparazzi and the tabloids. It's almost like this bubble of people that you're with that get it. It's hard for other people to understand what it's like. I wanted to explain that to the fans, what it was like in that era of the early 2000s of going out in LA. I feel like that was the best time to live in LA. We were always with Paris [Hilton] or Lindsay [Lohan] ... everybody was together. And yeah, Leo — I met him.
We were on a jet. I wasn't on a jet with Leo but met him at the party. When you're with those people, you gravitate to them and hang out in that circle because it's like a safe zone. He did ask for my number; nothing ever came of it, but he was really nice. It was a great night. It was fun mingling and talking to everybody. Hopefully, people will get a little idea or live vicariously through those stories of what it was like, because it was so surreal. Looking back, it's like, "Gosh, I almost took those moments for granted." I never was really present and absorbed [or] soaked it all up. I just kept going and didn't even think about it.
Saying goodbye to The Hills: New Beginnings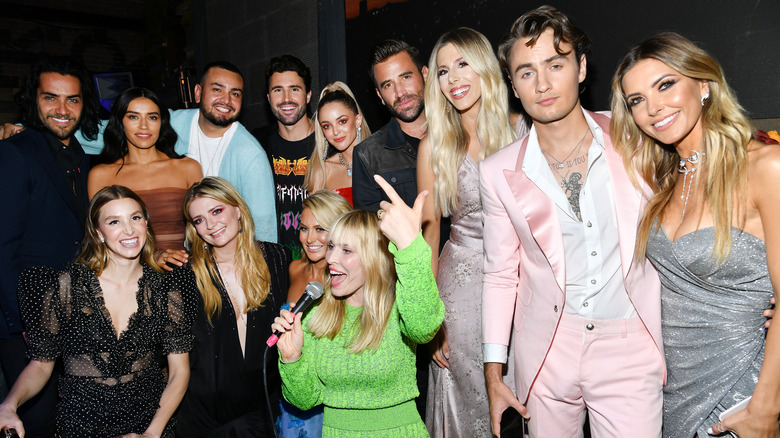 Amy Sussman/Getty Images
I enjoyed following your story on "The Hills: New Beginnings." Were you disappointed when it got canceled?
In a way, I felt like it ran its course, but it would be nice to get a third season, because after COVID, we had so many setbacks. Before COVID, we were filming and all of us were on fire. We were ready, giving it our all. It was so weird connecting; it was great. Then COVID happened, and we didn't see each other for eight or nine months. When we started filming, we weren't allowed to sit next to each other — we had to stay six feet away from each other. We were all in each other's backyards. It was really weird and it changed everything.
Even the realness of what could have happened naturally and organically was kind of stopped. That's when the storylines came in, and we had to figure out, "Okay, what are we doing this week? You're doing this, you're doing that. This is what's happening." Other things would happen organically, but we had to have an idea of what we were going to film to keep it going, because normally filming we're going out and natural things are happening. But with COVID, it wasn't like that.
If it wasn't for COVID, we might have a third season.
I know. It was a little disappointing, but at the same time, I feel like MTV wanted a new, younger cast, because we're all a little more safe in what we do and a little more caring and cautious, whereas before, when we were in our twenties, we were wild [and] carefree — like, "Go for it," no responsibility. So I get it.
Reacting to her past Hills relationships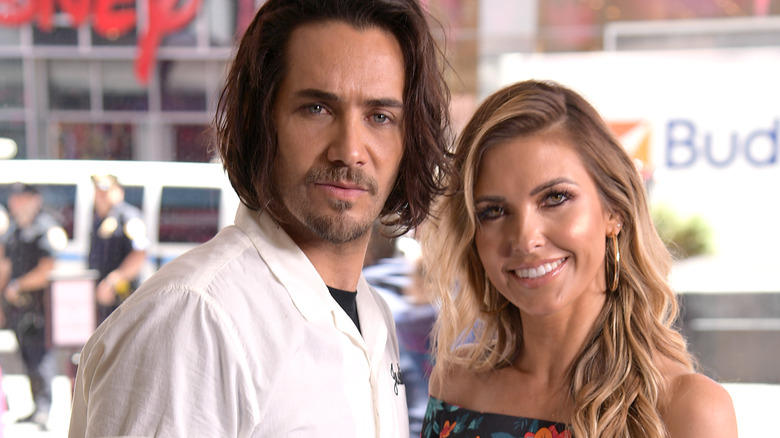 Michael Loccisano/Getty Images
What was it like reuniting with Justin "Bobby" Brescia and having those emotional conversations in the first season of "The Hills: New Beginnings"? Was it difficult?
We were talking off camera for a little bit. On camera, it changes everything. Then you start overthinking, like, "Wait, am I going to look bad if I start dating him again? This isn't a good look." You start caring too much, and then it fizzles and ruins it, but it was nice filming with him. We picked up right where we left off. It didn't feel any different.
In Season 2, the show kept teasing [a romance between] you and Brody Jenner. Was that a real thing, or was that just a storyline?
With Brody, there's always been a flirty chemistry with us, but we've known each other for so long. On "The Hills: New Beginnings," you're like, "Should we see what happens? Should we not?" It was a storyline and we played into it. We had a talk. We've been friends for so long; we respect each other. We don't want to ruin what we have. It's probably not the best to take it to that next level.
You didn't want to ruin that?
Yes. I love Brody, and we have such a great friendship that I wouldn't want to ruin that, or for us not to have what we have right now and try to have a relationship — because once you cross that line, it'll never be the same.
I saw that you are doing a new podcast, "Was It Real? The Hills Rewatch," with Brody Jenner and Frankie Delgado. What can you tell us about that?
It's been so much fun. We actually filmed three episodes yesterday ... We started at Season 1 [of "The Hills"]. We are going way back, and we had Jason [Wahler] on and he talked a lot about him and Lauren [Conrad] and everything. It's been a lot of fun talking about behind-the-scenes [moments] on the podcast, and all the deleted scenes, and having celebrity fans on [the podcast] that were fans of the show. 
Frankie has a confessional at the end, which is really funny. We've had some of the [original "Hills"] producers on, talking about "Was it real?" and why they did certain things the way they did. For everybody that has all these questions, it's going to answer everything in detail ... It's a little cringey to watch for me. I have not watched ["The Hills"] in 17 years.
Haven't you?
No, nothing. It's so weird. I totally forgot about some of the dates I went on, so I'm reliving those again. It's like, "Oh, my gosh." Brody and Frankie, they're like my brothers. It's constant teasing about everything.
'There's no bad blood' with any Hills co-stars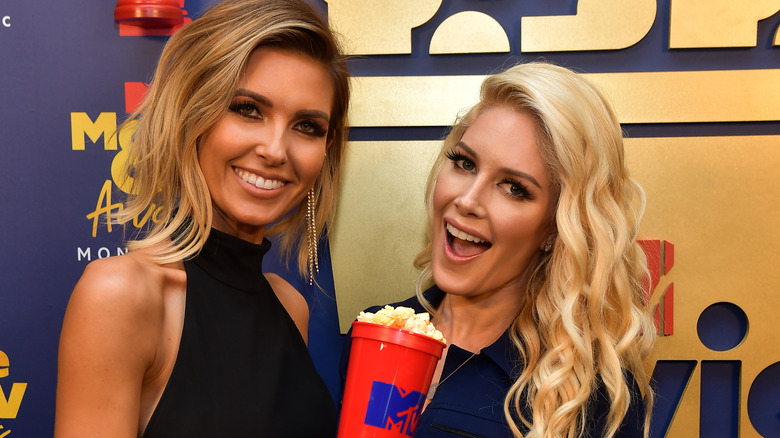 Matt Winkelmeyer/vmn19/Getty Images
I loved that on "The Hills: New Beginnings," it showed your friendship with Heidi Montag Pratt. Are you still close? Do you still speak to Lauren Conrad at all?
I haven't seen Heidi since we stopped filming, but we touch base here and there. We talked when I found out she was pregnant and we're trying to get [her and Spencer Pratt] on our podcast. Hopefully, we'll see. 
But it's hard. Everybody, after we were done [filming "The Hills: New Beginnings"], went back to their own lives and their own kids. They live in LA; I live in Orange County. When we're filming, we have set times, and it forces us to be together. But whenever we're not, we have all of our own schedules and families, so it's hard to continue such close-knit friendships easily.
As far as Lauren, the last time I saw her was at "Disney on Ice" a few years ago. We're all grown up now. There's no bad blood. We're all cordial. We all have families. We're in such a different place than we used to be.
You're all very busy by the sounds of it.
Very busy. I'm a single mom. It's 24/7.
You were also on "Dancing with the Stars," and you also did some acting. Could we see you heading back into either of those realms?
I'm open to it. If the right thing came along, the right opportunity, I wouldn't be opposed to it. Acting was so much fun for me. If it was a fun little role or something that I am like, "Oh my gosh, I have to do this" ... I haven't really thought that much into it to start auditioning again. 
But I did love hosting. I love hosting and if I could get something that's a little more consistent, and I have a schedule — it would be best, with having a daughter — but we'll see. I would love to do both.
Audrina Patridge has done pretty much everything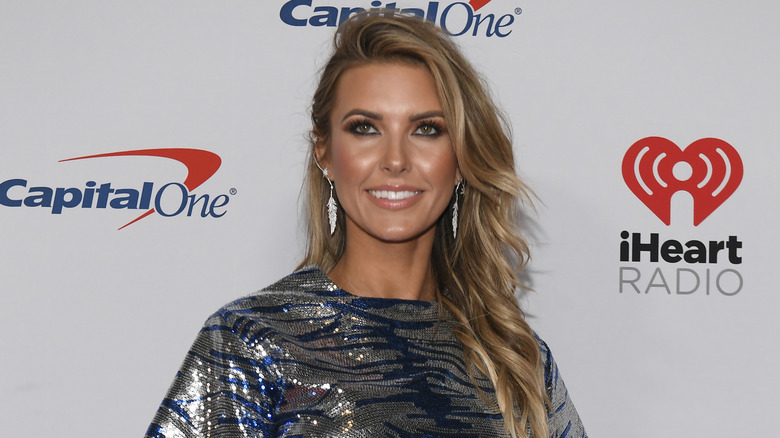 Bryan Steffy/Getty Images
You've had such an interesting career so far. Is there anything you haven't done that you would like to do?
I feel like at this point I've tapped into everything that I've always wanted to. It's almost like that book "The Secret." I've always said out loud, "I want to do this and I'm going to do it," and then it happens. I've done a little bit of acting, modeling, hosting, reality [shows]. I had my swim line. We showed our line at Miami Swim Week. I got to walk the runway at New York Fashion Week. I'm very content and very at peace [with] where I'm at right now in my life. Now, my focus is my daughter. If anything else comes along, I'll do it. Now [there's] my book too. I feel like I've checked everything off. I'm very satisfied and at peace at where I'm at.
You need to do a makeup and hair line, because your hair right now, I want my hair to look like that.
Oh my, thank you. You know what's crazy? I went to this event last night and I ran into Hannah [Brown]. She's one of the Bachelorettes, or she's on "The Bachelor." She was like, "I used to watch you in middle school. I loved you. You had the best hair and makeup, and I always used to try to copy my makeup and my ponytails like you." I was like, "Gosh, I should have started a makeup line a long time ago." But now everybody has one.
There's no reason you couldn't as well.
You just gave me two ideas, a makeup line and something to do with hair — maybe extensions or a beauty line. I said it out loud. Let's see. I'm going to go for that.
Is there anything else you want people to know about your book before we wrap up?
I've really poured my heart into it. It's not a tell-all book. It's not exposing anyone or anything. It's about me and where I've been in my life and the choices I've made. I hope that everyone that reads it gets something out of it, and I can't wait to hear everyone's responses after they read it.
"Choices: To The Hills and Back Again" by Audrina Patridge is available now.
This interview was edited for clarity.