Michelle Obama And Prince Harry Are Getting Ready For A Fierce Competition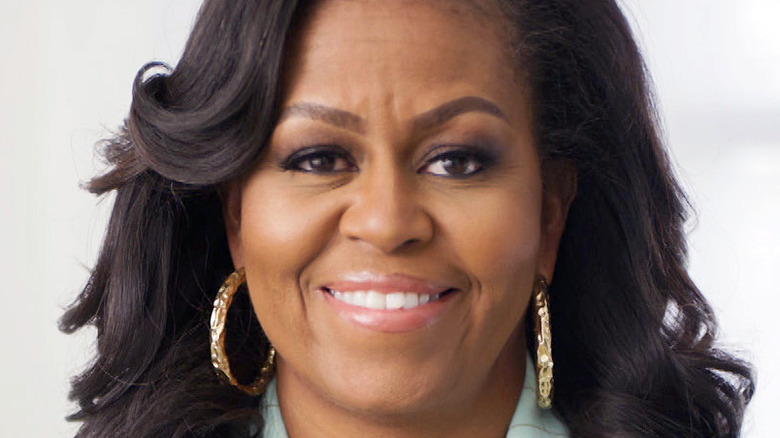 52nd Naacp Image Awards/bet/Getty Images
There doesn't seem to be much — if any — tension between Prince Harry and Michelle Obama, as the two have been seen throughout their public lives sharing events, shaking hands, laughing, and even giving each other kisses on the cheek. And it's no secret as to why — the two run in very similar circles, work in the nonprofit and advocacy industries, and are both married to very high profile spouses. 
While these two A-listers have spent the majority of their lives across the pond from each other, Harry is now stateside and no longer has the same kind of access to the royal pursestrings as he once did. With that said, he may have taken a page out of Michelle's book, turning to the literary world for the next stage of his public life. As many of us know, Michelle released her highly anticipated memoir, "Becoming," in 2018 and gave readers amazing insight into her life before the White House, her marriage to Barack Obama, and her ongoings after her time as first lady came to a close. Harry, meanwhile, is set to release his memoir later this year — but he could be facing some competition. 
Prince Harry and Michelle Obama's books have similar release dates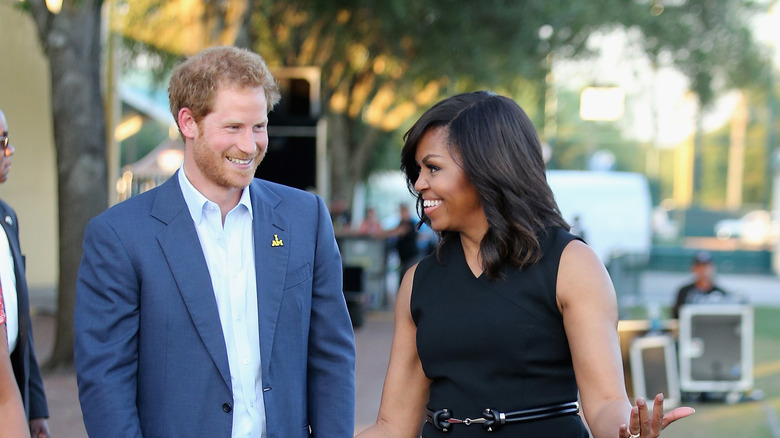 Chris Jackson/Getty Images
While Prince Harry and Michelle Obama are allies and friends, they are facing a new chapter of their intertwined public lives — competing book sales. Michelle's second iteration, "The Light We Carry," is set to be released on November 15 of this year, perfect timing for the influx of holiday shopping. In the book's official announcement by Penguin Random House, "The Light We Carry" will focus on "practical wisdom and powerful strategies for staying hopeful and balanced in uncertain times." Sounds like a page turner we all need to get our hands on. 
Meanwhile, Prince Harry is gearing up to release his highly anticipated memoir, of which remains untitled, but is estimated to drop some serious bombshells about the royal family. On the heels of his infamous interview with Oprah Winfrey, the release of the short series "The Me You Can't See," and his ongoing public discussions about mental health, it's safe to assume that Harry's memoir — slated to drop in time for holiday shopping — will rattle the royal cages and give brand new insight into the firm. But according to industry insiders, Harry might not have the kind of book sale success he's anticipating, given the former first lady's sophomore page turner. 
"Michelle Obama is a phenomenon and her new book is expected to top every bestseller list in the world," sources told The Mail. "She would totally eclipse anything by Harry. It could potentially be quite difficult timing."
The two books are said to be extremely different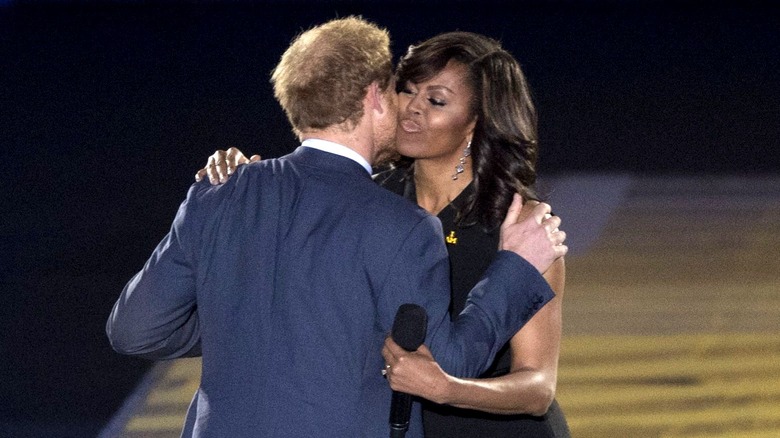 Pool/Getty Images
As holiday shoppers hit the malls — and the Internet — to score the season's hottest gifts for their family and friends, Michelle Obama and Prince Harry's books will certainly be at the top of the list. But which one to choose? Why not both? 
While Michelle's new title has the potential to run circles around the royal's memoir, the two books are said to be very different — one is said to hold answers and commentary to life's most pressing and difficult issues, the other is a recounting of life in the spotlight, Diana Spencer, and the ever-elusive royal way of life. Perhaps it'll be in the duly-released books' differences where success in sales will exist. 
As to why Harry is choosing to release his memoir now? The royal gave insight into the timing, sharing that his growth has allowed him to write the book as authentically as he can. "I'm writing this not as the prince I was born but as the man I have become," Harry said in a press release, per CBC. "I've worn many hats over the years, both literally and figuratively, and my hope is that in telling my story — the highs and lows, the mistakes, the lessons learned."
As for Michelle — well, considering that she is one of the most inspirational people out there (and is the leading presidential candidate for the Democrats in 2024), it's no wonder that her book about life, lessons, and guidance is coming at such a unpredictable time. We'll just have to see how these two releases fair on the book battlefield.