How Much Money Do Cosmetologists Make?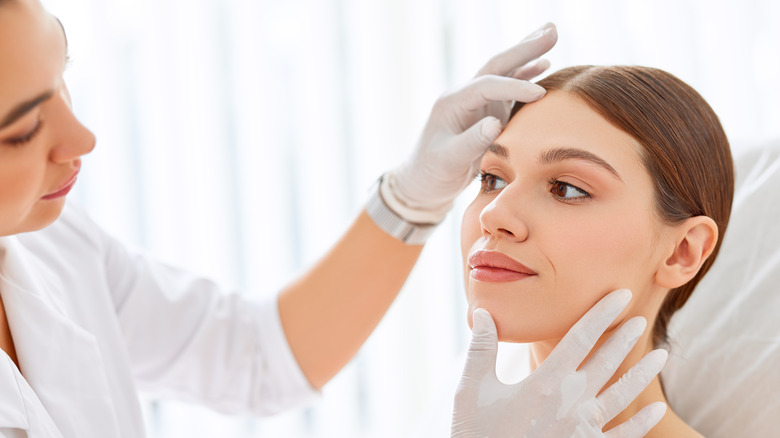 Evgeny Atamanenko/Shutterstock
Cosmetologists help people with their grooming, whether that means they are cutting hair or doing facials according to The Balance Careers. There is a wide range of careers one can choose when pursuing cosmetology, but the most popular jobs include hair stylists, barbers, and estheticians. For most cosmetologists, a day is spent cutting hair, putting on makeup, applying skin treatments, and doing manicures and pedicures, per Indeed. In addition to hands-on work, a cosmetologist may also be tasked with scheduling appointments, cleaning workstations, and communicating with clients to ensure they are getting the correct treatment.
If you consider yourself a creative person and want to find a career that lets that creativity flourish, cosmetology is a great option. According to Aveda Institutes, job opportunities for cosmetologists are growing, so finding a job won't be difficult. Most importantly, though, becoming a cosmetologist gives you a lot of options. You can open your own salon, become a teacher, or even work in high-powered industries like television and film. Plus, you are helping others feel great about themselves every day. But just how much can you make from being a cosmetologist?
Cosmetologists salary varies based on career type, location, and skillset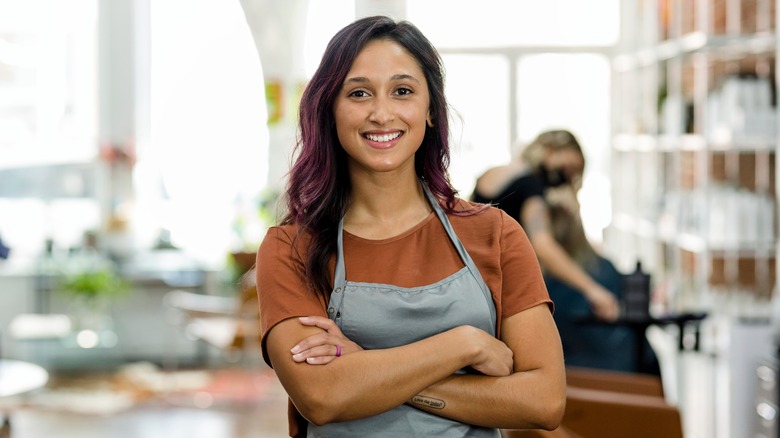 Rawpixel.com/Shutterstock
Cosmetology is a unique career as the salary can vary widely. According to The Balance Careers, the average salary for a cosmetologist is between $20,000 and $30,000. Those who choose to work with skin often make a bit more, with the average salary landing around $31,304 compared to a hairstylist who can expect an average salary of $24,731. The highest-paying hair stylists make about $50,000, while the highest-paid estheticians make about $59,800 per year.
But take these numbers with a grain of salt. According to PDH Beauty, there are a lot of factors that can affect the amount of money you are paid. First-year cosmetologists may make very little, but as they gain experience, their hourly wage or yearly salary can increase significantly. Your location and your reputation are also big factors. Beauty Schools Directory reports that if you live in the District of Columbia, you can make over $70,000 per year compared to cosmetologists in Nevada who make about $26,000 a year. You must also factor in tips and working hours — according to PDH Beauty, those who work evenings and weekends can expect to make more than those who only work during the day or have a part-time schedule.
How to become a cosmetologist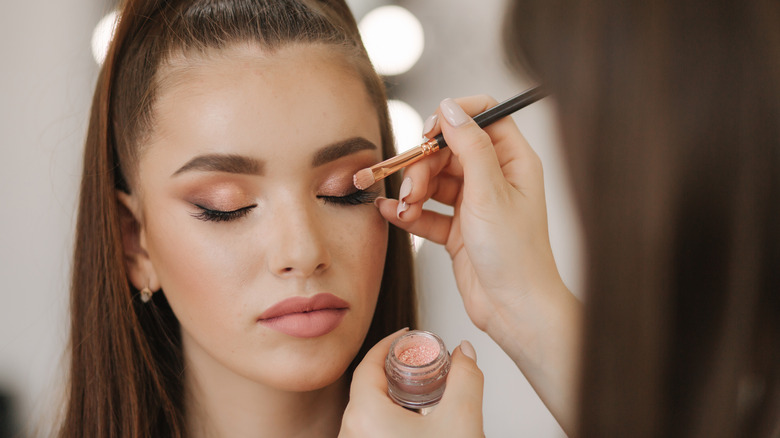 Hrytsiv Oleksandr/Shutterstock
Regardless of whether you have dreams of cutting hair or want to become the next big celebrity makeup artist, there are five basic steps you must check off before becoming a cosmetologist. According to Fortis, you must be at least 16 years old to pursue a career in cosmetology, which is great news for younger generations who know that college is not in their future. And while you do not need a college degree, you need at least your GED or high school diploma. Once you have that, you can enroll in a cosmetology school that is licensed by the state you want to work in. According to Elite Beauty Society, you can expect to do a variety of things while in school and will learn the basics of hair, nails, skin, makeup, and salon management. A full-time student can finish cosmetology school in about nine months, but those who choose to work while in school may take about a year to a year-and-a-half.
After you graduate, you will need training hours. According to Fortis, this number depends on your state, but you can expect to need between 1,000 and 2,300 hours. The final step is to pass the licensing exam and from there, you can embark on your new career as a cosmetologist.