Selling Sunset's Christine Quinn On Fashion Week And New Friend Bella Hadid - Exclusive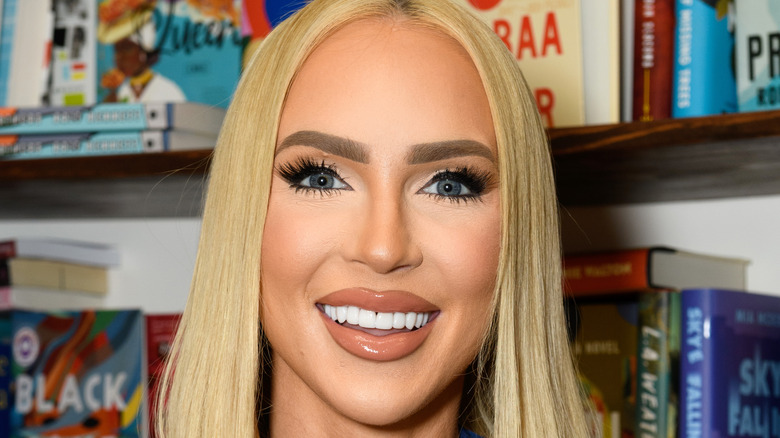 Amanda Edwards/Getty Images
Christine Quinn immediately became a fan favorite on Netflix's "Selling Sunset" thanks to her witty one-liners and her incredible fashion sense. Now, the reality TV icon has launched a new business venture with her husband, Christian Dumontet, with the pair planning to conquer the world of real estate together. Utilizing their joint expertise, RealOpen makes it possible for people to buy real estate with cryptocurrency, without having to undergo a long cashing out process. With over $250 million of listings already, the recently launched Real Open is proving to be a huge success for the husband and wife team.
Alongside her real estate endeavors, Quinn has been making waves in the fashion world, following an unforgettable appearance at Paris Fashion Week. "Demna [the creative director of Balenciaga] hand-selected me," she tells The List. "Months and months ago, he told me that he wanted me to walk in his couture show and I didn't think it was real. I thought it was an audition, and it was absolutely surreal." Understandably, this was a dream come true for Quinn, whose statement "Selling Sunset" outfits were a constant talking point for viewers. "I've been a fan of the brand for so many years — incredible vision," she explains. "I was so honored ... It was the most incredible moment of my career and my life."
Speaking to The List, Christine Quinn opens up about her Paris Fashion Week experience, and how she became friends with model Bella Hadid.
Bella Hadid is extremely 'genuine and sweet'
As part of Balenciaga's show at Paris Fashion Week, Christine Quinn walked alongside a select group of celebrities and models, including Naomi Campbell, Nicole Kidman, Kim Kardashian, and Bella Hadid. As well as already having a surprising connection to Nicole Kidman, Quinn found a close friend in seasoned model Hadid. "Bella Hadid and I have become really good friends," she tells The List. "I ran into her, I believe, at one other rehearsal. We had dinner, and then I saw her later after the show, quite a few times." 
A friendship quickly blossomed between Quinn and Hadid, and it's clear that the RealOpen founder has the utmost respect for the supermodel. "I was shocked how genuine and sweet and kind she was," she reveals. "It was another thing — she knew all the models and she'd been around them for years. I didn't know anyone. She made me feel right at home, and it was really great. It was the pinnacle of my career."
Find out more about Christine Quinn and Christian Dumontet's new venture, RealOpen, at their website.