Here's How Well Target Bounced Back After COVID-19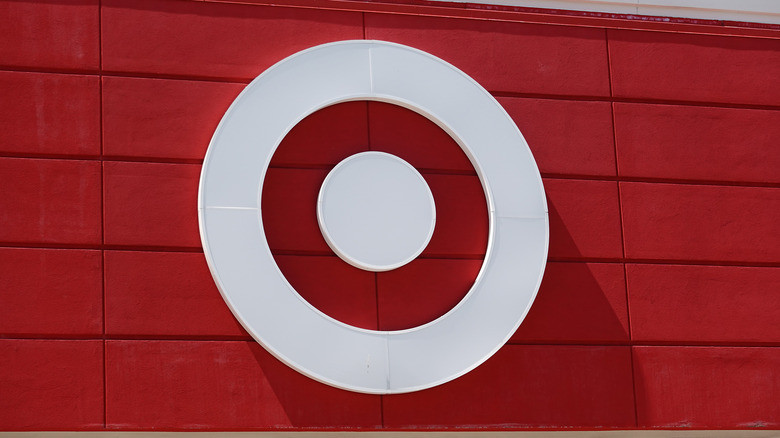 Joe Raedle/Getty Images
If you're anything like us, you walk into Target looking for toilet paper and shampoo and leave with $150 worth of cute clothes, scented candles, and fabric birds. (We also end up forgetting to actually buy the shampoo). According to Insider, the reason you have a hard time only buying the items on your shopping list is called "the Target effect." Target has created a shopping experience that begins with the welcoming smell of coffee from the on-site Starbucks, or freshly baked pretzels from the Target food court. They also strategically place items like groceries and seasonal items in the back of the store. You end up walking past all the other merchandise — which is beautifully organized and brightly colored — to get what you need, tempting you to place things into your cart that may not be on your shopping list.
However, what happens when shoppers can no longer wander the aisles while enjoying their mocha frappuccino and pick through the dollar section? When the COVID-19 shutdown happened in March 2020, people initially anticipated a two-week lockdown. What the world didn't foresee, though, was a shift in societal norms, including how we work, go to school, shop, and visit our families. So, how were Target sales affected once people could no longer experience "the Target effect"? Has the company returned to its former glory post-pandemic? 
A graph created by The List, via Data Herald, reported on Target foot traffic trends over the past two years, and the results were surprising.
Target reimagined customer care when COVID hit
While Target's online sales and drive-up orders remained steady through the pandemic (via NPR), in-person shopping took a large hit as people were learning how to navigate their safety and comfort levels. A special graph created by The List, shown above, defines a customer visit as a stay longer than four minutes at any Target location. Pre-pandemic, normal foot traffic trends are reported with approximately one million visitors each month, with an expected spike to nearly 2.3 million during the 2019 holiday season. However, the graph shows a drastic dip in foot traffic during March and April 2020, falling below 800,000 visitors.
McKinsey and Company report that COVID changed the definition of customer service — shoppers once looking for luxury and choice were now prioritizing trust and safety. Target took note of its loyal fan base's needs and implemented a number of safety procedures to protect the customers and the employees. According to Target's corporate website, the company reduced shopping hours and reserved the first hour on Tuesdays and Wednesdays for elderly and vulnerable guests. Additionally, Target began "fast-tracking the flow of products" that were essential for shoppers, contradicting their previous "Target effect" shopping experience. 
Fortunately for the company, these announced safety changes for customers seemed to put them at ease, and visitors quickly returned in the spring and summer of 2020. Oddly enough, in May 2022, the foot traffic graph shows another drastic dip in visitors, and COVID may not be the reason this time.
How COVID changed consumer priorities, and what that means for Target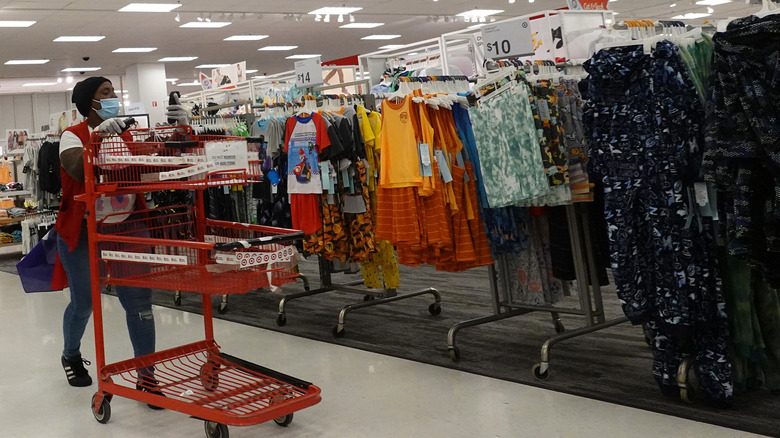 Joe Raedle/Getty Images
A pandemic may not keep people away from Target for too long, but changes to customer experience might. Recent foot traffic trends reported by The List show that Target's visitor count took a large hit in Spring 2022. Foot traffic has yet to rise back to typical summer numbers, showing lower visitor counts this year than in the summer of 2020 when shoppers were mandated to wear face coverings and remain six feet apart. Research suggests this could be due to a combination of inflation and a change in consumer priorities.
According to Quartz, things seemed to be trending in a downward direction for Target in May 2022, as the company simultaneously faced increased transportation costs for its goods, consumer budget restrictions, and an unexpected excess of inventory within its stores. Per CNBC, there's also a national labor shortage, which means there are fewer Target employees implementing streamlined organization and luxury experiences that shoppers once enjoyed. Additionally, people are spending their money on different things post-pandemic. Consumers are investing in experiences like tickets and travel, and less on luxury items like electronics and appliances (via Boston.com).
Hopefully, Target takes note of the changing consumer needs once again and evolves to accommodate its large visitor base. Some customers (ourselves included) would consider buying concert tickets or booking our travel plans through Target if we could use our RedCard for 5% off. Just a thought!