How Theo Vanderway Was Related To The Young And The Restless' Abbotts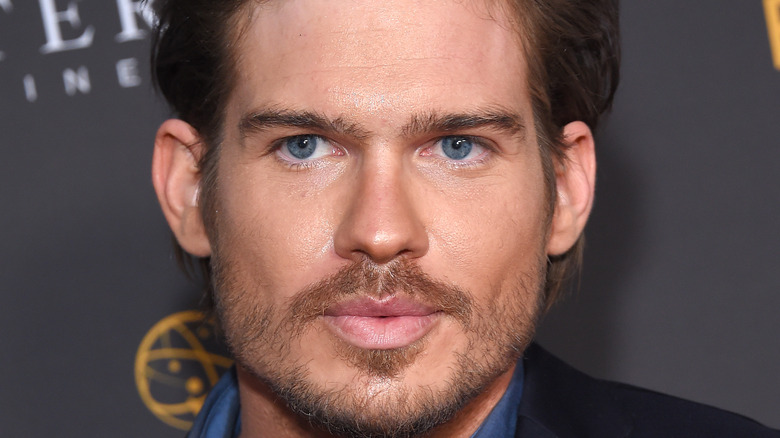 DFree/Shutterstock
The character Theo Vanderway was first introduced on "The Young and the Restless" in 2019 as an old pal of Kyle Abbott (Michael Mealor) from New York. The role was briefly played by "Nashville" star Nik Luken but was soon recast with actor Tyler Johnson. 
When he joined the soap, he was new to daytime television but quickly found his footing. Johnson remained on the show until late 2020, when Theo was written off, and he briefly reprised the role in February 2021.
Kyle and Summer Newman (Hunter King) initially brought Theo to Genoa City so he could use his experience in publicity to aid their business ventures. Still, his attention soon turned to other matters (via Soaps in Depth). Theo and Summer fell into bed together before he realized that she had a complicated romantic history with Kyle. 
Though the two men appeared to be friends on the surface, it soon became clear that there was more to their history than met the eye. Theo made it a point to antagonize Kyle with damning information from their past as party boys, and more animosity grew between the two when Theo befriended Kyle's new wife, Lola Rosales (Sasha Calle). In fact, when Kyle ultimately went back to Summer, Theo took no time moving in on his buddy's ex.
To complicate matters even more, Kyle and Theo discovered they were actually long-lost cousins — though being family didn't exactly endear them to each other (via Soaps). So how exactly is Theo Vanderway related to the Abbott family?
Theo Vanderway is Dina Mergeron's grandson
In 2019, siblings Jack Abbott (Peter Bergman) and Traci Abbott (Beth Maitland) were caring for their mother, Dina Mergeron (Marla Adams), who was in the late stages of Alzheimer's disease (via Soap Central). 
While going through some of her things, they found evidence suggesting she had a child while in high school that she had given up for adoption. They immediately began searching for their long-lost sibling, who turned out to be a man named Eric Vanderway — Theo Vanderway's late father.
After a DNA test confirmed that Theo was in fact biologically related to the Abbotts, Traci and Jack welcomed him into the family and even offered him a job at Jabot Cosmetics, according to Soaps in Depth. However, Kyle Abbott was less than impressed to find out he and his "frenemy" Theo had blood ties.
Theo was later introduced to Dina, who mistook him for his father, Eric (via Soaps). Dina asked her "son" if he had grown up in a good family after she had given him up for adoption. Theo played along to put the woman's mind at ease, not wanting to upset her with the information that her son had long since passed away. Instead, he insisted that he had a good life and was very happy.
He turned the Abbotts against him
Theo Vanderway was upset to learn that his grandmother Dina Mergeron passed away in October 2020 and he hadn't been invited to be present with the rest of the family, per Soaps. Tensions between him and the rest of the Abbotts only grew when Theo learned that the wealthy Dina had only left him a pen in her will — a fact that Kyle Abbott was all too happy to rub in his face.
In retaliation, Theo sued the family for the entire estate, causing great turmoil for everyone involved and pushing the few family members who liked him to turn against him, particularly Traci Abbott. Eventually, Theo agreed to drop his lawsuit in exchange for receiving a small fashion boutique in Paris, and he soon left town to run his new business (via Soaps in Depth).
In February 2021, Theo made a brief reappearance in Genoa City, proving that his feud with Kyle was still alive and well (via Soap Central). He came bearing the news that, years earlier, Kyle had slept with the wife of dangerous businessman Ashland Locke and was the father of Tara's 3-year-old son, Harrison, which he revealed to Sally Spectra (Courtney Hope) in confidence. 
However, news quickly spread, and Ashland divorced Tara and cut her off financially, though he eventually agreed to give Kyle custody of the little boy. Theo hasn't been seen in Genoa City since he dropped this baby bombshell, but there's always a chance he'll come back to stir up trouble for his distant relatives.