Why Meghan And Harry Will Likely Keep Silent Amid Disturbing Allegations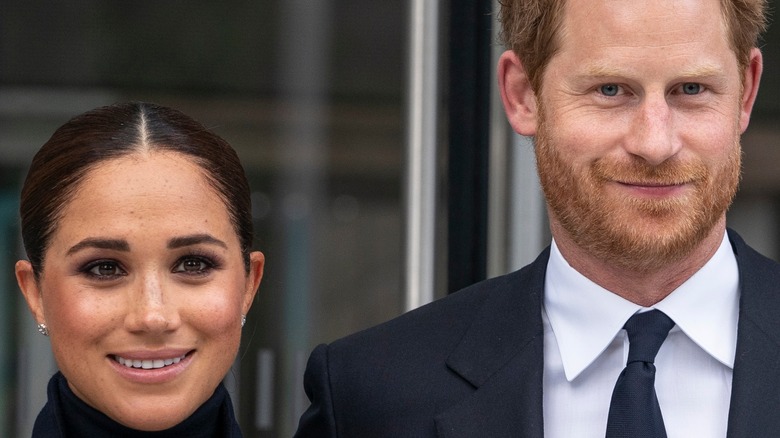 lev radin/Shutterstock
A new book about Meghan Markle and Prince Harry does not paint a pretty picture of the controversial couple. Tom Bower, author of "Revenge: Meghan, Harry and the War Between the Windsors," has admitted that he doesn't go easy on the Duke and Duchess of Sussex in the tome, even telling Piers Morgan that he could care less if the stories he shares accelerate the downfall of the woman he sees as being dangerous for Britain (via Newsweek).
Among the many unflattering accounts that Bower writes about is the reaction the Duke of Sussex's friends had upon first meeting his future wife. According to "Revenge," Harry's Eton pals were not impressed with the former actress, and even wondered if he was off his rocker dating Meghan.
The British journalist also contends that Meghan may still have been living with her ex-boyfriend, chef Cory Vitiello, when she started dating her future husband, calling the entire timeline of their romance into question. Other shocking allegations Bower makes are that the Duchess of Sussex was highly irritated by comparisons to Kate Middleton and that the mom of two refused senior royal family members' pleas for her to reconcile with her estranged father.
There's an important reason Prince Harry and Meghan Markle won't respond to the new book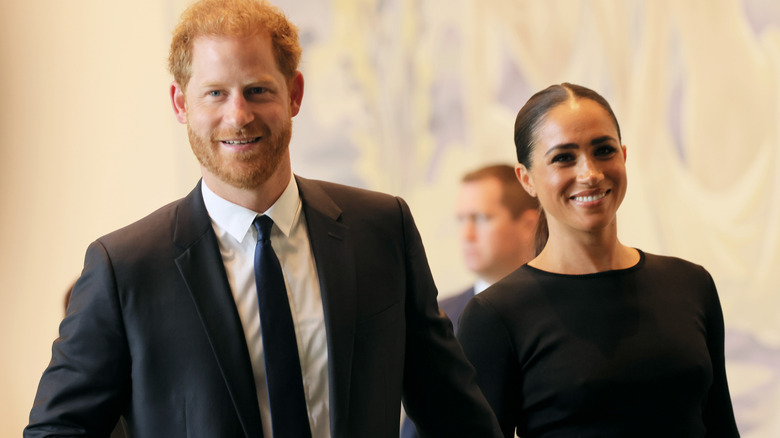 Michael M. Santiago/Getty Images
Despite the stinging stories Tom Bower shares about the Duke and Duchess of Sussex in his new book, at least one public relations expert contends "Revenge" won't register here in the United States. "These are stories that have been said and likely uncorroborated or without anyone going on the record in particular. So there's nothing new," Eric Schiffer from Reputation Management Consultants opined to Newsweek.
Could it be because this scathing biography relies heavily on anonymous sources that Meghan Markle and Prince Harry are unlikely to respond in any way to its publication? If you ask royal expert Gareth Russell, the royal couple's silence on the matter has another explanation.
"You can't respond to it all," Russell told Us Weekly about the Duke and Duchess of Sussex's reaction — or lack thereof — to Bower's book. In fact, he believes the mental health of the California-based parents is at stake here.
Meghan Markle and Prince Harry have been open about protecting their mental health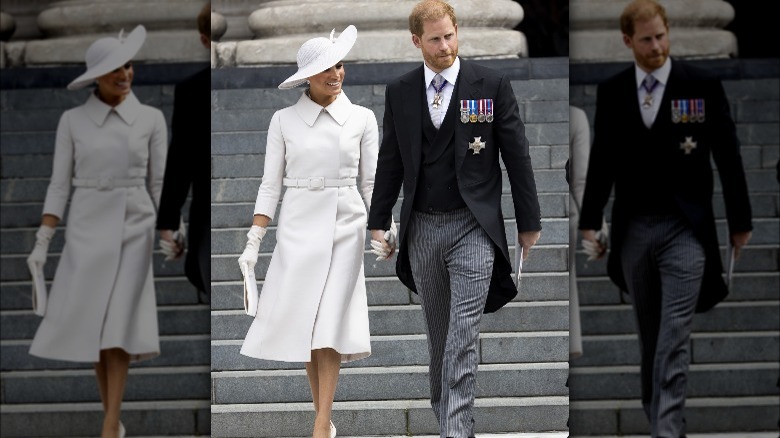 Wpa Pool/Getty Images
Royal expert Gareth Russell talked to Us Weekly about why the Duke and Duchess of Sussex likely won't respond to Tom Bower's eyebrow-raising accounts of everything from the timing of their relationship to how Meghan Markle gets along with various members of the royal family.
"If you go out answering every single book or allegation, it will consume your entire day," he told the outlet, adding, "You won't have spare time to devote to your own mental health and your own well-being."
This claim corroborates what Prince Harry has said previously about protecting his mental health, as the younger son of Princess Diana and Prince Charles confirmed he tries to avoid reading "toxic" stories about himself (via People). 
Meghan has also reportedly said that she stays away from negative stories about herself (via Daily Mail). And as she confessed during her infamous Oprah Winfrey interview, one of the reasons the couple left Britain was to protect her mental health (via Elle).