Marjorie Taylor Greene's Comment On Joe Biden's Rebound COVID Case Has Twitter Divided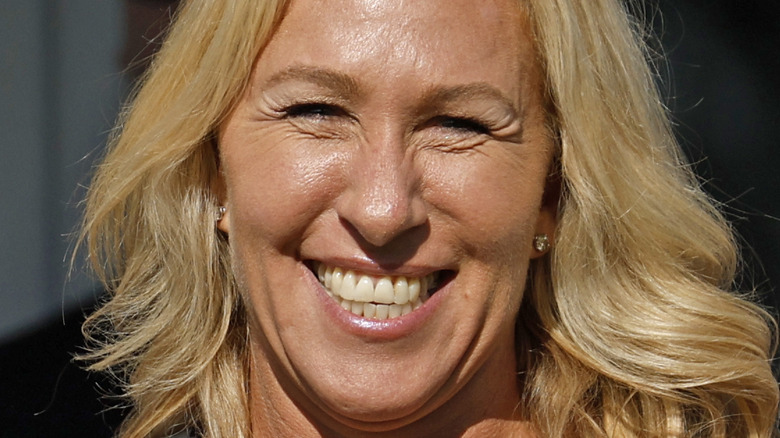 Jared C. Tilton/liv/Getty Images
Joe Biden's COVID reinfection has caused a stir among both supporters and opponents alike. The president tweeted the news on July 30, just days after he had tested negative from his previous bout with the virus. "I've got no symptoms but I am going to isolate for the safety of everyone around me," Biden wrote. "I'm still at work, and will be back on the road soon." 
The reinfection phenomenon, known as a "rebound" case, has puzzled doctors, although the Centers for Disease Control and Prevention has said, "There is currently no evidence that additional treatment for COVID-19 is needed for COVID-19 rebound." The CDC still adds that treatment with Paxlovid — the antiviral prescribed to Biden — is still the recommended protocol for a first bout with the virus.
One notable government figure, however, disagrees. Congresswoman Marjorie Taylor Greene, whose "permanent" Twitter ban has since been lifted, has taken full advantage of her ability to snark about the president at every opportunity. "Can someone just give Joe some ivermectin?" she tweeted. "Whatever they are doing over there is not working."
Greene, who represents Georgia's 14th District, followed up with a retweet of a mother's declaration that her 13-year-old daughter's COVID symptoms vanished within hours of taking a regimen that included the controversial remedies ivermectin and hydroxychloroquine. "This is the way most of us, who aren't vaccinated, have treated Covid," Greene said. "Ivermectin and monoclonal antibodies too, along with this regiment [sic]. Glad your girl is all better!"
Twitter had plenty to say about Marjorie Taylor Greene's ivermectin comment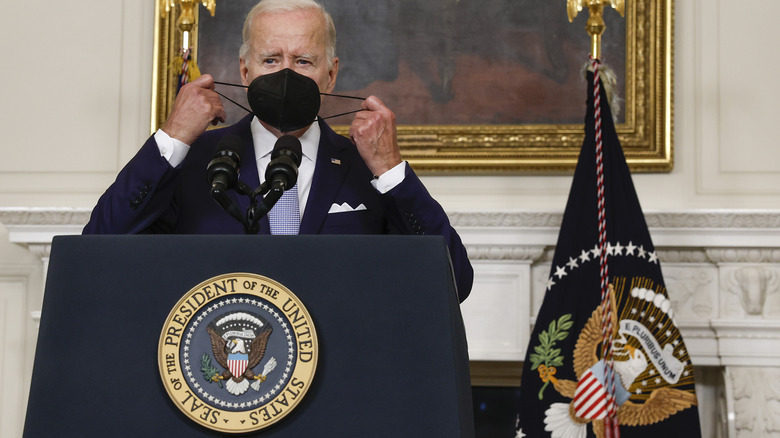 Anna Moneymaker/Getty Images
A few supporters of Marjorie Taylor Greene backed her claim that ivermectin is a better COVID treatment than the antiviral Paxlovid, which President Biden took when he was first diagnosed with the virus. "Can we make it over the counter nationwide?" asked one fan. Another stated, "I never treated Covid cause I was Asymptomatic. Must have been my unvaccinated immune system that kept me safe." The same Twitter user took another dig at Biden: "Personally, I think she should keep her mouth shut and let Mother Nature run its course." 
Far more followers, however, roasted the Congresswoman for her stance on vaccinations and medication. Some even reported her to Twitter for spreading disinformation about the virus. One dissenter said, "I honestly think it's amazing that you find the wrong position to have on literally every subject. If we were on the Titanic, I'm positive you would be defending the iceberg and arguing we should stay on the boat." Another Twitter user alluded to Greene's faith, which she frequently touts in her speeches: "Such a compassionate Christian thing to say. On a Sunday no less."
Other users also pointed out the vast difference between Biden's mild symptoms and former president Trump's COVID battle, which landed him in the hospital for three days (per CNN). Explained one, "Unlike Trump, he has had no need to be airlifted to Walter Reed. Doing fine thanks to vaccination and antivirals. But thanks for your concern."