Days Of Our Lives Spoilers Have Fans Wondering Which DiMera Twin May Not Really Be Dead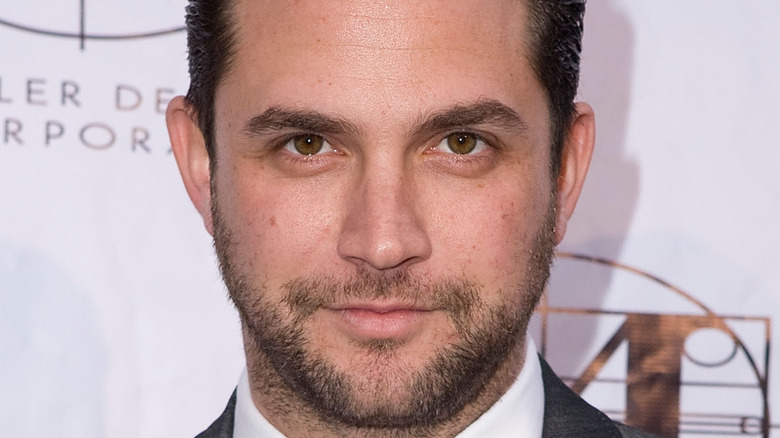 Vincent Sandoval/Getty Images
"Days of Our Lives" viewers have been forced to say goodbye to many of their favorite characters this summer (via The U.S. Sun). The NBC soap opera has written off a handful of characters, including Ben Weston (Robert Scott Wilson), Ciara Brady (Victoria Konefal), Tripp Johnson (Lucas Adams), Lani Price (Sal Stowers), and Eli Grant (Lamon Archey).
The sudser even shockingly killed off legacy character Abigail Deveraux DiMera (Marci Miller). In addition, the character of Jake DiMera (Brandon Barash) was also recently killed off. However, there may be a big twist coming when it comes to Barash's on-screen alter-ego.
Some fans have speculated that Dr. Rolf — who has brought a number of characters back to life — may be able to help Jake by raising him from the dead. However, "Days of Our Lives" may have something more dramatic in mind. Hot off the heels of Bo Brady's resurrection on the soap's spin-off series "Beyond Salem," some fans believe that the DiMera family kept the body of Jake's late twin brother Stefan O. DiMera frozen and may now use that to either bring back Jake or Stefan (via TV Season Spoilers).
"Days of Our Lives" fans know that anything is possible in Salem, and no one is ever truly dead when it comes to the soap. This week, viewers could get the answers they've been looking for when it comes to Stefano DiMera's twin sons.
Which DiMera will return from the dead this time?
In the latest "Days of Our Lives" promo, which was posted to the soap's Twitter account, things seem to be getting wild in Salem yet again. Dr. Rolf and Kristen DiMera (Stay Haiduk) look to be planning something devious with the body of Jake DiMera. The pair of villains are seen looking to find a way to resurrect Jake. However, it appears that even Rolf can't resuscitate him — at least not without a little help. In the clip, Rolf is seen pulling back a curtain to show Kristen something that shocks her.
The preview promises that there will be "assembly required," but that could mean anything. Will Stefan DiMera's body be used to bring Jake back? Could Jake's heart be transplanted into Stefan's body to bring him back to life? Perhaps Dr. Rolf will need to use parts from both Jake and Stefan to create one person, a mixture of both DiMera twins. Rolf may even use his creation to bring back "The Phoenix" Stefano DiMera once again.
"Getting a Frankenstein's monster vibe from this," one fan tweeted. "It's never too late to resurrect someone in Salem," another wrote. "The resurrection of Stefan. Perfect timing especially since Chad has left the mansion," a third person commented. "I was really hoping Rolf would bring back Jake," stated another.
It appears that "Days of Our Lives" fans are on the edge of their seats waiting to see what comes next — and which DiMera may return from the dead.