How William And Catherine's Partying Past Is Coming Back To Haunt Them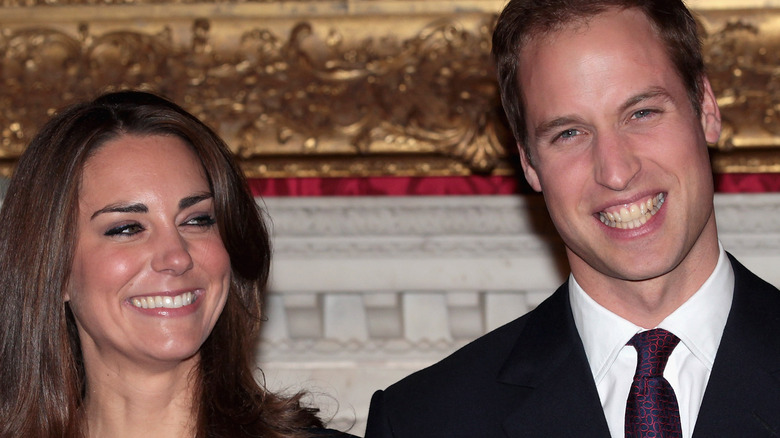 Chris Jackson/Getty Images
Prince William, Duke of Cambridge, and Catherine Middleton, Duchess of Cambridge, have been cultivating a new perception of what it means to be royal. In honor of his 40th birthday, William spent time on the streets of London selling copies of the "Big Issue" to help the homeless, per the BBC. Additionally, in thinking about their future roles, Kate and William are working to modernize the monarchy. This modernization reportedly includes a more laid-back way of how the future king and queen consort are viewed. "They want to be more approachable, less formal, less stuffy, and break away with a lot of the tradition," a source told the Mirror. "So now it's more 'Wills and Kate' instead of the Duke and Duchess of Cambridge."
As part of that new approach, Prince William and Kate have relaxed royal protocol with selfies and have been photographed demonstrating "more public displays of affection" than previous royal generations, per Insider.  While the Cambridges can manage their images personally when they post updates via their official Instagram and Twitter accounts, sometimes the internet can have a long memory. Remember, some of these photos are older than the platforms and people viewing them. For the Duke and Duchess of Cambridge, rather than being a fun blast from the past, a few of these vintage snaps may have been best left forgotten to time. 
Recently, photos of the pair have come back to haunt them in an unexpected way.
Prince William and Catherine Middleton's early partying days went viral on TikTok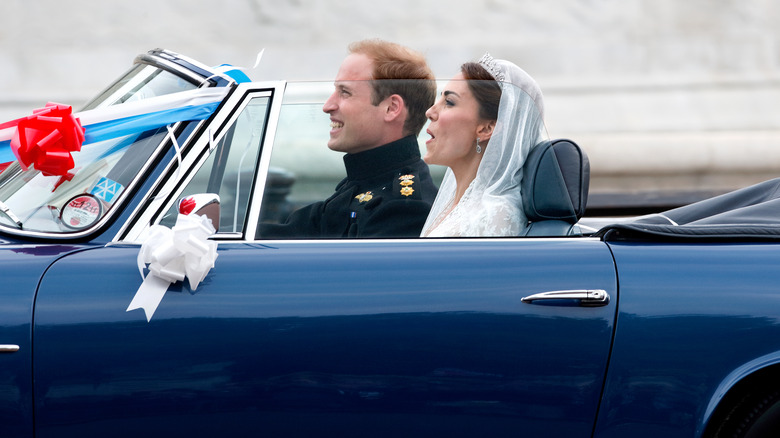 Max Mumby/indigo/Getty Images
Recently TikTok user danideeeee1 dug up part of the royal family's past by posting a 20-second photo montage of Prince William and Catherine Middleton living it up during their dating days. The viral video is captioned, "Party hard like normal young people," and has received over half a million likes on the platform.
Viewers had overwhelmingly positive comments about the pictures of the future Duke and Duchess of Cambridge clubbing during their carefree 20s (the snaps were taken before their 2011 wedding). "How is she so photogenic!" one user commented. The period in which these photos were taken was reportedly tough for Kate, as she was frequently targeted by the paparazzi due to her status as Prince William's girlfriend.
"Kate was relentlessly pursued in London," wrote author Tina Brown in "The Palace Papers" (via Newsweek). "She was hounded when she left her Chelsea apartment in ways reminiscent of the harassment of the young Lady Di." In 2007, 10 years after Princess Diana was killed in a car accident, Prince William, Duke of Cambridge, and Catherine, Duchess of Cambridge, were trailed in their car by paparazzi on motorcycles, per CBS News.
Amid the danger and annoyance of being constantly photographed, Kate found a way to add humor to the situation. "I love how Kate took a photo of the paparazzi," wrote another TikTok commenter on the video, referencing a photo where the duchess was smiling and holding up her phone to the window.
Today, Catherine is the one taking the photos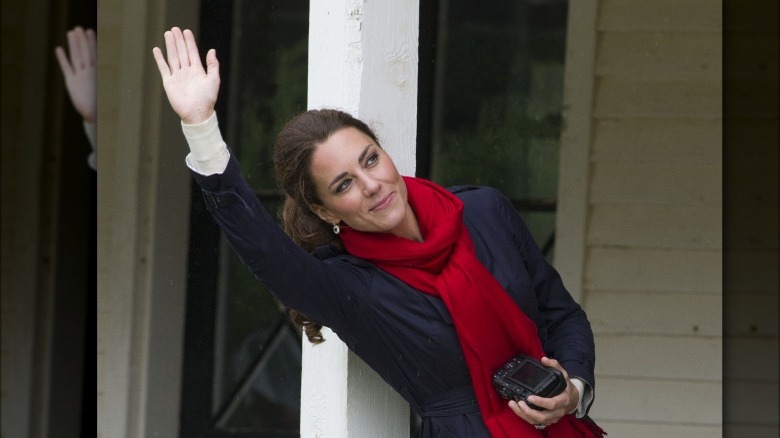 Pool/Getty Images
After 11 years of marriage to Prince William, Catherine Middleton relies on her enthusiasm for photography to keep the paparazzi at bay.  When she was pregnant with Prince George, the Duchess of Cambridge took inspiration from the way European royals controlled the narrative by releasing her own candid family photos. As royal expert Camilla Tominey explained in The Telegraph, "Why would any newspapers or magazines want to run grainy long-lens images of the royals in private when they themselves are willing to serve up crystal clear Instagram-style shots?"   
Kate's grandfather, Peter Middleton, reportedly got her started in photography, per The Telegraph. Since that time, the duchess has used her skills to share natural, relaxed glimpses of the royal family with the rest of the world. In addition to providing the photo for a magazine cover honoring Camilla Parker Bowles' 75th birthday, the duchess also posted a photo to celebrate Prince George's 9th birthday on social media (via Instagram). 
Kate, Duchess of Cambridge's dual role as family member and photographer has served her well, according to professionals. "I'm a great admirer of Kate's photography, she's grasped it very quickly," Arthur Edwards, a royal photographer, told The Royal Rota podcast, per People. Edwards is a big fan of a photo the duchess took to commemorate Prince William's 38th birthday. "The picture that I love most that she's done is William and the three children on the swing," he said. "I would have killed to have taken that picture."