Natasha Calis Reveals The Biggest Challenge Of Filming SkyMed - Exclusive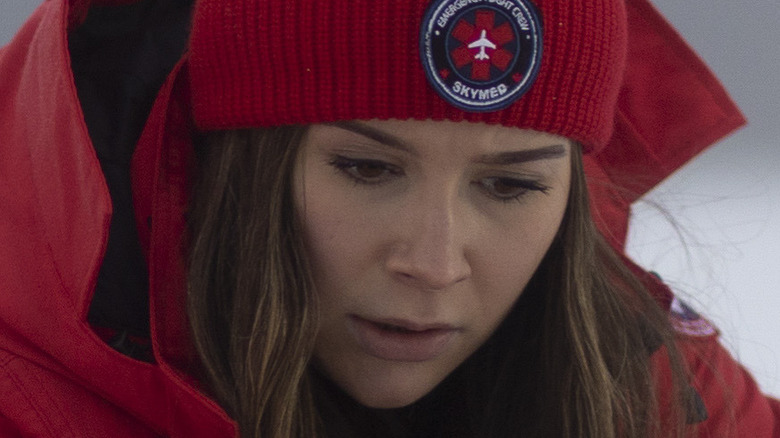 Holly Dunphy/Paramount+
Natasha Calis, who plays Hayley Roberts in the new Paramount+ medical drama "SkyMed," is no stranger to extreme conditions or outdoor living. Based on what she shared about her upbringing, she should have felt right at home filming her new series in the wilds of Manitoba. In a recent exclusive interview with The List, she described her childhood in Vancouver. 
"Vancouver is the most beautiful place in the world with the oceans and the mountains ... I grew up going away on a boat all summer for months. We would spend time at Desolation Sound, where there's nothing around and it's just ocean, whales, nature, and hikes."
Furthermore, the actress is no stranger to the "ick factor" of filming a medical drama. Before she played Hayley on "SkyMed," Natasha held a lead role in the CBS drama "Nurses." This seasoned actress, who has starred in movies and TV shows since she was seven years old (per IMDb), didn't find the medical aspect or the intense on-screen atmosphere of the show difficult. But even all of her summers in Desolation Sound weren't enough to fully prepare her for the challenges of filming "SkyMed" far from home.
The external challenges of shooting on location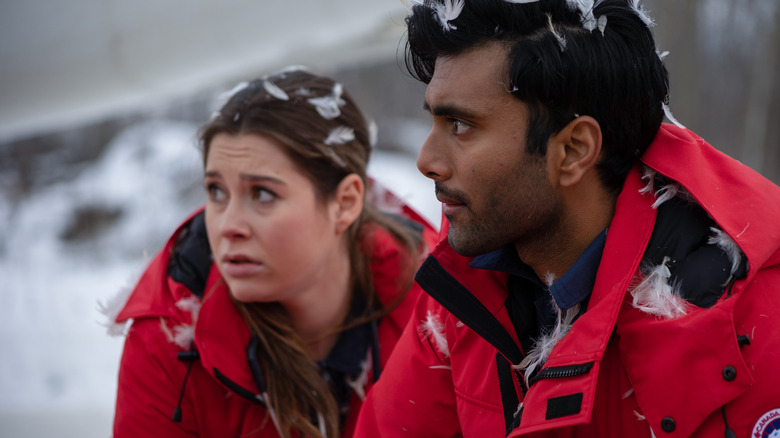 Holly Dunphy/Paramount+
Natasha Calis revealed that the biggest challenge of filming "SkyMed" was being on location for five long months. "Filming on locations that were sometimes two hours away with early pickup times and really long days in extreme weather conditions was very challenging, not only for myself, but for the rest of the cast and crew," she said. "We had to battle some tough things and some exceptionally long days. That was the most challenging thing as an actor filming it, but it was also fun."
Because they filmed on location, each day held some new adventure — including days that started in the middle of the night. "Sometimes, we'd be filming two hours away and our pickups would be at 3:50 in the morning so that we could make it two hours away to film the sunrise," Calis shared. "It was challenging, but it was very fun and every day was different. It was quite spectacular."
Portraying Hayley had its emotional challenges, too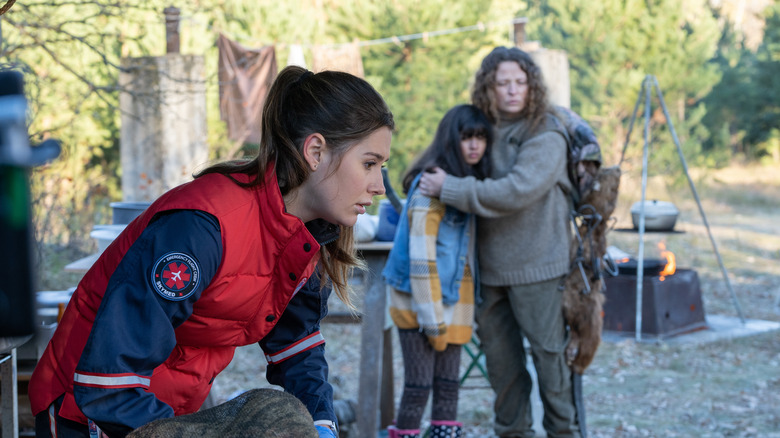 Heather Beckstead/Paramount+
While the outside conditions posed their own challenges, Natasha Calis also had to focus on portraying a complex character with secrets to hide. "The most challenging part of playing Hayley was putting on a strong face when there's so much going on in her life. She had something to hide, but she had to put on a professional face ... Sometimes, those people that she was helping brought back memories of what she was trying to shove down."
Not only was Hayley dealing with internal conflict, but there were external obstacles in her life as well. Natasha described threading the needle for Hayley's character between the medical, the emotional, and the interpersonal relationships with her crewmates. 
"You almost get to play two different characters," she said. "There is the nurse mode: I zipped up my flight suit and I was a professional and my job was to save people's lives, but there was also the human side: All of the medical team live together in the same crew house. Zipping off the flight suit and kicking it with the rest of the crew was also a fun aspect."
Catch Natasha as Hayley Roberts in SkyMed streaming now on Paramount+.