Nina Dobrev & Julianne Hough Share How Their Friendship Led To Starting A Company - Exclusive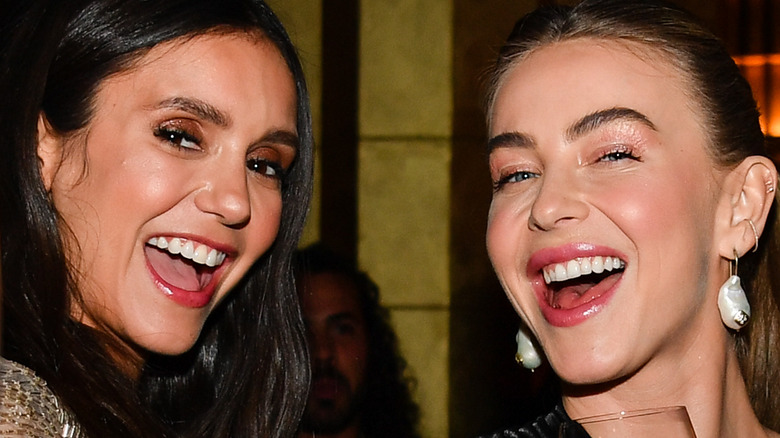 Denise Truscello/Getty Images
Name a more iconic duo than two friends and a bottle of wine — the two friends in this scenario being Nina Dobrev and Julianne Hough, of course. Hough, currently on Broadway for the play "POTUS," and Dobrev, recently seen on Netflix's "Love Hard," have created the ultimate experience for wine enthusiasts everywhere. The duo joined Fresh Vine Wine back in 2021 to showcase a low-carb, low-refined-sugar, and low-calorie wine option that fits into their holistic lifestyles.
In an exclusive interview with The List's sister site Mashed, Hough and Dobrev explained why they work so well together as business partners after their passion for wine and wellness became tangible. Fresh Vine Wine now has six offerings, including the new sauvignon blanc, a limited reserve Napa cabernet, rosé, pinot noir, cabernet sauvignon, and chardonnay. Dibs on that rosé for Friday girls' night! Dobrev, also known for her longtime character Elena Gilbert on "The Vampire Diaries," did a deep dive into how the women's friendship led to a full-fledged company. 
Dobrev and Hough got the idea for Fresh Vine Wine from traveling together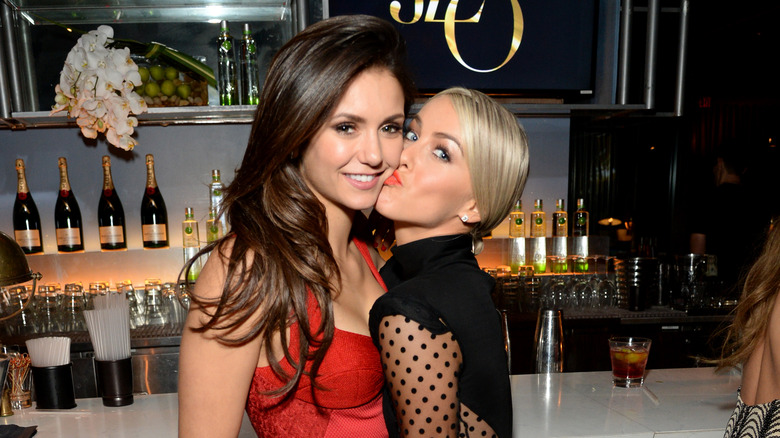 Michael Kovac/Getty Images
When asked about the inspiration for Fresh Vine Wine, the duo told Mashed that their longtime friendship sparked the idea. Nina Dobrev said, "We met when we were in our early 20s and we both had a lot of common interests, and one of those common interests was that we really enjoyed laughing, spending time together, and sharing a glass of wine while we do that." 
As many celebrities are now creating alcohol brands, Dobrev explained that Fresh Vine Wine offers a product and taste that the pair couldn't find on shelves. She continued, "Upon taste testing so many different wines from all over the world and so many different countries and cities that we visited together, we had the idea." 
Julianne Hough mentioned that they both complement each other perfectly, which can be attributed to why the company is successful. Hough explained that their close friendship allowed for a trusting work environment as they continue to challenge each other. Whoever said friends can't work together clearly didn't know about Nina Dobrev and Julianne Hough.
The "Safe Haven" actress belabored the point as she said, "We not only have each other's back, but we respect and honor each other's viewpoints." With the new sauvignon blanc, it is only a matter of time before the Fresh Vine Wine portfolio grows. We're just waiting on that extra invite for Nina and Julianne's wine nights!
Head to Fresh Vine Wine's website or Instagram page to learn more about the new sauvignon blanc variety and other premium wine offerings.