How Many Children Does General Hospital Star Rebecca Herbst Have?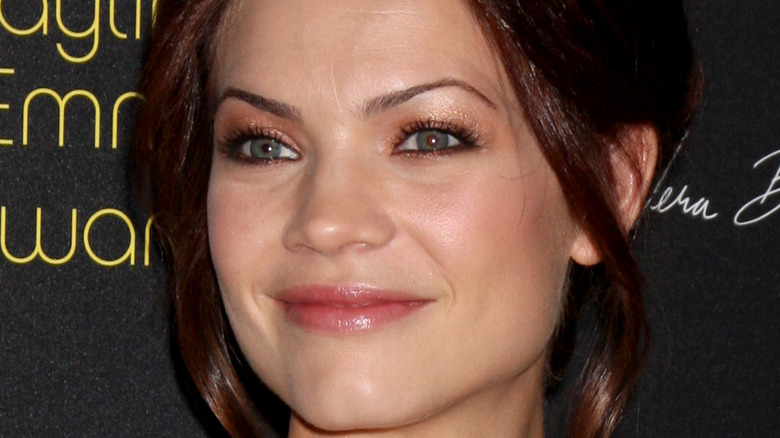 Kathy Hutchins/Shutterstock
Rebecca Herbst has been a fixture on "General Hospital" for many years, celebrating her 25th anniversary on the soap in August 2022. Though her character Elizabeth Webber had an eventful teenage and young adult life in Port Charles, she is best known for her role as a mother. Elizabeth has three sons that she often refers to as "her boys" and has spent much of her time working hard to provide for them financially with her job as a nurse, and trying to give them a stable father figure. Much of that drive can also be attributed to Elizabeth's own experience with absent parents and not wanting to repeat that pattern with her own children.
Despite all of the trials her family has gone through, including her recent stay in a psychiatric facility, Elizabeth continues to put her sons' best interest first no matter what. In fact, that's what Herbst loves most about her character. She told Soap Opera Digest, "[Elizabeth] is definitely a mama bear when it comes to her boys and she works her tail off to be a great single mom. She's done it for years and years on her own and I think that's her best quality, that she loves her boys fiercely and will do anything for them." It's not difficult for the actress to step into the role of protective mother since that's exactly how she is in real life too.
Rebecca Herbst is a mom of three on-screen and off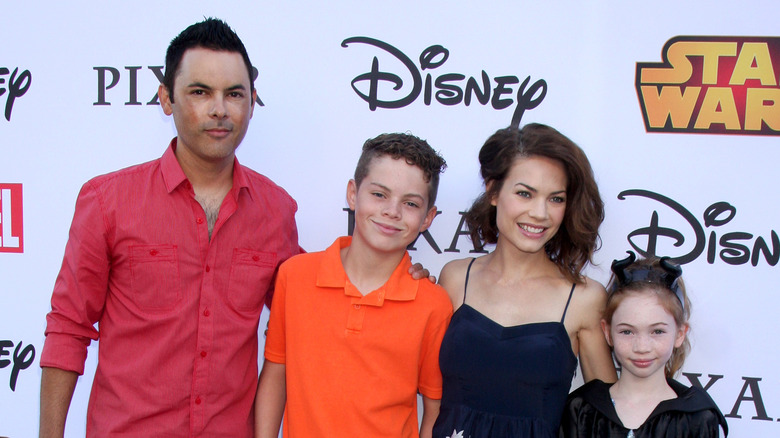 Kathy Hutchins/Shutterstock
In 2001 Rebecca Herbst tied the knot with her "General Hospital" co-star Michael Saucedo, who played the role of Juan Santiago periodically from 1999 to 2014. The couple share three children together — Ethan born in 2001, Ella who joined the family in 2004, and Emerson who was welcomed in 2010.
Now that her own kids have gotten older, Herbst does her best to spend quality time with them in nature and away from social media. The actress told Soaps in Depth, "I love taking [my kids] out into the fresh air and away from the concrete, cars, and electronics, and hiking for hours upon hours with just us for company. The conversations we have and the things we explore, it's priceless. There's no distraction." In fact, Herbst makes it a point to make sure her family time is real-life face time and no one is on their phone while hanging out together.
Being a mom is Herbst's most important job — seconded of course by her acting career — and though her character Elizabeth Webber does her best, it's clear which woman would win a mother-of-the-year award. The actress has been quoted saying, "I aim to be the strong mom who reminds herself every day that this is what we do — we raise these kids to go out on their own and be strong, independent people, good stewards of the Earth and kind human beings."
Though her actual family life is drama-free, Elizabeth certainly has her hands full raising three rambunctious boys in the soapy world of Port Charles.
Rebecca Herbst brings her motherly instincts to set
As her own children grew up, Rebecca Herbst parlayed her feelings as a real mother to her role as one on television. She shared with Michael Fairman TV, "I always ask permission from my on-camera kids before a scene: 'Is it okay if I kiss your little head? Is it okay if I put you on my lap here? Is it okay if I put my hands on your face?' I'm not their mother, but when I think about what I would do with my real-life kids, they're always getting kissed and hugged and held by me, so I want to make it look as real as possible."
Elizabeth Webber's kids are old enough now that there is less cuddling with their mom and more getting into trouble as they learn to navigate life with more independence. Raising her three sons has been tough for Liz, especially after the recent death of her husband Franco Baldwin (Roger Howarth). Her eldest son Cameron Webber (William Lipton) is a college freshman who was the victim of a revenge porn scandal, her middle son Jake Spencer (Hudson West) is a troubled young man dealing with the death of his father Jason Morgan (Steve Burton), and her youngest son Aiden Spencer (Enzo De Angelis) is having a particularly tough time with the loss of his step-dad.
One thing viewers know for sure is that Elizabeth will be there to support her boys no matter what trouble they get into or what inevitable drama gets thrown their way.